Press Release:
2017 WOODSTOCK AIR
The Center for Photography at Woodstock is pleased to announce our 2017 artists-in-residence. A total of eight residencies were awarded to artists and a writer of color working in photography and related media.
The following artists were awarded studio residencies for 2017: Jillian Browning (Ocala, FL), Brittney Cathey-Adams (Santa Cruz, CA), Jeremy Dennis (State College, PA), John Edmonds (Brooklyn, NY), Daesha Harris (Saratoga Springs, NY), Tomiko Jones (San Francisco, CA), and Leonard Suryajaya (Chicago, IL). Art historian, writer and curator John Edwin Mason (Charlottesville, VA) was awarded a critical studies residency.
Our 2017 residents were selected by a guest panel including Amanda Chestnut(2015 Woodstock AIR), Claire A. Warden (2016 Woodstock AIR), and Kris Graves (photographer and curator, Kris Graves Projects).
Each artist will participate in a four week residency. CPW's artists-in-residence are given an honoraria, housing, travel and food stipends, critical and technical support, and 24/7 access to professional workspace, including our digital imaging lab and black-and-white darkroom. New in 2017, the artists-in-residence will be living in CPW's new artist house, which provides ample living and workspace and is located in walking distance to the Center. CPW's residency program is unique in its commitment to artists of color. CPW firmly believes that accessibility, representation and diversity are critical to contemporary discourse on photography. Pluralism and acceptance are needed in our society now more than ever.
To learn more about WOODSTOCK AIR, click here.
CPW's Artist-in-Residence Program receives support from the Andy Warhol Foundation for the Visual Arts,  
the National Endowment for the Arts, and the New York State Council on the Arts with support from Governor Andrew Cuomo and the New York State Legislature, the Milton & Sally Avery Foundation and 
the Gunk Foundation. In addition, the purchase of CPW's artist house was made possible through the extraordinary generosity from the Phillip and Edith Leonian Foundation, the Thompson Family Foundation, Howard and Ellen Greenberg, Dennis Gatto and his children Greg & Katha, and generous donations from over 100 individual donors.
DID YOU KNOW?
WOODSTOCK AIR has repeatedly been listed amongst the top residency programs in the U.S. See the list of the 20 top residencies on BlouinArtInfo. Or visit Format Magazine for the top photo residencies internationally.
---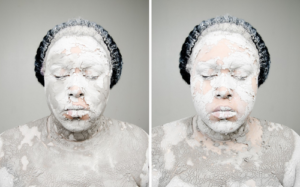 A Soft Human Impersonating Hard Stone, 2013, pigmented inkjet print
JILLIAN BROWNING
Jillian Marie Browning (Ocala, FL) is an interdisciplinary artist pursuing themes of feminism, identity, and the contemporary black experience. Born in Ocala, Florida she received her Bachelor of Science degree in Photography from the University of Central Florida in 2012 and a Master of Fine Arts degree in Studio Art from Florida State University in 2015. She enjoys puppies, comic books, the color pink and radical feminism. She is currently a professor of photography at Florida Gateway College.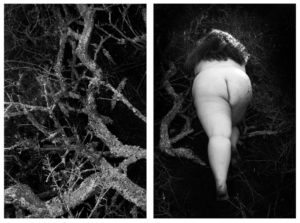 Embark, 2014, pigment print, 24 x 42″
BRITTNEY CATHEY-ADAMS
Brittney Cathey-Adams (Santa Cruz, CA) is a photographer based in Santa Cruz, CA. Her work primarily utilizes the body for discovery of self. Working in black-and-white images, her work centers itself in the idea of the radiance – that light not only illuminates but that darkness defines. She is interested in self-portraiture and ideas about self-perception and the fat body. Cathey-Adams received her MFA in Photography from San Jose State University in 2014. She has been teaching photography and creating program curricula in the Bay Area for five years. With a passion for photography, Cathey-Adams dedicates herself not only to image making but supporting future photographers through teaching, workshops and lectures.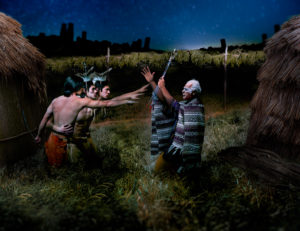 The Oath, 2016, c-print, 19 x 30″
Image in banner:  The Stolen Wife, 2015, archival inkjet print, 24 x 16″
JEREMY DENNIS
Jeremy Dennis (State College, PA) is an artist and photographer whose work revolves around essential issues of indigenous identity, assimilation and tradition. Using digital photography, he creates images that reference the most common depictions of indigenous people. "Utilizing its ability to charm and influence the viewer through curiosity and pleasing lighting, I attempt to create conversations about uncomfortable themes of post-colonialism in a Hollywood film style." Dennis was born in Southampton, NY, and raised on the Shinnecock Indian Reservation. He graduated with a BA from Stony Brook University in New York with a minor in Digital Arts. He recently graduated from Pennsylvania State University with an MFA.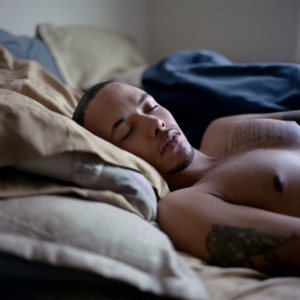 Asleep, 2012, archival pigment print, 32 x 32″
JOHN EDMONDS
John Edmonds (Brooklyn, NY) is an artist, whose work raises questions about the notion of seeing and being seen and how this influences ideas of representation. He received his MFA in Photography from the Yale School of Art and his BFA in Photography at the Corcoran School of Arts + Design. In 2015, he was a recipient of the Alice Kimball English Traveling Fellowship from Yale University. Edmonds has participated in residencies at the Skowhegan School of Painting and Sculpture and at Light Work. His work has been shown both nationally and internationally, and is in both private and public collections, including the Philadelphia Museum of Art, FOAM Museum Amsterdam Library and the George Eastman House. He is based in Brooklyn, NY.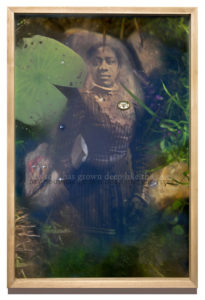 My Soul Has Grown Deep Like the Rivers, 2012, Chromira print, 31 x 21 x 2.25″
DAESHA HARRIS
Daesha Devón Harris (Saratoga Springs, NY) is an award winning artist, who has been featured in numerous exhibitions across New York State and beyond. Her work explores narratives that are inspired by both local origins and that of the greater African Diaspora. "Through the telling of these stories I adamantly claim the central role that African Americans have played not just in the making of America but in enriching its history and cultural heritage." She holds a BFA in Studio Art from the College of Saint Rose and a MFA in Visual Art from the University at Buffalo. She is a member of various organizations and plays an active role in her community as a youth advocate and cultural history preservationist. She is also an avid fisherman and hobbyist gardener.
Rattlesnake Lake, 2005-2013, platinotype from 4×5 film negative, 16x 20″
TOMIKO JONES
Tomiko Jones (San Francisco, CA) creates loose narratives that unfold in sculptural video installations and questionably fictional photographs. Linked to the identity of place in social, cultural and geographical terms, her work explores transitions in the landscape with particular attention to public lands. Jones received her MFA in Photography with a Certificate in Museum Studies from the University of Arizona, Tucson. She is the recipient of awards such as the En Foco New Works Fellowship and the Society for Photographic Education Freestyle Crystal Apple Award for Outstanding Achievement. Tomiko was in residence at Museé Niépce and The Camargo Foundation, France. Currently, Jones is a visiting artist and curator-in-residence at California Institute of Integral Studies in San Francisco, California.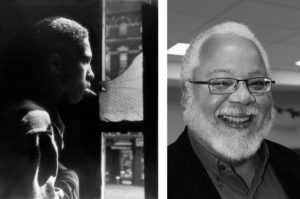 (left) Red Jackson, Harlem, 1948, from Harlem Gang Leader. Photograph by Gordon Parks—Courtesy and copyright The Gordon Parks Foundation.
(right) Portrait of John Mason
JOHN EDWIN MASON (Critical Studies Residency)
John Edwin Mason (Charlottesville, VA) is a member of the Department of History at the University of Virginia, where he teaches African history and the history of photography. He received his undergraduate degree from the University of Cincinnati and his graduate degrees from Yale University. Mason is now working on "Gordon Parks: American Photographer," a book that examines the reportage of one of the twentieth century's most significant photographers, writers and filmmakers. Mason organized the 2014 exhibition "Gordon Parks: The Making of an Argument," at the University of Virginia's Fralin Museum of Art, and, in 2016-17, served as senior project advisor for "Visual Justice: The Gordon Parks Photography Collection," at the Ulrich Museum of Art, Wichita State University. Earlier in his career, Mason's research focused on South Africa. He has published numerous books and articles on the country's history.
Writing Sample: Time Magazine, "How Gordon Parks' Photographs Implored White America to See Black Humanity" (April 8, 2016)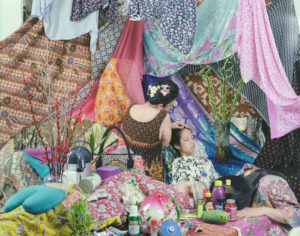 Bella, 2016, archival inkjet print, 40 x 50″
LEONARD SURYAJAYA
Leonard Suryajaya (Chicago, IL) uses photography to test the boundaries of intimacy, community, and family. His works show how the everyday is layered with histories, meanings and potential. He holds a BFA from California State University, Fullerton, and an MFA from the School of the Art Institute of Chicago. Selected exhibition venues include Hyde Park Art Center, IL; Irvine Fine Arts Center, CA; Chicago Artist Coalition, IL; The Center for Fine Arts Photography, CO; and Roy G Biv Gallery, OH. His work is included in collections such as the Art Institute of Chicago and Joan Flasch Artist Book Collection, and has been published in Lenscratch, Chicago Tribune, Chicago Magazine and South Side Weekly. Awards include New Artist Society Award, the James Weinstein Memorial Fellowship, Claire Rosen and Samuel Edes Prize for Emerging Artist, Robert Giard Foundation Fellowship, LensCulture Emerging Talent 2016 and The Santo Foundation Fellowship.
INTERNSHIP OPPORTUNITY: Consider completing an internship at CPW. Among other responsibilities, our interns get to work closely with our artists-in-residence. Learn by watching and doing. CPW is still accepting applications for 2017 internships. Apply now!