Press Release

2013 WOODSTOCK A-I-R
The Center for Photography at Woodstock is excited to announce our 2013 artists-in-residence. A total of eight residencies were granted to seven artists working in photography and related media and one scholar to participate in a critical studies residency.

They will each receive residencies of 3 to 6 weeks from June through early October. While in residence at CPW, each artist will receive 24/7 access to professional workspace including CPW's digital and traditional darkrooms, critical and technical support,  housing, travel & food stipend, and honoraria.
To learn more about WOODSTOCK A-I-R, click here.
Special thanks to our 2013 Panel for their careful consideration of all the applications we received
•    Jennifer Blessing (Curator of Photographs, Guggenheim Museum)
•    Carl Hazelwood (Independent Curator, co-founder Aljira Contemporary Art Space)
•    Kameelah Rasheed (2012 A-I-R)
The 2013 program is made possible in part with support from the Milton & Sally Avery Foundation
the Philip & Edith Leonian Foundation
the New York State Council on the Arts with support from Governor Andrew Cuomo and the New York State Legislature
the National Endowment for the Arts.
DID YOU KNOW? WOODSTOCK A-I-R was listed amongst the top 20 residency programs in the U.S. See the list by clicking here.
---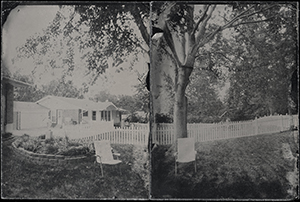 DANIEL BALLESTEROS (Brooklyn, NY)
[one_half first] Daniel Ballesteros was raised in Saint Louis, Missouri where he received his BA in Electronic and Photographic Media from Webster University. After living and working in Santa Fe, Chicago, and New York, he obtained an MFA in Photography at the University of Connecticut. His work has been featured in various group and solo exhibitions including solo shows of his work at Chashama 266 in NYC, the College of Southern Nevada and Hejfina Art & Architecture in Chicago.In 2012 he was listed as an "Honorable Mention" in both the Magenata Foundation's Flash Forward: Emerging Photographers competition and En Foco's 'New Work's Photography Fellowship Award. He's been an invited speaker at Chashama 266 in NYC and at Mariboe Gallery in Highstown, NJ.[/one_half][one_half]Ballesteros' practice is one of ritual and routine. Over the course of his residency he will make ambrotype plates of the surrounding landscape and the people that inhabit it traveling on a customized bicycle with an attached wet-plate darkroom. The residency in Woodstock will provide him with the opportunity to expand on some of the central themes in his work including the exploration of meeting points between the constructed and natural world, and measures of time.
danielballesteros.com[/one_half]
---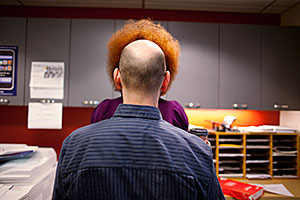 ENDIA BEAL (New Haven, CT)
[one_half first] Endia Beal originally hales form North Carolina where she obtained a dual BA in Studio Art with a Concentration in Photography and a BA in Art History with a concentration in Medieval/High Renaissance Art History. Solo exhibitions of her work have been presented at WhiteSpace Gallery in Winston-Salem and at the Lincoln Memorial Baptist Church. She has been included in group exhibitions at the Charles H. Wright Museum of African American History in Detroit, the Caribbean Cultural Center African Diaspora Institute in NYC, the Sawtooth Center for Visual Arts in Winston-Salem, and the Yale School of Art where she recently completed her MFA in Photography, among others.[/one_half][one_half]During her residency at CPW, Beal will focus on her photographic project exploring the personal relationship of African American women within the corporate workspace. Using video and stills Beal will examine the intersection between personal and private space. Additionally she will use her time in Woodstock to assemble into a single piece, 23 videos that showcase the interactions between white men and black women in business settings.
Ultimately Beal, expounding upon the stories told by artists Carrie Mae Weems and Lorna Simpson, works to document the lives of the invisible, leading her to ask questions like "What's really going on here?" and "Why are these experiences not showcased in the art world?[/one_half]
---
Winter Morning, by Alexander Pushkin from Maria Buyondo on Vimeo.
MARIA BUYONDO (Brooklyn, NY)
[one_half first]
Maria Buyondo
was born in Moscow, Russia and raised in Stockholm. She emigrated to the U.S. in 2001 and has lived in New York since 2004. Trained as a photographer her practice included a variety of mediums through which she thoroughly thread her conceptual inquiries. Her artistic practice resides in the interest of social injustice and personal experience. Through video and photography she confronts issues of race, identity, and class. An BFA alum of the School of Visual Arts, Buyondo has exhibited her work at such venues as Castel Gallery in New Rochelle, NY, the Bronx Museum, Pulp Legend in Brooklyn, and the School of Visual Arts East Side Gallery where she received a solo exhibition, among others.
She has participated in a number of residency programs including the Bronx Museum's AIM program in 2008, the Skowhegan School of Painting and Sculpture in 2009, Smack Mellon from 2010-2011, and Aljira Emerge Eleven in 2013.[/one_half][one_half]While in residence at CPW, Buyondo will produce an artist book exploring her relationship with her Russian grandmother who suffers from Alzheimer's and currently lives in a Jewish nursing home in Stockholm, Sweden. Working in CPW's Digital Kitchen, she will combine photographs and transcripts from daily conversations held with her grandmother during her first 30 days at the nursing home. The book will explore her reactions to an unfamiliar environment and the effects of Alzheimer's on her ability to adapt to the new situation.
mariabuyondo.com[/one_half]
---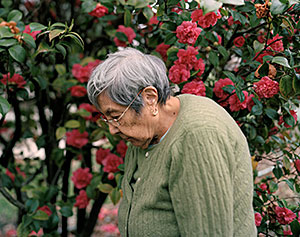 KATHYA MARIA LANDEROS (Brooklyn, NY)
[one_half first]A 2007-2008 Fulbright recipient
Kathya Maria Landeros
received a BA in English Literature and Hispanic Studies from Vassar College and an MFA in Photography from the Massachusetts College of Art & Design. Landeros' work has appeared in exhibitions throughout the Northeast and in California, including shows at the California State Capitol Building and Viewpoint Gallery both in Sacramento; Doran Gallery, Paine & Bakalar Galleries, and 808 Gallery at Boston University all in Boston; and the upcoming Magenta Foundation's
Flash Forward Festival
in Boston. Her work is included in the collection of the Chicano Studies Department at the University of California, Davis and been featured in such publications as
American River Review
and
Case Magazine
.[/one_half] [one_half]Landeros will spend her residency at CPW to bring perspective to her work and continue her project entitled
Verdant Land
the most recent chapter in her long-term photographic project on Latino culture. In advance of her residency, she will be traveling to California and Washington to make photographs. While in Woodstock she will edit those image and along with writings and vernacular photographs into an artist book for this chapter which portrays the fertile American West as a land of opportunity cultivated by generations of Mexican-Americans who have see it not only through a prism of struggle but as a place of great beauty and promise.
kathyalanderos.com[/one_half]
---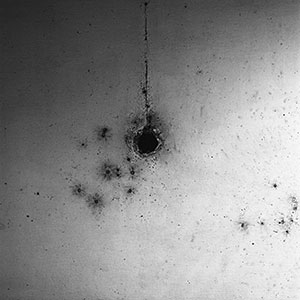 JUNGEUN LEE (Lewisville, TX)
[one_half first]
Jungeun Lee
was born and raised in South Korea. She studied architecture at Hoseo University in Korea and received a MFA in Photography from University of North Texas. During her graduate studies, Jungeun discovered a piece of Korean history unfamiliar to many. This finding led to further research and production of "Silenced Suffering: The Comfort Women Project." In 2010, she held her MFA exhibition at 500X Gallery in Dallas. Her work has been exhibited at the Holocaust Resource Center & Archives in New York, Valley House Gallery in Dallas, the Cora Stafford Gallery at the University of North Texas, Denton, and the Hardwood Art Center in Albuquerque.
The first place recipient of the 2010 PhotoNOLA Review Prize, her work is included in the collection of the Human Rights Education Program at Southern Methodist University in Dallas and has been published in Nueva Luz (October 2009) and the National Graduate Photography Survey in 2009 published by the Oculus Photographic Arts Group.She currently lives and works in Dallas, Texas.[/one_half][one_half]Jungeun Lee's residency in Woodstock will provide the artist the opportunity to focus on her ongoing series, The Comfort Women Project_HaiNingLu No. 449 and the time to absorb the images and records from her recent visits to Shanghai, China where she photographed five buildings including "HaiNinLu No. 449", that housed comfort women – Asian women kidnapped by Japanese soldiers during WWII. 140 "comfort stations" were established across 22 Asian countries and very few traces of their existence remains. At CPW, Lee will scan and edit her work to date and finalize the next steps and final direction of her project which will combine medium-format photographs, testimonies, and historical data.
jungeunleestudio.com[/one_half]
---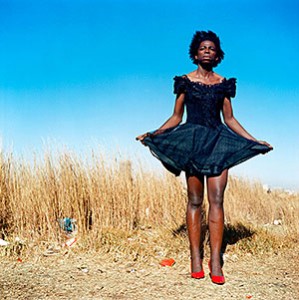 CRYSTAL A.M. NELSON  (Los Angeles, CA)
[one_half first]
crystal a.m. nelson
is an artist, writer, and designer based in California. She received her BA in Literature from the University of Rhode Island and an MFA in Photography and Interrelated Media from the San Francisco Art Institute in 2010. She has contributed to
Identity Theory, Art Practical,
and the
African American National Biography
, a joint project of the W. E. B. Du Bois Institute for African and African American Research at Harvard University and Oxford University Press, which was published in 2008. Her curatorial projects include
TASTE! Food. Art. Conversation
which was presented at the Yerba Buena Center for the Arts and
The Listening Party
at Queen's Nails Projects both in San Francisco. nelson has been an invited speaker at San Francisco State University, Emmanuel College in Boston, David Castillo Gallery in Miami, and at the African Studies Association Annual Conference in Philadelphia in 2012.[/one_half][one_half]Frustrated by the lack of aesthetic analysis of Zanele Muholi's photographs and the relegating of the discussion of her work to sociopolitical critique, CPW's
2013 Critical Studies Resident
, crystal a.m. nelson, will work on a book length version of her paper first presented at the 2012 African Studies Association Annual Conference, focused on Muholi's
Miss D'Vine
series which portrays black South African drag queens. While at CPW Nelson will utilize CPW's permanent print collection, library, archives and relationships with neighboring academic institutions to further her research.
Using an object-based approach, her book will relocate Muholi's practice among such peers as Tammy Rae Carland and Felix Gonzalez-Torres who also used photography and the queer(ed) body to address the complexities of queer visibility and resistance in contemporary art. This will be her first book-length text.
crystalamnelson.com[/one_half]
---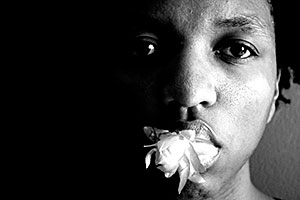 DANIELLE SCRUGGS  (Washington, D.C.)
[one_half first]Originally haling from Chicago, Danielle Scruggs is now based in Washington D.C. and has been published and exhibited widely. A recipient of a 2010 Public Media Corps fellowship from the National Black Programming Consortium, Scruggs have been an invited speaker at the DC Arts Center and the 14th Annual Allied Media Conference in Detroit. Her work has appeared in such galleries as Fox 3 Gallery and Woodward Gallery in Baltimore; Honflour Gallery in Washington D.C; the Invisible Dog Gallery and Stratospheres Studios, and the 2009 New York Photo Festival in Brooklyn.
She spends here days working as an Assistant Photo Editor at Living Social. She also serves as the Research and Media Director of Mambu Badu Photography Collective which she co-founded in 2010 to find, nurture, and expose self-identified women photographers of African descent. Scruggs holds a BA in Print Journalism from Howard University and a MA in Digital Art from the Maryland Institute College of Art.[/one_half][one_half]Scruggs plans to use her time in Woodstock to expand upon the technical and conceptual elements in her Self Portraits series. Her initial time here will be spent researching artists who work with similar themes to her own work followed by producing a series of studio-based and exterior portraits in the natural environments surrounding Woodstock. Her time here will culminate with a pop-up exhibition combining prints and text pieces produced in vinyl-cut lettering that will be open to the community.
This residency marks Scruggs second residency in the upstate New York – she was a resident at the Wassaic Project in 2012.
daniellescruggs.com[/one_half]
---
Oh Say Can You Act from Joanna Tam on Vimeo.
JOANNA TAM  (Jamaica Plain, MA)
[one_half first]Joanna Tam works in video, photography, and performance. Following receiving a BS in Computer Science and Economics from Boston College and an MS in Information Science from the University of Pittsburgh, Tam pursued an MFA in Studio Art which she completed in 2012 at the School of the Museum of Fine Arts, Boston. Her work has been exhibited extensively in the Northeast including show at 808 Gallery, Laconia Gallery and Howard Art Project in Boston; Safe-T Gallery, PS122, Grace Exhibition Space, all in New York. Her work has also been featured in such festivals and conferences as the Cinethesia Feminist Film Festival in Carbondale; the Aesthetica Short Film Festival in York, UK; the IPA Platform Young Performance Artists Festival in Istanbul, Turkey; and at the 2013 College Art Association Annual Conference in NYC.
In 2010 she was a fellow at Mildred's Lane and is currently a Post-Graduate Teaching Fellow at the School of Museum of Fine Arts.[/one_half][one_half]Tam will spend her time at CPW further developing her heavily-research based practice, engaging in dialog with artists and individuals in the community. She will be concentrating on continuing her video Oh Say Can You Act? which looks at the bodily gestures commonly performed at international sport competitions, such as the World Cup both by players and spectators and how they are connected to ethnicity, nationality, and patriotism. Tam will also begin work on a new project including test shoots exploring the notion of fear in relation to series of performative actions that will result in self-inflicted fear specific to her.
joannatam.net[/one_half]
---
https://www.cpw.org/media/logo_CPW_2016.png
0
0
ariel
https://www.cpw.org/media/logo_CPW_2016.png
ariel
2013-05-09 18:44:55
2013-06-02 20:00:55
PR: WOODSTOCK AIR 2013