PRESS RELEASE
Richard Edelman: Stolen Portraits
Welcome: Page by Page
Common Sense(s)
February 20 – April 10, 2016
Gallery Reception: Saturday, February 20, 2016, 5-7pm
The Center for Photography at Woodstock (CPW) is pleased to announce three new exhibitions featuring over 70 artists, including local mainstay Richard Edelman and artists as far away as Colombia and Russia.
Richard Edelman: Stolen Portraits, features fictional portraits of creative talent from the region. Titled after the sitter and often taken at the sitter's home or studio, the portraits contain elements of authenticity while being entirely imaginary in their narrative. Edelman considers the images collaborations with the sitters. He explains, "They greatly influence these portraits with their ideas, their attitude, and their generosity of character before the camera. This process is very much a collaboration for which I take the credit. Hence the name, Stolen Portraits."
The series includes collaborations with Rebekah Creshkoff, Jen Dragon, Mikhail Horowitz, Elaine Mayes, Wayne Montecalvo, Fawn Potash, Keiko Sono, and many more.
Edelman is the principal of Woodstock Graphics Studio in Saugerties, NY, specializing in creative production work for artists. Venues for recent solo exhibitions include the Davis-Orton Gallery in Hudson, NY, Galerie BMG in Woodstock, NY, and the Pinscreen Studio in Palensville, NY. Edelman's photographs are included in public collections of the Metropolitan Museum of Art, the Canadian Centre for Architecture, the Brooklyn Museum, the Bibliothèque Nationale, and the Samuel Dorsky Museum, while other work can be found at the MoMA artist book collection, the Whitney Museum of American Art, and the Sackner Archive of Concrete and Visual Poetry.
Welcome: Page by Page, curated by CPW's new Executive Director Hannah Frieser, showcases artist books by an international cadre of photographers. The exhibition examines the art form of the small-edition book as a poignant expression of personal vision. CPW invites the viewer to come to the relaxed setting of the newly updated gallery and engage directly with the art. The viewer is encouraged to handle the highly collectible and sometimes fragile books. The books on display range in topic from a courageous self-examination in the face of cancer to the whimsical exploration of disposable cups. Two artists explores dreams, another finds global truth in the exploration of international travel, while yet another mourns the disappearance of her father-in-law.
The exhibition includes New York State artists Niki Berg, Anna Leigh Clem, Michael Bogdanffy-Kriegh, Scott McCarney, Raymond Meeks, Qiana Mestrich, and Keith Smith. Other artists range from Ekaterina Anokhina (Russia), Antic-Ham (Korea), Joshua Deaner (US), Erika Diettes (Colombia), Susan kae Grant (US), Lauren Henkin (US), Ron Jude (US), Ferit Kuyas (Switzerland), Nate Larson (US), Diana Matar (UK), Kevin Miyazaki (US), Carlos Javier Ortiz (US), Marni Shindelman (US), Francis Van Maele (Ireland), Wan-Gyo Yi (Korea), and Philip Zimmermann (US).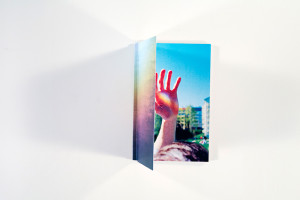 Common Sense(s), features a compilation of photozines and related ephemera by over 50 artists. Curated by CPW's Juan Madrid and artist Carlos Loret de Mola, the exhibition examines what constitutes a "zine" in contemporary photographic practice. This exhibition amalgamates obsessions and issues, structure and chaos, sense and nonsense, into a visual assault reflective of the photozine itself. Artists and publishers include 3 Dot Zine, Adrian Octavius Walker, Akemi Hiatt, Alejandro Cartagena, Amanda Chestnut, Anna Leigh Clem, Bob Civil, Curtis Hamilton, Dan Boardman, David Schoerner, Downgrade Magazine, Ed Panar, Elle Pérez, Empty Stretch, Erica Christmas, Evan Ortiz, Everything Is Collective, Fryd Frydendahl, Ginevra Shay, Halfling Zine, Louie Palu, Mambu Badu, Megawords Magazine, Meghan Boilard, Meron Menghistab, Michael Max McLeod, Michael McCraw, Mohamed Sadek, Oranbeg Press, Papersafe, Patrick Bresnan, Rob Hornstra, Ron Jude, Sasha Phyars-Burgess, Stephanie Segura, Suzanna Zak, Tammy Mercure, Terranova, Trevor Clement, Varvara Mikushkina, and VUU.
Special thanks to the Tea Shop of Woodstock for their sponsorship of this project. Hot tea will be served throughout the exhibition. CPW received general project support from the New York Council on the Arts, the National Endowment for the Art, the Warhol Foundation, and our members.
About CPW
Founded in 1977, the Center for Photography at Woodstock is an artist-centered nonprofit organization dedicated to supporting artists working in photography and related media and engaging audiences through opportunities in which creation, discovery, and learning are made possible.
PRESS IMAGES & INTERVIEW REQUESTS
To request high resolution images for press reproduction and interviews with the exhibition artists, contact CPW by clicking here
IMAGE CREDITS
Image on the top:
© Richard Edelman, Fawn Potash, 2015, from the series Stolen Portraits, 40 x 27", archival pigment print.
https://www.cpw.org/media/Edelman_banner.jpg
215
700
WebDev
https://www.cpw.org/media/logo_CPW_2016.png
WebDev
2016-02-17 14:03:52
2016-04-27 16:37:24
PR: New Exhibitions at CPW