2017 Vision Award Honoree: Dr. Deborah Willis
CPW Awards & Benefit Auction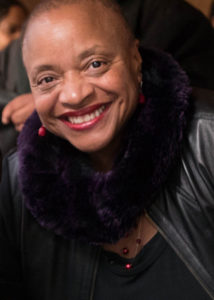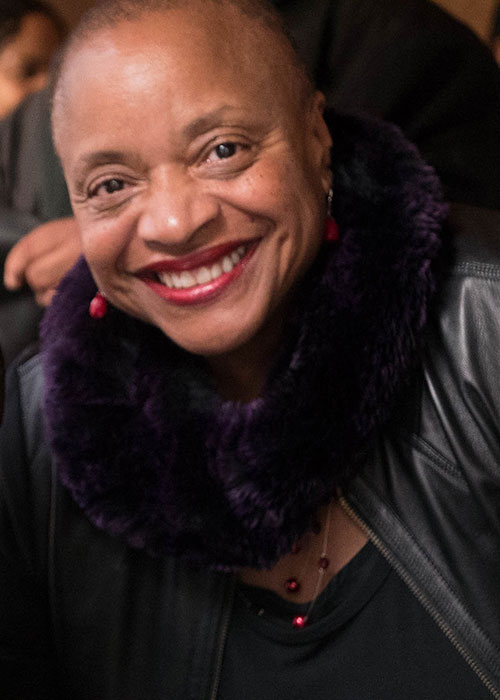 Thursday, October 12, 2017, 7-9pm, at Affirmation Arts in NYC
CPW is pleased to announce the 2017 CPW Awards & Benefit Auction in a celebration of CPW's 40th Anniversary. The highly anticipated benefit will take place on Thursday, October 12, 2017 at Affirmation Arts (523 West 37th Street, New York, NY). This year's event honors Dr. Deborah Willis with CPW's highest recognition, the Vision Award. Proceeds from this event support CPW's programs, which champion artists through residencies, workspace and other support, and provide opportunities for the photo community to engage with thought-provoking exhibitions, workshops and professional resources.
ABOUT OUR HONOREE:
Deborah Willis, Ph.D, is University Professor and Chair of the Department of Photography & Imaging at the Tisch School of the Arts at New York University and has an affiliated appointment with the College of Arts and Sciences, Department of Social & Cultural, Africana Studies, where she teaches courses on photography and imaging, iconicity, and cultural histories visualizing the black body, women, and gender. Her research examines photography's multifaceted histories, visual culture, the photographic history of Slavery and Emancipation, contemporary women photographers, and beauty.
She received the John D. and Catherine T. MacArthur Fellowship and was a Richard D. Cohen Fellow in African and African American Art, Hutchins Center, Harvard University, a John Simon Guggenheim Fellow, and an Alphonse Fletcher, Jr. Fellow. She has pursued a dual professional career as an art photographer and as one of the nation's leading historians of African American photography and curator of African American culture.
Dr. Willis is the author of Posing Beauty: African American Images from the 1890s to the Present; Out [o] Fashion Photography: Embracing Beauty; Reflections in Black: A History of Black Photographers – 1840 to the Present; Let Your Motto be Resistance – African American Portraits; Family History Memory: Photographs by Deborah Willis; VAN DER ZEE: The Portraits of James Van Der Zee; co-author of The Black Female Body: A Photographic History with Carla Williams; Envisioning Emancipation: Black Americans and the End of Slavery with Barbara Krauthamer; and Michelle Obama: The First Lady in Photographs (both titles a NAACP Image Award Winner). She lectures widely and has authored many papers and articles on a range of subjects including The Image of the Black in Western Art, Gordon Parks Life Works, Steidl, Volume II; America's Lens in Double Exposure: Through the African American Lens; "Photographing Between the Lines: Beauty, Politics and the Poetic Vision of Carrie Mae Weems," in Carrie Mae Weems: Three Decades of Photography & Video, and "Malick Sidibé: The Front of the Back View" in Self: Portraiture and Social Identity. Dr. Willis is editor of Picturing Us: African American Identity in Photography; and Black Venus 2010: They Called Her "Hottentot," which received the Susan Koppelman Award for the Best Edited Volume in Women's Studies by the Popular Culture/American Culture Association in 2011.
Exhibitions of her art work include: A Sense of Place, Frick, University of Pittsburgh; Regarding Beauty, University of Wisconsin, Interventions in Printmaking: Three Generations of African-American Women, Allentown Museum of Art; A Family Affair, University of South Florida; I am Going to Eatonville, Zora Neale Hurston Museum; Afrique: See you, see me; Progeny: Deborah Willis + Hank Willis Thomas. Gantt Center.
Dr. Willis' curated exhibitions include: "Convergence," Joan Mitchell Center, New Orleans; "Out [o] Fashion Photography: Embracing Beauty," Henry Art Gallery, University of Washington, "Visualizing Emancipation," Schomburg Center for Research in Black Culture, "Gordon Parks: 100 Moments," Schomburg Center; "Posing Beauty Let Your Motto Be Resistance: African American Portraits" at the International Center of Photography and "Social in Practice: The Art of Collaboration," Nathan Cummings Foundation.
In addition to making art, writing, and teaching, she has served as a consultant to museums, archives, and educational centers. She has appeared and consulted on media projects including the documentary films such as Through A Lens Darkly, Question Bridge: Black Males, a transmedia project which received the ICP Infinity Award 2015, and American Photography, a PBS Documentary. Since 2006 she has co-organized thematic conferences exploring imaging the black body in the West. Dr. Willis has been elected to the board of the Society for Photographic Education, where she was Chair of the Board and received the Honored Educator Award in 2012 and the College Art Association. She holds honorary degrees from Pratt Institute and the Maryland Institute College of Art. She is currently researching a book on an early 20th century portraitist and educator.
photo: Hank Willis Sr.
---
Please join us at the 2017 CPW Awards & Benefit Auction on October 12, 2017 to celebrate Dr. Willis' remarkable accomplishments. Tickets to the event are now on sale, starting at $125.
https://www.cpw.org/media/logo_CPW_2016.png
0
0
Hannah
https://www.cpw.org/media/logo_CPW_2016.png
Hannah
2017-05-14 15:01:07
2017-09-23 21:24:17
Announcing 2017 Vision Award Honoree

WOODSTOCK PORTFOLIO REVIEWS FAQ
There is no official protocol for Woodstock Portfolio Reviews, but several things we can recommend for portfolio reviews in general:
1] Most reviewers prefer to see prints. The 11×14 – 16×20″ range is best, for portability and to best utilize table space for viewing. If your native prints are smaller than 11×14″, then use the native size. Larger than 11×14 is acceptable, but can be unwieldy. A portfolio box with loose prints is always preferable over a portfolio book with prints behind plastic sleeves.
2] Single-image ["one-off"] portfolios are not recommended, unless that is your standard way of working. If you work serially or project based, then show one or two bodies of work, three maximum. Show about 20-25 images, the best that you have, starting with the strongest work at the top of the pile inside your portfolio box. You want to show consistency and depth of vision. The goal is to show the reviewer who you are as an artist in under 20 minutes.
3] If you cannot create a print portfolio, or if your work is meant to be displayed digitally and not in print form, then create a digital portfolio, in the form of a folder of files or a .pdf or ppt. Don't just show them your website. You must bring your own display device, and we recommend a laptop or large tablet [do not use your cell phone]. The images should be displayed simply, without text unless it's part of the piece, and as large and sharp on your device as possible. Also, make sure your device is fully charged at the start of each review; there may not be outlets close enough to every table.
4] Be prepared with a goal for your review, and let your reviewer know just what you would like to get out of the review session right at the start. It can be in the form of a question or two, but be specific because your time is usually quite limited. Also, start showing your images right away, while giving them your elevator speech* and review goals.
5] *Write and memorize your 'elevator speech.' One or two sentences that you can use to quickly introduce yourself and your work to your reviewers, and any other potential connections you may meet along the way – but it has to be short enough to say between floors on an elevator, and should be accompanied by your business card. "My name is Johnny Appleseed. I am a photographer and my work depicts the forgotten histories of apple farming in NY State. I create tintypes of legacy varietals of apple trees using a large format camera. Here is my card."
6] Bring give-aways to leave with each reviewer. A post card, leaflet, or pocket-sized packet with one or two images of the work you are showing them, and your website and contact information on it. The importance of this cannot be stressed enough. This is often how reviewers remember your work, and they can contact you later if they are interested in working with you, or share your info with others they think might be interested in it. A business card with one of your images on it will suffice, but a post card is better.
7] Follow up: Send your reviewer[s] a handwritten thank you note or email. Be sure to include an example of something you talked about during your review, and how you might be implementing their suggestions into your practice. Do not expect a reply: Keep in mind that the reviewer's responsibility toward you is completed at the end of the review itself. They will contact you if they are interested in your work.
FAQ compiled by CPW Program Manager Jan Nagle. Photographs by David Cunningham.
Looking for more resources? Check out the video "Mary Virginia Swanson: How to get the most out of a portfolio review," courtesy of PDN.
The 2017 Woodstock Portfolio Reviews take place May 20-21. Please join us. We want to see your work!
Center for Photography at Woodstock –  where great photography is made, discovered and encouraged.
https://www.cpw.org/media/reviews_banner2.jpg
394
1200
Hannah
https://www.cpw.org/media/logo_CPW_2016.png
Hannah
2017-05-13 09:37:37
2017-06-08 17:30:13
How to Prepare for Portfolio Reviews
Press Release: 2017 WOODSTOCK AIR The Center for Photography at Woodstock is pleased to announce our 2017 artists-in-residence. A total of eight residencies were awarded to artists and a writer of color working in photography and related media. The following artists were awarded studio residencies for 2017: Jillian Browning (Ocala, FL), Brittney Cathey-Adams (Santa Cruz, CA), Jeremy Dennis (State College, PA), John Edmonds […]
https://www.cpw.org/media/logo_CPW_2016.png
0
0
Hannah
https://www.cpw.org/media/logo_CPW_2016.png
Hannah
2017-04-13 17:13:31
2017-06-08 17:31:37
PR: WOODSTOCK AIR 2017