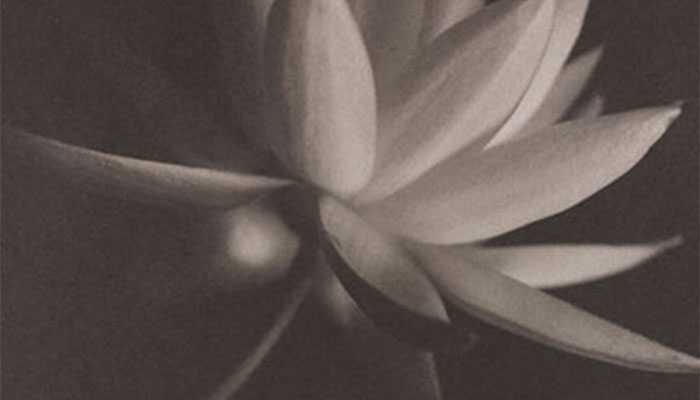 Yumiko Izu
Artist Statement
The photographs in this series entitled Secret Garden have been developed out of an exploration of the ephemeral beauty of flowers. Everything in this world has its end and nothing remains unchanged. Flowers, petals, stems, pollens and ruins, they vanish out of the darkness slowly with a hint of sorrow. The flower¹s life is a metaphor that reflects on the fleetingness of human life. It is my hope that the viewer can find a sense of transient existence in these photographs.
-Yumiko Izu, 2007
Artist Bio
Originally from Osaka, Japan, Yumiko Izu received her diploma of photography from Visual Art School in Japan and her Bachelor of Arts from Brooks Institute of Photography in California.
In 1998 she moved to New York City and started working on various assignment of advertising and editorial photography to date. In 2003 she began to use the platinum/palladium printing process and started ongoing self-project of Secret Garden. She and her husband, Kenro, currently live in Rhinebeck and work at the studio in Red Hook.
Website
yumikoizu.com
—
Juror's Statement
The second recipient for this year's Photographers Fellowship Fund Award is a young woman who works in an entirely different style. Yumiko Izu's mastery of platinum printing and a simple, pure vision of still-life is admirable. But, I have seldom seen such work made so sublime, so emotional and so mysterious. I hope the world will see more of this work which is admittedly out of time and out of fashion.
-Howard Greenberg, 2007
Juror's Bio
Howard Greenberg is the owner and director of the Howard Greenberg Gallery in NYC. A former photographer and founder of the Center for Photography in Woodstock in 1977, Greenberg has been one of a small group of gallerists, curators, and historians responsible for the creation and development of the modern market for photography.
The Howard Greenberg Gallery which was founded in 1981 and originally known as Photofind, was the first to consistently exhibit photojournalism and 'street' photography, now accepted as important components of photographic art.