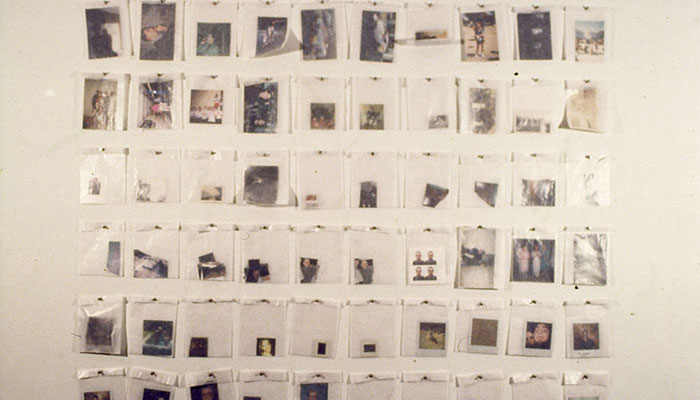 Tara Fracalossi
Artist Statement
What is pictured in a photograph is, in the end, irrelevant.  The taking of an image, the creation of an index, a reference, a history, forms the basis of my work. The subjects are generic and unimportant, but at the same time, they are universally specific: a young woman in a white dress, blurred street signs, a city at night.
Continue Reading...
In the 
Archive
 project, pictures are stored away as permanent records of fleeting instants, personal and collective histories. The image, itself a surrogate for the now-past subject is soon replaced by the verbal caption of that past moment; "bride," "horizon," "cleveland at night". The original photographic images barely need to be seen. Like the moments they document, their specifics fade and are supplanted by titles, words, and labels.  This ongoing, ever growing project currently consists of several thousand sorted, categorized, wrapped and labeled snapshots.  They are the images of the special, the everyday, the nothing.
The cheap, expendable photocopy does not require careful storage and protection.  It is made to be consumed, used, and, viewed. I approach the series of ongoing collages and wall works as drawings –  made from photocopies of the individual images in the Archive.  In contrast to the tightly defined organizational parameters of the Archive, relationships between images in these 'drawings' are explored and exploited through an ever shifting system of juxtaposition and sequencing.
As stand-ins for the moment, the actual, the experience, reproductions become the materials of making. The photographic object as evidence of the act of making a picture, being in a moment, becomes a point, a node in a system of categories that are organized and archived.  These systems (any systems) of classification, order, preservation tease us with meaning, with the promise of time and memory regained.  But like all systems of categorizing and preserving they are ultimately arbitrary and the promise of a systematic key or legend to the private and public images, indexes and histories they represent cannot be decoded.

Artist Bio
Tara Fracalossi is an artist who exhibits nationally and internationally. She is represented by Masters&Pelavin Gallery NYC. Fracalossi's massive, ongoing work Archive (1998- present) comprises thousands of categorically sorted images shot constantly from everyday life and surroundings. As a re-sorted, diaristic document, her installations, works on paper and video projections— all excerpted from the Archive– are an inquiry into the meaning of our photographically recorded existence.
Tara Fracalossi is Assistant Professor of Fine Arts and founding director of The Teaching Gallery at Hudson Valley Community College, SUNY.
Website
tarafracalossi.com
—
Juror's Statement
The ARCHIVE project presented by Tara Fracalossi is both intelligent as a concept and well resolved from a formal point of view. It opens a space for the viewer to include his/her perception and input. Subjects such as representation, memory, time, meaning, and the search for an order are all issues included in this piece. The awareness of the impossibility to find "the ultimate meaning and order of things" and its unresolved quality is what, in my opinion, makes Tara 's work relevant and strong.
Juror's Bio
Liliana Porter is a Hudson Valley resident who currently teaches Art at Queens College in the City University of New York. An award winning artist whose talent has garnered her a 1980 Guggenheim and three NYFA grants, Ms. Porter has shown her work at venues internationally and is represented by the Todd Hosfelt Gallery in San Francisco, CA and in collections including the Museum of Modern Art in NYC, Museo Tamayo in Mexico City, and the Museo de Bellas Artes in Buenos Aires.