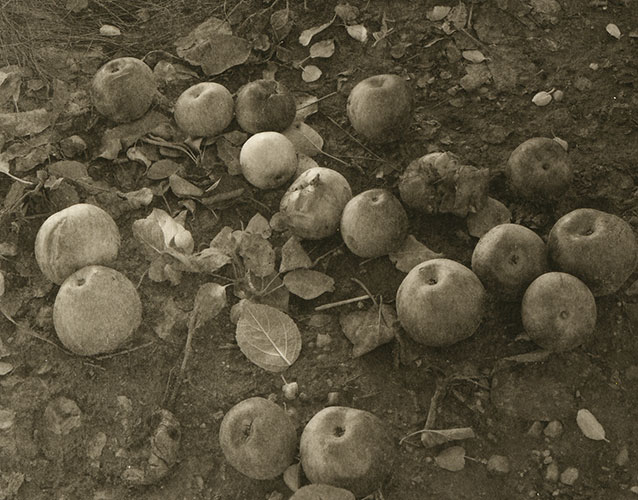 Tanya Marcuse
Artist Statement
For the series Fruitless I made these photographs of fruit trees in 2005 and 2006 in northern Dutchess and southern Columbia Counties in New York State, near where I live. I am riveted by the stunning transformations these trees undergo through the seasons. Yet, I am photographing these orchards because they are vanishing as new housing developments spring up at astonishing rates. Some of these orchards are on land that is currently for sale. Perhaps in a year, or a decade, these trees will be gone.
Artist Bio
Tanya Marcuse is a critically acclaimed photographer whose work investigates the body and the archive.  She received her MFA from Yale University in 1990 and is the recipient of many awards and honors including a Guggenheim Fellowship, Thomas J. Watson Fellowship, a John Anson Kittredge Award, as well as two Photographer Fellowships from CPW.  Her work has been published in two monographs, Undergarments and Armor and Fruitless, both by Nazraeli Press. Marcuse's photographs have been exhibited internationally including at Hemphill Fine Art, Yoshii Gallery, Stephen Cohen Gallery, the Museum at FIT, Belfast Exposed Photography in Northern Ireland, the New Museum of Contemporary Art, the Corcoran Museum of Art, and at the Julie Saul Gallery, where she is also represented.  Her work has been reviewed or featured in the New York Times, Source Magazine, Orion Magazine, Photo-Eye, New York Magazine, the Village Voice, Artnews, Art in America, PDN, Art Issues and Artforum. Her photographs are in the collections of the Corcoran Museum of Art, the Metropolitan Museum of Art, the Yale Art Gallery, and the Library of Congress.
Website
tanyamarcuse.com
—
Juror's Statement
It has long been a tradition among artists to record, recall, and even romanticize places and monuments of culture that are in decline or transition. Tanya Marcuse's luminous, platinum palladium prints of fruit trees document the vanishing visual, economic and cultural presence of orchards in the Hudson Valley region. With stark, unsentimental elegance, the trees are composed, portrait-like against sky and meadow, their limbs curling and stretching in lush, linear complexity. It was this gorgeous but unsweetened visual intimacy, as well as Marcuse's thoughtful compositions and choice of printing mediums that elevate this series, Fruitless, to a level beyond the lament of encroaching 'progress.'
Juror's Bio
Sharon Bates is a visual artist, curator, and the founding director of the Albany International Airport Art & Culture Program, which has become a national model for public art programs. As director, Bates organizes temporary exhibitions and site-specific projects that showcase regional artists and cultural institutions in the Albany International Airport and throughout the terminal.
Before moving to the Capital Region, Bates resided in Los Angeles, CA where she served as an on-air reporter for Arts LA, the weekly NPR arts magazine. She is the former gallery director for the Arts Center of the Capital Region in Troy, NY, and one of the founders of the Downtown Troy Window Project.