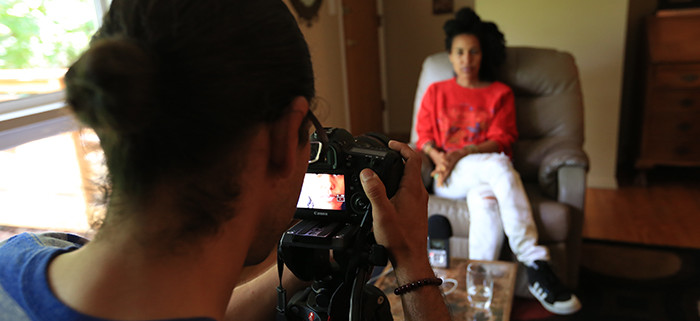 Suné Woods at work, Summer 2015, Woodstock, NY image by Sarah O'Connell
Suné Woods
Statement

My video work often deals with intangibles in relationships and the psychological spaces they often occupy. For the last few years I have been working with photography, video and collage. I am seeking to push the relationships between the ways in which I have been using these mediums while also deepening my understanding of the themes that I am addressing with my work. I am interested in how one uses emotion as material, how this differs from intimacy, or how they might converge.
Bio
Suné Woods is an artist living in Los Angeles. Her work takes the form of multi-channel video installations, photographs, and collage. Woods practice examines absences and vulnerabilities within cultural and social histories. She also uses microsomal sites such as family to understand larger sociological phenomenon, imperialist mechanisms, & formations of knowledge. She is interested in how language is emoted, guarded, and translated through the absence/presence of a physical body.
She has participated in residencies at Headlands Center of the Arts, Vermont Studio Center, and The Center for Photography at Woodstock, Summer 2015. She will be in residence at Light Work in 2016. Woods is a recipient of the Visions from the New California initiative and the John Gutmann Photography Fellowship Award.

Website
sunewoods.com