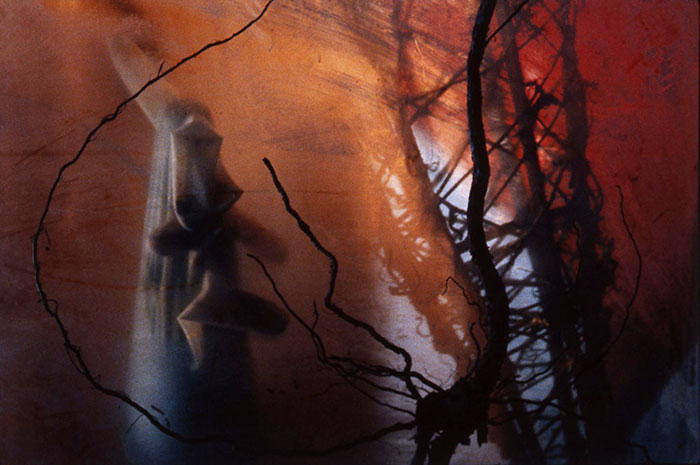 Rose Mackiewicz
Artist Statement
For most of my twenty-five years as a photographer I have explored, developed, experimented with, and produced mixed-media, altered or manipulated photography-based imagery.
I painted and drew on black and white silver prints or collaged and then re-photographed images and in one body of work even added a three-dimensional screen element to painted-on prints. Most of my earlier image manipulations or mixed-media applications took place either in the darkroom or after the prints were processed.
In 1997 I began a new body of work that was a departure from my previous approaches in that all manipulation took place in front of the lens and the final products were straight color type C prints.
These resulting color prints still address many of my previous concerns: theater, the use of light and shadow to archive drama, painterly color and texture, layers and depth, but in a way that is more purely photographic. For example, instead of painting on a finished black and white print, I now use painted glass or bits of old paintings as elements in my straight color prints.
Artist Bio
Rose Mackiewicz received her Bachelor of Professional Studies from Empire State College, where she specialized in mixed-media photography. Her work has shown in solo shows across the state of New York and has been part of numerous group shows across the United States. Rose has had work published in Popular Photography Annual, Today's Photographer, The Milwaukee journal, and The VIllage Voice.