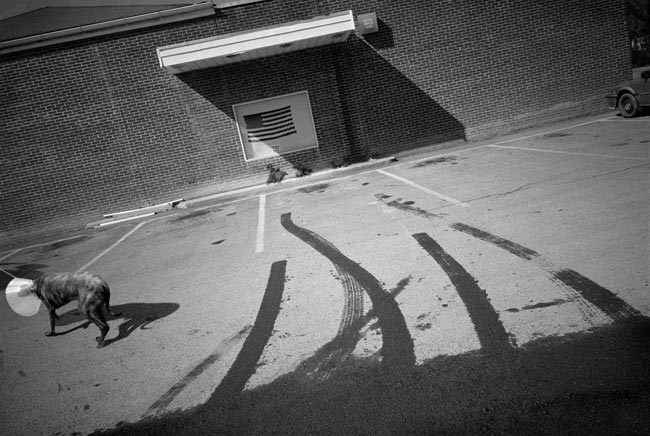 Richard Edelman
Artist Statement
Pictures of Dogs, Women, and the City
Some time ago I began making photographs without looking through the viewfinder. While I choose my subjects in a conventional manner, the content and organization is something else…often dependent on a large dose of luck, controlled more by "muscle memory" than sight. I photograph, primarily, with an ultra-wide (15mm) lens on a 35mm camera. This process produces a number of secondary effects: sharply oblique angles, erratic focus, unpredictable composition.
This approach allows me to photograph relatively unnoticed, except by the dogs, who seem to sense that there is something going on and are alert to my presence. As a result I developed a keen interest in them and they became the essential focus of my work.
Women, often in the form of reflections or posters, have a place in nearly all my pictures. Occasionally, their presence is so subtle as to be difficult to sense – illustrating dynamic energy rather than form. These female images and forms blend ironically with the chaotic urban backgrounds which I am drawn to.
Certain elements of these pictures are added or eliminated electronically/ With an eye toward familiar photographic realism, the distinction between actual and composited imagery is not visible (or at least difficult to ascertain). My photographs involve the organization of forms, but not necessarily those drawn from a single event or encounter.
Artist Bio
Richard Edelman received his BFA from Rochester Institute of Technology in 1972 and his MFA at the Pratt Institute in 1980. His work has been shown internationally including shows in London, Tokyo, Madrid, as well as in New York City and Woodstock. He has worked as an instructor at the International Center for Photography and School of Visual Art, both in New York. Edelman is a previous recipient of the Photographers' Fellowship Fund (1985).  He currently lives with his family in Woodstock where he owns and runs a digital design and printing studio.