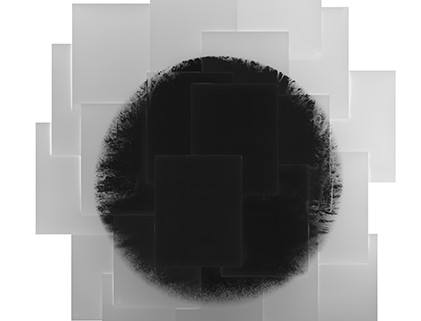 Black Hole, 2015
MOTOHIRO TAKEDA
Statement
All of the images in the series. "Another Sun" were made in my room camera obscura. The camera obscura is one of the oldest devices in human history with the capability to depict the outside world. Although photography was invented long after the invention of the camera obscura, it can be said that the realization of it foresaw the emergence of photography; a promise to the future. Being inside the camera obscura room is like a time machine for me, I can experience what renaissance artists might have and instead of paint and brush I use light sensitive papers and films to transform light into photographic works of art.
This project came to be one day after I finished making an image in my room camera obscura; the ceiling lights were on and I found a strange white dot on my wall. I wondered what it was and discovered that it was the sun projected from the pinhole on my window. The sun was so bright I could see it even with the lights on and I wondered if the renaissance artists were also fascinated when they accidentally found the image of the bright sun in their camera obscura.
Due to this occurrence I decided to create another sun, my own sun, by sculpting and curving light, exposing it directly to the papers, I followed the sun throughout the years and by doing so I realized that I was also following the seasons. Spring, summer, fall and winter as the sun moves its position in the sky, nature changes. It all happens in the world outside yet at the same time it also happens in my room as a mirrored image of the world upside down. This series of photographs are my reflection and repsonse to what I experienced inside of my room with the another sun.
Bio
Motohiro Takeda was born in Hamamatsu, Japan. He received his BFA in Photography from Parsons in New York City. Takeda has won several awards and participated in multiple residencies, including being a Darkroom Residency recipient at the Camera Club of New York and at the Center for Photography at Woodstock in 2015. His work was featured in CPW's 2012 Annual Photography Now exhibition in 2012 and was the winner of the Director's Purchase Prize for that year.

Website
motohirotakeda.com