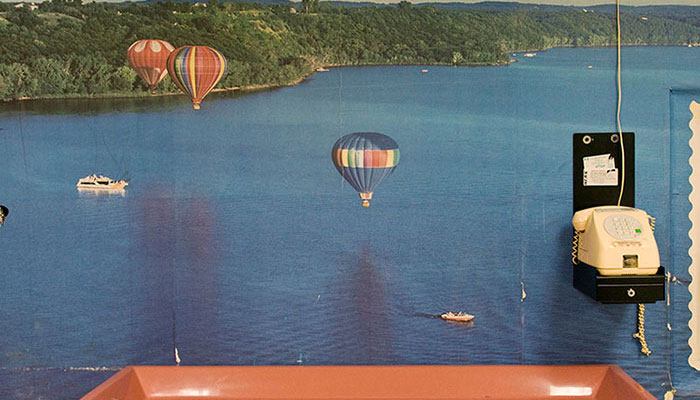 Mark Lyon
Artist Statement 
My inspiration for creating photographs stem from finding and documenting peculiar juxtapositions in everyday places. This process often involves the act of rephotographing photographs.
My current series, Landscape for the People, looks at the use of romanticized wallpaper landscape photographs found in everyday environments. These wall sized photographic murals seem to serve a psychological function, given their potentially intimidating or banal locations, like dental room and laundromats. These landscape murals allow the viewer an alternate mindset to nerve racking procedures or the mundane activities of everyday life.
The photographs from Landscape for the People use the peculiar relationship between found images and operative items. The resulting photographs of these locations document the strange play of the functional environment and the idealized psychological landscape.
Artist Bio
Born in Rochester, NY in 1979, Mark Lyon developed a strong interest in art in High School. His undergraduate studies began at the School of Visual Arts where he was the recipient of a Rhodes and Faculty Scholarships. He completed his undergraduate studies at SUNY New Paltz where he earned his BFA in 2003.
Shortly after, Lyons began to teach art and photography at Beacon High School where he was able to take advantage of the community's developing art scene. This has led to collaborations between Lyon and Dia:Beacon, the Beekman Banner Project as well as presentations by prominent photojournalists and exhibitions at Fovea Exhibitions, a not-for-profit space dedicated to fostering dialogue on documentary and photojournalistic practices.
Lyon recently received his MFA from SUNY New Paltz in August 2008.
Website
marklyonphotography.com
—
Juror's Statement
In his series Landscapes for the People, Mark Lyon seeks out wall-sized, hyper-romantic photographic murals of landscapes in a variety of banal locales. Interestingly, many of these vintage wallpapers happen to be found in dentist offices and laundromats. Lyon uses a surreal aesthetic and probes the psychological juxtapositions of scenery and functional items to great effect. I was immediately struck by Lyon's vibrant colors, offbeat compositions, as well as the resulting transformation of everyday items through his lens.
Juror's Bio
Leslie K. Brown is the curator of the Photographic Resource Center at Boston University – a non-profit gallery, library, and resource center devoted to the New England and national photographic community.  Known for innovative and engaging exhibitions, the PRC's gallery program has garnered consistently positive regional and national press under her guidance.  Besides maintaining the active PRC exhibition schedule, Brown has taught as an adjunct faculty member at the Art Institute of Boston at Lesley University and the Rhode Island School of Design. She regularly serves as an invited reviewer for portfolio review events, such as Photolucida and Fotofest, as well as a guest juror for juried exhibitions at regional galleries and museums.