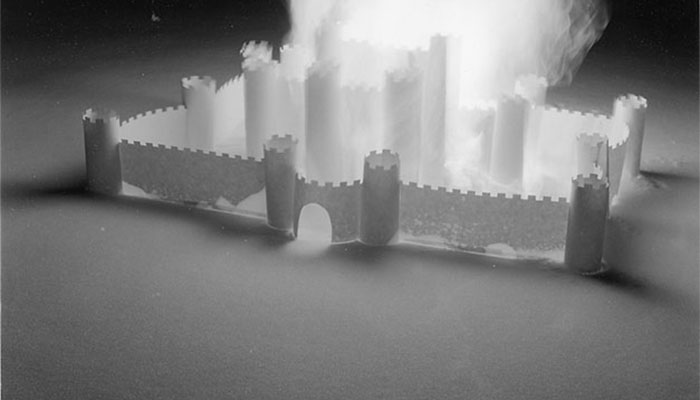 Laura Gail Tyler
Artist Statement
Our environment is continuously altered by our amazing accomplishments in engineering and by our expansive developments.  My work addresses some of the cliché ideal, which we associate with our building efforts and some of the limitations we encounter as we build higher and further. I am interested in the associations we have with simple architectural structures such as the bridge, the tower and the house. I create images of these generic icons by fabricating and photographing model structures made from unlikely materials.
Continue Reading...
The imagery I create breaks down into two groups: architecture that is motivated by security or protection and structures that are driven by ego and ambition. I began with a series of bridges that I constructed out of sugar. I was interested in the ambition involved in these structural feats of engineering and the optimistic goal to span and to connect. The use of sugar was important for its fantastical associations and for its obvious lack of structural integrity. My goal was not to show what the bridges were spanning, rather to show them as a construct of questionable longevity.
Currently, I am working on a series of residential developments and military fortifications made of sand, paper, pumpkins and other transient materials.  While these structures share in the ambitions and persistence of ever expanding development, they also touch upon issues of stability and protection.
I employ set-up photography to parallel the constructed nature of our world. I do not choose to work with traditional building materials. Instead, I use impermanent materials that originate from childhood crafts and reference fantasy and the imagination. My materials and constructions have included cake decorating, pumpkin carving, gingerbread houses, sand castles, snow forts and playing card houses.
I am interested in the combined meanings of these materials with icons from architecture, and the tensions created between images of grand, structures constructed of something so obviously small and impermanent. I am not interested in describing another world, and I do not simply wish viewers to enter into the spaces I have created.  Instead, I want the pictures to offer some degree of resistance and to suggest limitations.
In my earliest photographs, I focused on the initial, undamaged structure. As the work has progressed, I have relinquished some control over the photographs in a way that parallels the checks and balances of our environment. I have introduced water, fire, decomposition and even the damage incurred by household pests as forces that erode my constructions. The newest photographs depict a moment when the structure is being consumed but is still identifiable.

Artist Bio
Laura Gail Tyler was raised in Gwinnett County, Georgia and Chapel Hill, North Carolina.  Throughout her childhood, her family encouraged making things for entertainment including sewing, stained glass, weaving, woodworking and photography.  After being introduced to contemporary art as a undergraduate at Bard College, Laura Gail finished her degree as a double major in photography and in sculpture.
Later as a graduate student, she combined these interests in the practice of set-up photography.  Laura Gail graduated with a M.F.A. in photography from Yale University in 2002.  Laura Gail's interest in the physical construction of objects and in materials has been a constant and has expanded in her photographic investigation of fabricated architectural structures.  Currently, Laura Gail lives and works in New York's Mid Hudson Valley.
Website
lauragailtyler.com
—
Juror's Statement
Laura Gail Tyler's sculptures and photographs (I speak having seen the former only through the latter) are united by a tangible respect for craft – but a respect so understated, for such spartan modes of craft, that her consistency of purpose seems a matter not of dogma but one of quiet common sense.  From constructions built as sturdily, and as "monumentally," as their evanescent materials will allow, she has created pictures as suggestive of time and transformation as can be coaxed from a medium consisting of still-image testimonials to material fact.  Constancy of means can leave the door open to cliché, but an insistence on visual invention prevents Tyler's pictures from descending to the status of either tritely "poetic" evocations of mortality or banal record photographs.  She conducts the eye into a landscape unrecorded elsewhere, and one that promises to grow in unexpected directions.
Juror's Bio
Joel Smith is the Fisher Curator at the Frances Lehman Loeb Art Center at Vassar College, a position he has held since 1999. Exhibitions he has curated at Vassar include Making Light: Wit and Humor in Photography, Histories of Photography, and Summer Reading: The Recreation of Language in Twentieth-Century Art. A former fellow in the Department of Photographs at the Metropolitan Museum of Art (1995-1997), Smith is the author of Edward Steichen: The Early Years (Metropolitan Museum of Art / Princeton University Press, 1999).