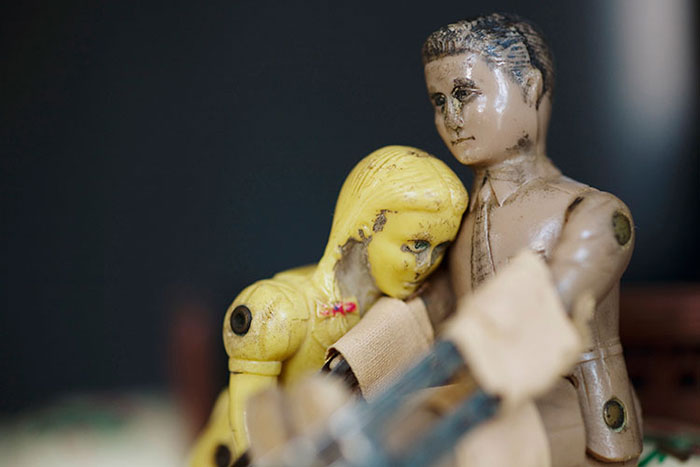 Karen Davis
Artist Statement
When my sister Cheryl died in 2006, I inherited the plastic doll family she called "The McCanns." She played with them throughout her childhood and kept them all her life.Cheryl pretended she was "Tom McCann," a spunky often misunderstood, kid. My stand-in was "Mary Ann McCann," Mother's favorite, according to Tom. When Tom could not stand on his own, Cheryl diagnosed Polio and fitted him with crutches and braces like hers. (She was born with spina bifida.) Arranging the family in scenes, Cheryl created her private world. Now, decades later, I place the worn four-inch tall dolls on stage and direct their actions. I present my photographs in a large format to bring the McCanns and memories of childhood to life.
Artist Bio
Karen Davis's work is featured at the Massachusetts Museum of Contemporary Art and is in public and private collections including Houghton Rare Books Library, Harvard University. In November 2009, Karen will exhibit photographs from her series Close to Home in China at the Lichui International Photography Festival. The McCann Family was exhibited at the Griffin Museum of Photography (2008) and the Bromfield Gallery, Boston (2009). In 2006, her Visual Memoir project was featured in the Women's Review of Books. Three of Karen's photographs were included in hlrm: pictures at the Studio Museum in Harlem in 2005. In addition to solo and group exhibitions, Karen presents her photographs in artist books and multiples that contribute to her visual memoir. The McCann Family, selected by blurb.com as a "staff pick," is her first artist-published photobook. Karen Davis teaches photo-based and word and image art courses at Lesley University.
Website
yesthatkarendavis.com
—
Juror's Statement
Dolls are powerful symbols that have drawn many artists to incorporate them into their work, but few artists have given them the emotional depth that Karen Davis has in her series The McCann Family. The worn dolls survived years of play at the hands of Karen's sister Cheryl, followed by many more years of careful storage. Having inherited this childhood treasure, Karen brings these figures to life once more, this time to perform in front of the artist's camera instead of other family members. Karen's sister used to play act elaborate scenarios where each real life family member had an approximate counterpart in the doll world of the McCann family. So it is no surprise that at one point the figure Tom McCann—standing in for Cheryl—was fitted with leg braces much like the ones Cheryl had to use in real life due to the spina bifida she was born with.
Karen's photographs are not mere recreations of yesteryear's playtime. They succeed in breathing life and depth into each image that transcend their autobiographic sub layers. While the series revolves around Tom's figure and the care he requires, the photographic series is rich with quiet moments that expand on the emotions of all characters. A sister leaning on Tom for emotional support, a mother in melancholic thought, Tom leaning into his reflection in the mirror. These images allow us to share in the complexities and the beauty of this fictional, yet genuine family. – Hannah Frieser, 2009
Juror's Bio
Hannah Frieser is the director of Light Work, a non-profit organization in Syracuse, NY, that has supported artists working in photography and related media for over thirty-five years. Light Work's programs include exhibitions, residencies, publications, and a public-access work space. Frieser has curated exhibitions on photographers such as Pipo Nguyen-duy, Kanako Sasaki, Suzanne Opton, Don Gregorio Antón, and Barry Anderson. Her essays have been printed in photography publications and exhibition catalogues such as Contact Sheet and Nueva Luz. She has reviewed portfolios for Photo Lucida, FotoFest, the Society for Photographic Education (SPE), En Foco, the Photographic Resource Center, and more. She is currently serving on the review panel for Visual Arts for the New York State Council on the Arts. Prior to joining Light Work, Frieser worked for SPE for over twelve years and is currently serving on SPE's board of directors. In March 2010, she will be co-chairing an SPE national conference with Miriam Romais from En Foco. The conference "Facing Diversity: Leveling the Playing Field in the Photographic Arts" will take place in Philadelphia.