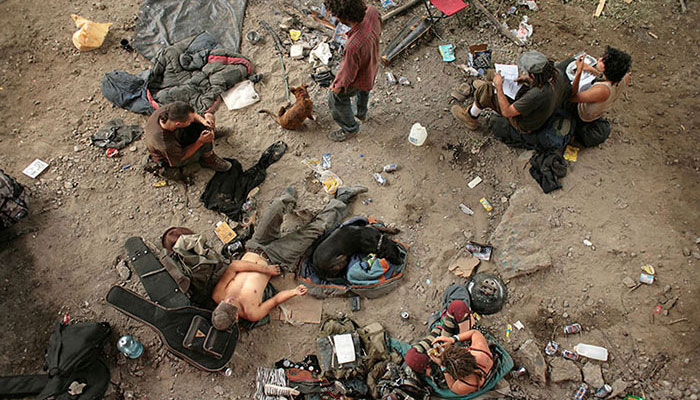 James Heil
Artist Statement
Like music that has power to evoke emotions, photography has beauty that people can relate with. Photographic beauty is accepted by viewers whether or not it makes sense. This beauty can break down any barrier, and create an avenue of communication through feeling. My goal is to raise viewers' awareness of others and their situations through visual communication. I want to show people that their relationship to their own emotions is an avenue through which they can see others' situations. I believe that all human beings share similarities. I want to heighten peoples' awareness of their similarities, then use this awareness to connect viewers to subjects. My goal is to help viewers expand their understanding of a situation by feeling connected to the subject.
-James Heil, 2007
Artist Bio
James Heil is a twenty-seven year old who has been living on his own since he was fifteen. Independent of his mother at fourteen, he first lived with a number of families in Woodstock, NY. He then lived on his own in a bus parked in the woods for two years. James has made his living as a carpenter since the age of 15. Before that, he worked as a farm hand in New Zealand. Between the ages of 15 and 17, James traveled the United States alone, hitchhiking and hopping trains. His experiences opened his eyes to a part of America that usually goes unseen; an America where Vietnam Vets travel in gangs, runaway kids make their own families, and old factories are turned into heroin-shooting galleries. At seventeen, a friendship evolved into the opportunity to be part of a family with a solid home environment.
When the tragedy on September 11th, 2001 occurred, James' desire to fully understand the day's events led him to find a way down to ground zero, despite the road blocks. It was there, while helping distribute food, that James took his first meaningful photographs. September 11 defined his vocation. James would be a photojournalist. Heil currently funds his self-assigned projects through his carpentry business. He also submits to Redux photo agency.
Website
jamesheil.com
—
Juror's Statemet
The first recipient for this year's Photographers Fellowship Fund award is a young man who whose work stood out not simply because I enjoyed looking at his photographs. James Heil's images were made as a teenager living the life of a modern day "hobo" riding the rails.  I did not know this depression era life style which is romantic to us now, was still possible. I was taken by the bravery, his point of view, his personal yet communicative style. He is a worthy recipient of this award and its encouragement.
– Howard Greenberg, 2007
Juror's Bio
Howard Greenberg is the owner and director of the Howard Greenberg Gallery in NYC. A former photographer and founder of the Center for Photography in Woodstock in 1977, Greenberg has been one of a small group of gallerists, curators, and historians responsible for the creation and development of the modern market for photography.
The Howard Greenberg Gallery which was founded in 1981 and originally known as Photofind, was the first to consistently exhibit photojournalism and 'street' photography, now accepted as important components of photographic art.