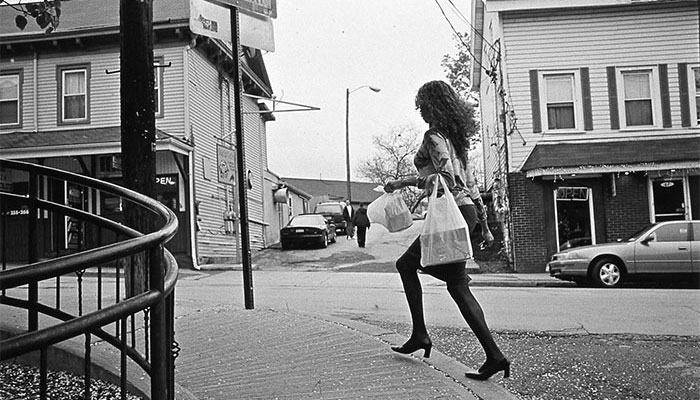 J. Gilbert Plantinga
Artist Statement
I made these pictures within a 50-yard radius of the corner of Church St. and Main in New Paltz, NY where I have been photographing almost daily since February 2003. The pictures are from an ongoing project concerning the daily life and the spirit of the village as one can see these on its streets and in its architecture and re-figure it in works of art.
Taken on 35 mm film, these are inkjet prints from digital scans, full frame on 11 X 14 cotton rag paper, using archival pigment inks.
Website
gilplant.com
—
Juror's Statement
The consistency in the body of work submitted by each of this year's recipients of the Center for Photography Fellowship Grants demonstrates the supremacy of vision over chance. These photographers create work that is intriguing because of an implicit ambiguity where the internal tension of each image merits not only a second glance but also repeated study.
Juror's Bio
Susan Edwards is the Executive Director for the Katonah Museum of Art in Katonah, New York. In addition to her administrative responsibilities, Ms. Edwards conceives exhibitions, publishes and lectures on modern and contemporary art and photography. Previously Ms. Edwards was Curator at Hunter College of the City University of New York In 1997 Ms. Edwards was named a Founding Fellow at the Liguira Study Center for the Arts & Humanities, Genoa, Italy. She currently serves on the advisory boards of the Bagliasco Foundation, Harvard University Art Museums Collections Committee, the Stephen Taller Archive at Harvard University, and the Center for Photography at Woodstock.
Ms Edwards received B.A. and M.A. degrees in Art History from the University of South Carolina in 1979 and 1983 respectively, and M.Phil and Ph.D. from the City University of New York in 1990 and 1995 respectively. While completing her dissertation on Ben Shahn's photography, Ms. Edwards curated over  twenty art exhibitions and taught art history at New York University, Queens College at CUNY, Pace University, Stern College of Yeshiva University, and School of Visual Arts, NY.
Ms. Edwards has lectured at Harvard University, the College of William & Mary, Montserrat College of Art, Whitman College, and the International Center for Photography in New York. She is the author of numerous catalogue essays including Ben Shahn and the Task of Photography in Thirties America, The Edge of Night: Urban Landscape Photography, and Physical Relief. She has also contributed essays to periodicals and served as Guest Editor for a special issue on electronic photography for the Oxford University journal History of Photograph in 1998.