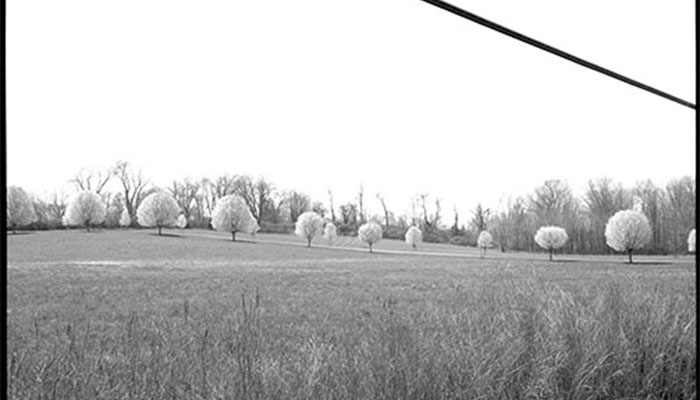 Harvey Osterhoudt
Artist Statement
The subject matter of the black and white photographs in this portfolio are unpretentious stuff –trees, houses, fences—in unimportant places – a backyard, a street corner, a hillside – in short, nothing newsworthy or likely to attract tourists. There are no birds-eye or worms-eye views nor dogs that look six feet long. The items of subject matter elicit their names as readily as if they were the real things. One would not associate symbolic or generic meanings with the subject mater or locations (unless "look like" is taken to be a case of symbolism) or with the way it is shown. The associative load of the subject matter and the vantage from which it is shown are equally ordinary. One might say, they fit. In addition one might note that there are no persons knowing they have looks for us to look at, nor any persons caught looking like they never look for us to look at; the photographs don't in fact have a subject, only subject matter. There is no blurring of detail by selective focus or motion of objects; no deviation from facts that could be taken as a lyrical or expressive deformation of the subject matter. As tonal reproductions of the appearance of the world they show clearly all detail. Nothing loses visibility inexplicably into darkness or unmodulated white. The relation of the tones corresponds to the relative brightness of the light that reflects from surfaces in the world.
A valuing of these photographs could go two ways: these are just what stuff looks like, these photographs are remarkably true to the essential possibility of photography – description of appearance.
This concludes the statement of Harvey as the artist.
Continue Reading...

Harvey (as commentator):
While some might characterize these photographs as "strikingly quiet", "foreboding", or even "mysterious" it's apparent to me that their meaning properly speaking resides in the private realm of personal idiosyncrasies– those of the viewer(s) as well as of the photographer. I know from intimate conversations with the artist that he considers the meaning of these pictures to reside in a Freudian analysis of the photographs as instances of stills from dreams, which is clearly irrelevant to the work itself.
– Harvey Osterhoudt, 2007

Artist Bio
Harvey Osterhoudt received his Bachelor of Fine Arts with Honors, from Rochester Institute of Technology in Rochester, New York and his Master of Fine Arts from Indiana University in Bloomington, Indiana. He has exhibited in solo as well as two person shows throughout the country, as well as being part of numerous invitational and juried group shows. Some of his publications include Indiana Artists' Showcase, Texas Fine Arts Association 1980 Annual Exhibition, and Eleventh Biennial Michiana Regional. Selections of Harvey's work belongs to various permanent collections including Center for Photography at Woodstock, Chrysler Museum at Norfolk, and Samuel Dorsky Museum of Art.
—
Juror's Statement
The third recipient for this year's Photographers Fellowship Fund award is a special award which I am creating for a photographer who proves that one need not venture far from home to make images not only well seen, but subtle and intelligent. Challenging but ultimately rewarding, such pictures demonstrate another aspect of the photographic language. Harvey Osterhoudt has been creating these worthy photographs for many years without proper recognition.
– Howard Greenberg, 2007
Juror's Bio
Howard Greenberg is the owner and director of the Howard Greenberg Gallery in NYC. A former photographer and founder of the Center for Photography in Woodstock in 1977, Greenberg has been one of a small group of gallerists, curators, and historians responsible for the creation and development of the modern market for photography.
The Howard Greenberg Gallery which was founded in 1981 and originally known as Photofind, was the first to consistently exhibit photojournalism and 'street' photography, now accepted as important components of photographic art.