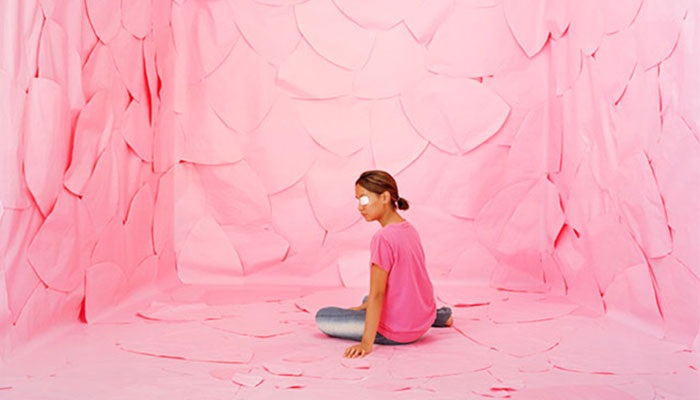 GINA OSTERLOH
Statement 1
For several years, my practice has focused on photographing the most minimal delineation of identity and space. In this investigation, the perception of space, both physical and psychological, begins with the body, a way of seeing that is based upon a person's scale, outline, and pre-verbal patterns/responses. My interest in creating these set constructions, began with a frustration with portraiture's innate ability to capture summarize, and fix its subjects. within portraiture I wanted to insert a body that was at first mis-recognized, that compressed and folded both itself and photographic space. With this said, each set construction, or room, is an extension of the body. Each construction is a stand-in or prop, for ways of seeing, a study of the most pared down elements of perception and with the body, identity – delineation and difference. With my A-I-R work of September 2011, I removed the body altogether and investigated the three most basic ways of mark making, of delineating space: dots, connecting the dots (line) and connecting the lines (web). The web shape was unexpected, but as soon as it was visible, made sense at a totalizing yet minimal way to define space, to locate identity. It was an unexpected way to (re)see Yayoi Kusama's Infinity Nets.
Statement 2
Through restrained serial performances with anonymous women, paper mache models, and cardboard cutouts in room size paper environments, my photographs present an inherent focus problem in the structure of seeing. The thin paper room acts as a stand-in for normative ways of seeing, perception, and language. In some photographs, the body acts as a point of rupture in the picture plane, puncturing holes in walls or mimicking the color of the room. In other works, such as the body of photographs titled Copy Flat, an applied pattern confuses perception, and offers a code for an unstable viewing ground. This repeated gray dot pattern – loose in some areas and concentrated in others – collapses foreground, background, and the subject, as well as boundaries between the individual and groups of bodies.
Throughout all of my works, camouflage and mimicry play an important role in questioning the formation of identity, where the delineation of an individual or group of individuals begins in relationship to the physical and psychological surrounding environment. paper has become an important material in my photographs, as a tangible and familiar material that the viewer comes in physical contact with daily. Within each photograph – the figure is often in vulnerable positions – animal-like at times, on all fours, disembodied and anonymous in others. I choose these specific metaphors, materials, and postures to create new ground between a body politic, identity, and abstraction.
Bio
A recipient of a MFA in Studio Art from the University of California, Irvine, Los Angeles-based artist Gina Osterloh has exhibited extensively throughout the U.S. as well as in the Philippines, Australia, and Austria. Exhibitions in the U.S. include shows at LACMA, Pepin Moore Gallery in Los Angeles, California Museum of Photography at UC Riverside, Kate Werble Gallery in NYC, and the Yerba Buena Center for the Arts in San Francisco. Reviews of her work have appeared in The Los Angeles Times, Village Voice, Artforum, Art Asia, Asian Art News, Art in America, Art on Paper, and others. She is the recipient of numerous awards including a 2007-2008 Fulbright Research Fellowship and a Durfee ARC Foundation Grant in 2010. She is a part time lecturer of Photography at California State University, Fullerton and the exhibition organizer at Luckman Gallery at California State University, Los Angeles.
Website
ginaosterloh.com
[hr]