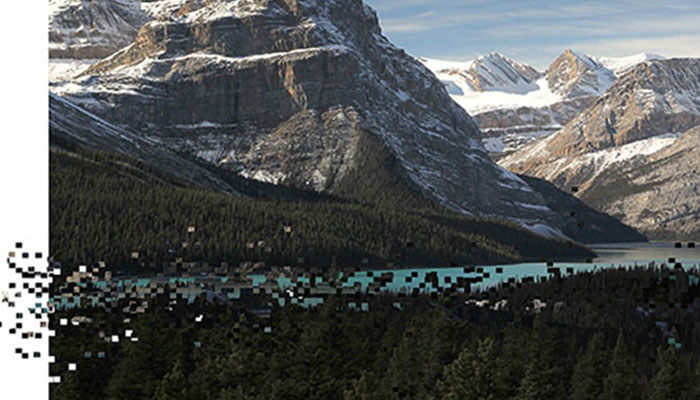 Deb Hall
Artist Statement
The open road has long been synonymous with freedom. We lose a piece of that freedom when our ability as individuals to experience our natural world is diminished by development, private ownership and restricted access. Living in a state of climate change denial we bury our faces in screens and further distance ourselves from nature. Ultimately, our habits shape our habitat. Possession, consumption and the impact of our habits on our natural resources and wildlife are the focus of my latest work. During the fall I returned, after thirty years, to the Columbia River Basin: my homeland as well as a major natural resource. Hiking, camping, and documenting throughout the Columbia River Basin, this exploration began on the Columbia River at the Bonneville Dam and ended at the Columbia Ice Fields in British Columbia. An archive of nine thousand photographs, taken during this period, is being used to create a large body of work. Continue Reading...
The Columbia River Basin serves as an apt metaphor for issues that will hold deeper challenges for humanity as we consume ever more water, energy, space and food. Humans require the development of new systems to generate power (windmills, dams, nuclear and corresponding grids), land for agriculture, habitation, transportation, and nuclear waste disposal sites. Against this surging tide, wildlife competes for space, carving out ever-smaller habitats and migration routes. This ongoing body of work focuses on the universality of these issues. How does the use of digital photography affect our perception of our habitat and how do changes in our habitat affect photography? The odd relationship of these two distinct worlds inhabits the work. The digital technologies we find ourselves engrossed in distance us from nature and our vital resources. Photographic landscapes and wildlife conveniently viewed on screen are virtual artifacts. Human development only ratchets one way and our environment is essential to our survival. As Henry David Thoreau observed, " We have constructed a fate, an Atropos, that never turns aside." As an artist, this startling personal experience has inspired a fascinating study in photographic theory, environment and history, questioning how digital technology shapes our experience with nature and adding to the discussion of how we balance our precious resources with consumption. -Deb Hall, 2012
Artist Bio
Deb Hall received her BFA in Photographic Illustration from Rochester Institute of Technology and an MFA in Digital Visual Art from Vermont College. She also studied at both the Art Center College of Design and Kent State University in communication design and typography. Continue Reading...
She is an Associate Professor of Art at Skidmore College in Saratoga Springs, New York, where she teaches Communication Design and Photographic Theory. 

Deb's work has been exhibited widely in galleries and museums regionally and nationally, at Lake George Arts Project (Lake George, NY), Albany Center Galleries (Albany, NY), the South Shore Arts Center (Cohasset, MA), and the Portland Art Museum (Portland, OR), among many others. She is the recipient of numerous awards and grants, including a NYSCA grant. Digit magazine in London as well as The Oregonian in Portland, have published her work. Deb's images are also included in the permanent print collections of the Portland Art Museum (Portland, OR), the Adirondack Trust Corporate Gallery (Saratoga Springs, NY), and in private collections nationwide. She has lectured at the Schenectady Photographic Society, The Tang Museum, and Skidmore College, among others.
Website
debhall.com
—
Juror's Statement
There were many strong bodies of work submitted, all deserving of the acknowledgment that such a fellowship brings. For the juror this is an impossible process of sifting through an abundance of worthy work. Ultimately, it comes down to the preference, if not prejudice, of the selector. My preference is for pictures that are about ideas. These don't have to be complex ideas, but they must show the ability to define a project and move it forward with consistent quality of mind and vision.
Continue Reading...
Photography is hard because making pictures is so easy. One assumes we can all read and write, but there is an enormous distinction between writing a poem and writing a grocery list, though they may be of equivalent length. There is also a great distinction between writing one good poem and writing ten good ones. Let alone the skill and dedication that is required to write great poetry or make great photographs consistently. Deb Hall's pictures recall those of westward expansion. They are not about discovery but preservation, encouraging a cautionary awareness of nature's fragility. She also reminds us that the veracity we assign to photography is only an illusion. The 19th century phrase "seeing is believing" has only gotten less credible over time. In some of her images pixels float freely, unmoored from the reality of the scene before us, laying bare the latest challenge to photographic truth, the reconstruction of reality through digital technology. Deb Hall's work underscores the power of the digital image to shape our thinking about the world we live in and our place in it. In 1935, Hungarian artist Moholy Nagy said, "the illeterate of the future will be ignorant of the camera as well as the pen." As we make and exchange increasing numbers of pictures, the ability to understand how these images create meaning is more important than ever before. – Willis E. Hartshorn, 2012
Juror Bio
Willis E. Hartshorn is the Senior Deputy Director at the International Center of Photography.
Continue Reading...
Hartshorn joined the ICP staff in 1982 and has held numerous positions, including Coordinator of Traveling Exhibitions, Director of Exhibitions and Deputy Director for Programs, before being named Executive Director in 1994. In 2012, he transitioned to a new tole as Senior Deputy Director. Hartshorn studied at the University of Rochester and received his MFA in Photographic Studies from the Visual Studies Workshop/SUNY Buffalo. He was a curatorial assistant at the International Museum of Photography/George Eastman House, Rochester, before starting his career at ICP. Among the major exhibitions he has curated for ICP are Czech Modernism: 1918-1945 (with the Museum of Fine Arts, Houston, 1989); Annie Leibovitz: Photographs 1970-1990 (with The National Portrait Gallery, Smithsonian Institution, Washington, D.C.); Man Ray/Bazaar Years: A Retrospective (1990); and 11 exhibitions in the "New Directions" series, including Two to Tango: Collaboration in Recent American Photography and Art & Advertising: Commercial Photography by Artists. He has served on the Vera List Center Advisory Comittee of the New School, and on the Board of the Museum Association of New York (MANY).