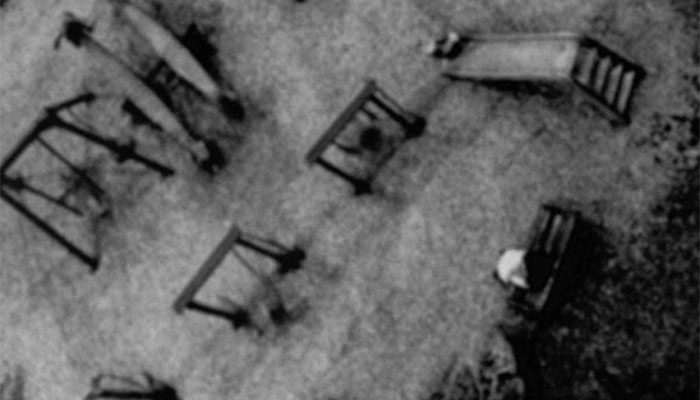 Danny Goodwin
Artist Statement
For roughly the same number of years that it has taken the civilian command at CIA to be utterly co-opted by the military command at the Pentagon, I've worked on projects that relate, both directly and obliquely, to the United States intelligence community and attendant issues such as surveillance, secrecy, deception and violence. When the CIA Museum project began, I was already beginning to suspect that parody had become a pretty ineffective form of resistance.
My most recent work represents a flat-footed attempt to invert (symbolically, anyway) the lens of the global surveillance apparatus.  Small-scale models of the homes of high-ranking members of the current and previous Bush Administrations–based on satellite images—float clumsily around the room–bumping into each other, tethered to large mylar balloons and suspended beneath crudely constructed wireless video cameras. The "live" video image, received and displayed in an adjoining room on small monitors, is convincing—or at least compelling–in its grainy, abbreviated description. The fragile and hermetic relationship amongst the object of surveillance, the observer, and the mediating technology in this work mirrors the deeply flawed and politicized contemporary process by which intelligence is gathered, analyzed, and utilized.
Artist Bio
Texas -native Danny Goodwin is a Delmar, NY-based artist working primarily in photography and video installation. He is Associate Professor of Art and the Director of the Combined Media program in the Art Department at the University at Albany, State University of New York.  His work has been widely exhibited, including such venues as Ronald Feldman Fine Arts, Momenta Art, Art Resources Transfer, and the Brooklyn Museum of Art in New York, as well as the California Museum of Photography, Proposition Gallery, Belfast, Ireland, and Washington Project for the Arts, Washington, D.C. His recent solo exhibition at Jack the Pelican Presents in Williamsburg, Brooklyn featured simulated real-time aerial surveillance of the homes of key members of the current Bush administration. The debut issue of Influence Magazine, a new journal of contemporary art, featured an in-depth interview by Gil Blank with Goodwin, and in the April 2004 issue of ArtReview, critic and conspiracy buff Anthony Haden-Guest talks extensively with Goodwin about his work at the fringes of art and politics.
Website
dannygoodwin.com
—
Juror's Statement
The camera as a device for covert exposure plays a vital role in Daniel Goodwin's work. Through installations and large-scale photographs, Goodwin stages surveillance of tiny models of real places, and by association, the real individuals that inhabit them. Sometimes these places and people have personal significance, in other instances, those under scrutiny are top-brass political and military intelligence personnel. By focusing his lens and attention on the locations and characters that are most exempt from being publicly surveilled, Goodwin draws attention to the camera's darker side, while artfully presenting a subverted, theatrical, even beautiful spy-versus-spy event. The physical complexity, visual dynamics, and conceptual clarity of this body of work is compelling, disturbing and timely. This, combined with Goodwin's unconventional use of the camera as subject (and its image as suspect), bring new and important content to this field.
Juror's Bio
Sharon Bates is a visual artist, curator, and the founding director of the Albany International Airport Art & Culture Program, which has become a national model for public art programs. As director, Bates organizes temporary exhibitions and site-specific projects that showcase regional artists and cultural institutions in the Albany International Airport and throughout the terminal.
Before moving to the Capital Region, Bates resided in Los Angeles, CA where she served as an on-air reporter for Arts LA, the weekly NPR arts magazine. She is the former gallery director for the Arts Center of the Capital Region in Troy, NY, and one of the founders of the Downtown Troy Window Project.