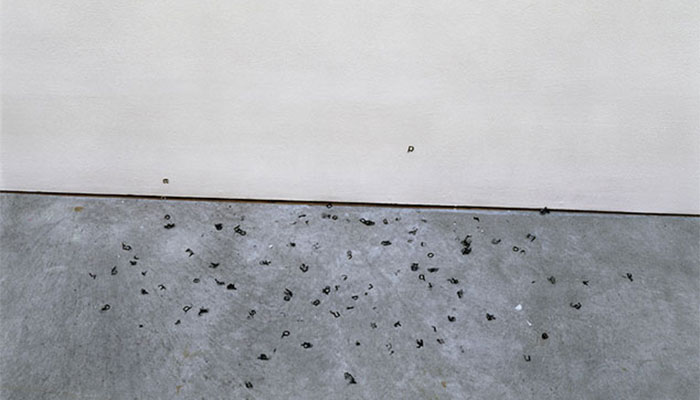 Chad Kleitsch
Artist Statement
Working in various capacities in art museums over the years, I experienced a side of institutional space that the public rarely sees. The techniques and processes of display are purposely made invisible to the public, heightening the aura of exclusivity that exists in the "white box" of the museum galleries.
In 2001, I began to ask museums for free access with my camera during exhibition changes, initiating a project that has now encompassed over fifteen museums, including the Metropolitan Museum of Art, the Museum of Modern Art, The Menil Collection and The Hammer Museum. These photographs reveal the complex rdelationship between art and the space in which it is presented, lifting a curtain on a provisional environment where institutional hierarchy is missing or turned upside down; where the division between art and the circumstances of its presentation is blurred; and where the installation processes themselves are aestheticized.
In the recent past, a number of photographers have been drawn to the spaces that display art as subject matter, including Thomas Struth, Candida Höfer, Sherrie Levine, and Louise Lawler. The work of these artists differs from my essay, however, in that the subject matter is either the sociology of the museum environment (Struth and Höfer) or institutional critique (Levine and Lawler). By making the viewer focus on the raw nature of the exhibition process, these photographs defuse the aura that surrounds the rarefied atmosphere of formal display, making us understand that art and the circumstances of its presentation are not mutually exclusive.
-Chad Kleitsch, 2010
Artist Bio
Chad Kleitsch's work has been featured at the Yancey Richardson Gallery (NYC), Samuel Dorsky Museum of Art (New Paltz, NY), the Art Institute of Chicago, Carrie Haddad Photographs, and Nicole Fiacco Gallery, both in Hudson, NY, among others. His series, White Box, has been shown in solo exhibitions at Ariel Meyerowitz Gallery, NYC and The Aldrich Contemporary Art Museum, Ridgefield, CT. In addition to exhibiting, Chad's work has been published in Chronogram, as well as in Weird U.S. (Moran & Sceuman, 2004) and Bystander: A History of Street Photography by Joel Meyerowitz and Colin Westerbeck (Bullfinch Press, 2001). He was the recipient of a Merchant & Ivory Grant in 1993 and has lectured and taught since 1993 at the Center for Photography at Woodstock, Yale University, Sarah Lawrence College, and Bard College, among others. Chad Kleitsch's work is represented by Ariel Meyerowtiz in NYC and by Carrie Haddad Photographs in Hudson, NY.
Website
chadphoto.com
—
Juror's Statement
Chad Kleitsch's project White Box explores the museum during its in-between moments. Since 2001 he has been photographing during the installation and de-installation of art exhibitions at major museums throughout the United States. What we manage a glimpse of in these photos is a deconstruction of the ritual of display. Laid bare is what the museum typically tries its hardest to conceal from us as viewers—its own hand in the production of aura and symbolic value around works of art.
Continue Reading...

As he explains it in his artists' statement: "These photographs reveal the complex relationship between art and the space in which it is presented, lifting a curtain on a provisional environment where institutional hierarchy is missing or turned upside down." Without the hegemonic presence of this hierarchy that Kleitsch refers to, we are asked as viewers of these photographs to actively think through our own relationship to objects of art, why do we inscribe the value to them that we do? What is art's actual social, political, and economic function in contemporary culture? Who does it benefit, how, and why?
Kleitsch is right to point us to the fact that this subject is to some extent already trodden territory over the last few decades of photography's history—he acknowledge the work of artists before him like Louise Lawler, Sherrie Levine, Thomas Struth, and Candida Höfer. But the resonance of his own exploration for me lies precisely in the question of why, if we have already seen this side of the coin, does the museum still maintain such enormous power over us, still so much hold in dictating our cultural values and norms?
– Laurel Ptak, 2010

Juror's Bio
Laurel Ptak
is the founder and curator of the popular photography blog, iheartphotograph.com, which has become well known for showcasing visually and conceptually cutting-edge work by photographers hailing from all parts of the globe.
Continue Reading...

An independent curator based in NYC, Ptak has previously worked for arts institutions including the Aperture Foundation, Guggenheim Museum, PSI Contemporary Art Center/MoMA, and Art:21. She frequently teaches, lectures, and writes about photography, the internet, and image culture in addition to curating projects internationally. Her most recent exhibitions have included Erik Blinderman: Mas Recording at the Center for Curatorial Studies at Bard College in 2010; In Real Life at Capricious Space (NYC) in 2009 (www.letsmeetinreallife.com); and Is It Possible to Make a Photograph of New Jesery Regardless of Where You Are In the World? at the Pierro Gallery (South Orange, NJ) in 2008 (www.aphotographofnewjersey.com). She is currently working on curatorial projects in Mexico City, Warsaw, Stockholm, and New York.