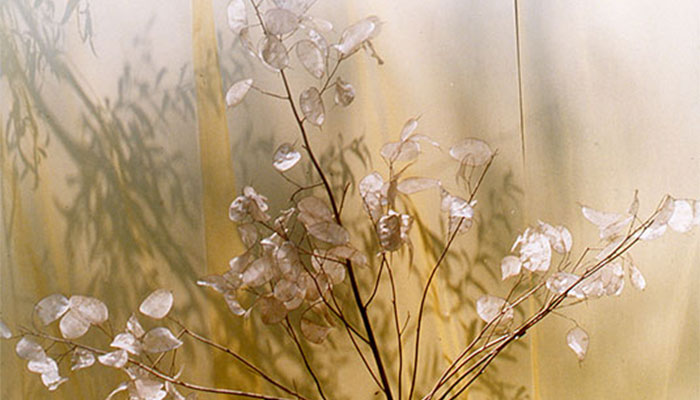 Carla Shapiro
Artist Statement
In the series  Inside – Outside I take what is usually kept inside and bring it outside to photograph and questions boundaries. A chair is placed in a field of flowers, goldfish swim among the Queen-Ann's lace and a hi-fi sits under a chandelier attached to a tree. I am connecting my belongs with the trees, water, and flowers – the exterior world.
As I make these playful scenes I am attracted by bright, vibrant colors. These colors add richness to each image as I create scenes outside that are surreal. These dreamlike photographs are my questions of space, reality, and time. How can a rose bush live next to a bookshelf? Why is a table set in the water? The images become puns of what is real and what is not.
I have build a frame that i place in different spots in my backyard in Chichester, NY. Two wooden panels placed side-by-side form a right angle that is put strategically in places to surround a space or to create a space. The wooden panels are then covered with wallpaper to resemble walls. A seemingly real wall with the outside world now creates the surreal quality of each image. The floor is made of grass and the ceiling of a setting sun.
Website
carlashapiro.com
—
Juror's Statement
The consistency in the body of work submitted by each of this year's recipients of the Center for Photography Fellowship Grants demonstrates the supremacy of vision over chance. These photographers create work that is intriguing because of an implicit ambiguity where the internal tension of each image merits not only a second glance but also repeated study.
Juror's Bio
Susan Edwards is the Executive Director for the Katonah Museum of Art in Katonah, New York. In addition to her administrative responsibilities, Ms. Edwards conceives exhibitions, publishes and lectures on modern and contemporary art and photography. Previously Ms. Edwards was Curator at Hunter College of the City University of New York In 1997 Ms. Edwards was named a Founding Fellow at the Liguira Study Center for the Arts & Humanities, Genoa, Italy. She currently serves on the advisory boards of the Bagliasco Foundation, Harvard University Art Museums Collections Committee, the Stephen Taller Archive at Harvard University, and the Center for Photography at Woodstock.
Ms Edwards received B.A. and M.A. degrees in Art History from the University of South Carolina in 1979 and 1983 respectively, and M.Phil and Ph.D. from the City University of New York in 1990 and 1995 respectively. While completing her dissertation on Ben Shahn's photography, Ms. Edwards curated over  twenty art exhibitions and taught art history at New York University, Queens College at CUNY, Pace University, Stern College of Yeshiva University, and School of Visual Arts, NY.
Ms. Edwards has lectured at Harvard University, the College of William & Mary, Montserrat College of Art, Whitman College, and the International Center for Photography in New York. She is the author of numerous catalogue essays including Ben Shahn and the Task of Photography in Thirties America, The Edge of Night: Urban Landscape Photography, and Physical Relief. She has also contributed essays to periodicals and served as Guest Editor for a special issue on electronic photography for the Oxford University journal History of Photograph in 1998.