Honoring photography's visionary leaders and supporting a creative home for future generations of image makers! Join us as we celebrate our 40th Anniversary.
CPW AWARDS & BENEFIT AUCTION

Thursday, October 12, 2017, 7-9pm, at Affirmation Arts in NYC
Buy Your Tickets | VIP support as Benefit Chair
Join us at the 2017 CPW Award & Benefit Auction to celebrate CPW's 40th Anniversary and remarkable Vision Honoree Dr. Deborah Willis
Every year the photo community comes together at the CPW Benefit Auction to mix and mingle, celebrate leaders in the field, and bid on excellent art — all in the knowledge that they are supporting artists. CPW's benefit brings together a wide gamut of the arts community, including collectors – both seasoned and aspiring, patrons, artists, and all around fans of CPW!
CPW is pleased to announce the 2017 CPW Awards & Benefit Auction in a celebration of CPW's 40th Anniversary. The highly anticipated benefit will take place on Thursday, October 12, 2017 at Affirmation Arts (523 West 37th Street, New York, NY). This year's event honors Dr. Deborah Willis with CPW's highest recognition, the Vision Award. Proceeds from this event support CPW's programs, which champion artists through residencies, workspace and other support, and provide opportunities for the photo community to engage with thought-provoking exhibitions, workshops and professional resources.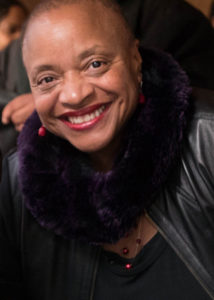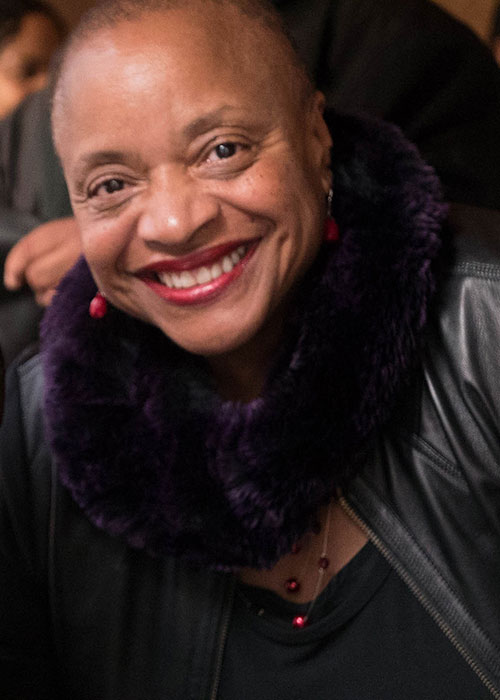 2017 CPW Vision Award Honoree: DR. DEBORAH WILLIS
CPW recognizes Dr. Deborah Willis with the Vision Award for her outstanding dedication and service to the field as an advocate, artist, writer, curator and educator. Her research examines photography's multifaceted histories, visual culture, the photographic history of Slavery and Emancipation, contemporary women photographers and beauty. She is the recipient of awards, such as the prestigious MacArthur and Guggenheim fellowships. Her books include Envisioning Emancipation, and other notable projects such as The Black Female Body A Photographic History, Reflections in Black: A History of Black Photographers – 1840 to the Present, Posing Beauty: African American Images from the 1890s to the Present, and Michelle Obama: The First Lady in Photographs. She is a university professor and the chair of the Department of Photography & Imaging at the Tisch School of the Arts at New York University. (photo by Hank Willis Sr.)
Buy your tickets now. An early bird rate is in effect through July 31.
Please also consider VIP support as Benefit Chair, starting at $500, which includes an invitation to a VIP event during the Benefit. Advanced Benefit Chair levels include additional tickets and a commemorative message in the event catalogue. Please send an email to Katherine Clausen at auction@cpw.org if you would like to become an event sponsor or to advertise in the commemorative catalogue.
---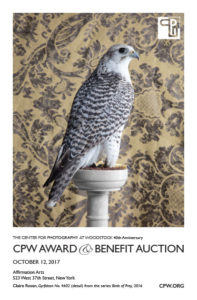 About the Benefit Auction:
CPW's Benefit Auction of early, modern, and contemporary photographs is an outstanding source for finding the very best in photography—from renowned historic masters of the field to the most exciting emerging and mid-career voices. It features a wide range of photographic genres including delicate scenes that harness the changing of times, stunning abstractions, poignant compositions articulating the human condition and other magical moments uniquely captured by these remarkable artists. The auction includes prices that match every budget, from photographs that will go for $300 to some special pieces that may raise over $10,000. The evening will feature sixty photographs and other auction items. The lots will be split between a live and silent sale and will be featured in CPW's commemorative catalogue.
Announcing our 2017 artists: David Armstrong, Julie Blackmon, Gay Block, Louise Dahl-Wolfe, David Emitt Adams, Raymond Jacobs, Laurie Lambrecht, Elliott Landy, Mary Ellen Mark, Anne Arden McDonald, Jeffrey Milstein, Elsa Mora, Daido Moriyama, Ruben Natal-San Miguel, Gordon Parks, Jaime Permuth, Jose Picayo, Aaron Rezny, Claire Rosen (image), Paul Sepuya,  Carla Shapiro, Alan Siegel, Allan Tannenbaum, Claire Warden, and more.
The proceeds from the benefit auction directly impact the lives of artists and sustain a place where great photography is made, discovered, and encouraged. 
Our thanks to our 2017 sponsors: Affirmation Arts, Archival Methods, Empire Merchants North, Howard Greenberg Gallery, Paddle8, Photograph Magazine and Woodstock Framing Gallery.






---
2016 Benefit Update – We did it! Our warmest thanks to all of those who made the 2016 CPW Awards & Benefit Auction a smashing success. We celebrated, admittedly we cried a little, we toasted successes, and we sold some stunning art. Thank you to our speakers (in order of appearance): Bill Hunt, Hannah Frieser, Fabienne Powell, Elsa Horberg (2016 Photographer's Fellowship Recipient), Buzz Hartshorn, Joan Lyons (who accepted the 2016 Vision Award for the late Nathan Lyons), Howard Greenberg, Bill Mindlin (2016 Affinity Award Honoree), Rick Wester (our incredible auctioneer), and Barry Mayo.
Our sponsors included Affirmation Arts, Aperture Magazine, Archival Methods, Belmond Management, The Beaumont London, Empire Merchants North, Howard Greenberg Gallery, Laumont Photographics, Paddle8, Photo District News (PDN), Photograph Magazine, SQ-Travel by Design, LLC, Woodstock Framing Gallery, and Vice Magazine. Our thanks also go to La Palapa Cocina Mexicana for their wonderful food and amazing mango and blood orange margaritas.
If you missed the event, you can still contribute to CPW's programming by making a direct donation. Our artists and everybody at CPW thank you!