LEGACY / DYLAN IN WOODSTOCK
curated by Colleen Kenyon
January 13 – March 11, 2001
LEGEND…myth, fable, romance, fiction, celebrity, phenomenon, wonder, luminary…LEGACY…gift, bequest.
In celebration of our Woodstock building and its history as home to both Bob Dylan and the legendary Espresso Café, we present photographs of this musician, often in Woodstock, created by regional and national photographers.
 Music…art…it's what defines Woodstock – and why we are celebrated as –  the small town known around the world.
Bob Dylan is the voice of a generation, a part of our cultural fabric, and a national treasure. For four decades, his songs, recordings, and performances have been sources of inspiration and discovery for people of all ages.
(-from the book Early Dylan, photographs by Barry Feinstein, Daniel Kramer, Jim Marshall, foreword by Arlo Guthrie, published in 1999 by Bulfinch Press)
Continue Reading...
the theme song for a generation….
Come writers and critics
Who prophesize with your pen
And keep your eyes wide
The chance won't come again
And don't speak too soon
For the wheel's still in spin
And there's no tellin' who
That it's namin'.
For the lower now
Will be later to win
For the times they are a-changin'.
-THE TIMES THEY ARE A-CHANGIN', Bob Dylan, first release 1964
Suddenly, in the late 60s, Bob Dylan retreated from his own myth and the tumult he helped inspire – the psychedelia, the student protests – to escape to rural domesticity in Woodstock, where he seems to have found a carefree happiness. A few months afterwards, on July 29, 1966, just before a scheduled 60-date tour of America, Dylan crashed his motorcycle on a back road in his adopted hometown of Woodstock, in upstate New York. A year later, in 1968, photographer Elliott Landy crossed paths with Bob Dylan in Woodstock. Landy was there to photograph The Band for the sleeve of their first album, Music From Big Pink, which had just been recorded in a house they called Big Pink in nearby West Saugerties. With hindsight, you can look at Landy's photographs of The Band and see where Bob Dylan's music was going; where Bob Dylan himself was going; backwards, inwards, as far away as possible from the modernist surge of his wild mercury sound. The other abiding presence on Dylan's new pared-down music was Woodstock itself. A small town 100 miles up the Hudson River from New York, it had been a haven of sorts for nearly 80 years before Dylan's arrival, providing clean air and privacy for successive generations of visual artists and writers on the run from the big cities of the east coast. In 1902, an Englishman called Ralph Radcliffe Whitehead, influenced by John Ruskin's writings, had set up an artistic colony there called Byrdcliffe, which comprised workshops, studios, homes and even craft schools. In the 1940s, Leadbelly, the great blues singer, passed through, as did Pete Seeger, who, alongside Dylan, became a leading light of the early 1960s folk revival. (Seeger had been so incensed by Dylan's 1965 electric set at Newport that he grabbed an axe and tried to hack through the cables and leads that snaked around the stage.)
By the mid-60s, Woodstock was home to a small group of aging beatniks and proto-hippies, whose dissolute lifestyles incensed the local town fathers, who drafted by-laws against loitering and skinny-dipping. Their efforts were in vain, however, and in 1969 the town entered rock history when the Woodstock Festival, held on nearby farmland, attracted more than half-a-million people and the site was declared a national emergency zone. Oneway or another, Woodstock has been living with the fallout of the festival ever since, though it does its best to remain resolutely unaffected by the yearly influx of tourists, many of whom want to revisit the site. Bob Dylan's Woodstock, on the other hand, was an altogether more sedate place. He first visited the town in 1963, writing songs in a wooden house belonging to Peter Yarrow, who had found fame as one third of the folk group Peter, Paul & Mary. By 1965, Dylan had forsaken Manhattan and was living there, first in one of the original Byrdcliffe colony houses, then, when fans started calling at his door, in a more remote house on Ohayo Mountain. Following the motorcycle accident, nothing was heard of Dylan for 18 months. While he lived a life of domestic contentment in Woodstock with wife, rumors of illness, even death, heightened the myth he had tried so hard to shed. And that, ultimately, is what these photographs of Bob Dylan, rock's supreme artist, capture: his brief dalliance in "the bliss of the commonplace." More than anything else, they made me think that it is a long time since Dylan looked or sounded happy, or even content. You have to look back to the time when these extraordinary photographs were taken, to that brief period in Woodstock, when the icon that was Bob Dylan transmogrified into a humble human being. At a defining moment, when the music he was making and the words he was writing had helped ferment the cultural upheaval of the late 1960s, he did the bravest thing he could possibly do – he looked inwards and began, for a brief while at least, to heal himself. Remember him, too, this way. (- from All I Really Want To Do, by Sean O'Hagan, August 26, 2000, The Guardian Weekend, London)
By 1962, Albert Grossman became Dylan's manager. On August 9, 1962, Dylan went to court in NYC and codified his switch from Zimmerman to Dylan. I think it was a year later, during the summer of 1963, that Dylan first came to Woodstock, spending a month with Suze Rotolo, his girlfriend of the time, at Peter Yarrow's cabin. By the years 1964 and 1965 he seemed to spend almost as much time in Woodstock as in New York City. In August 1964, for instance, Dylan invited Joan Baez, Mimi Fariña, and Dick Fariña to Woodstock where they would housesit at Albert and Sally Grossman's house in Byrdcliffe. Around this time Dylan had his celebrated relationship with Baez, who would sing his new songs hot off the typewriter. In Woodstock Dylan would also see his future wife Sara Lowndes, a close friend of Sally Grossman. His gift for melody and inspired image was brought to great heights in this beautiful landscape. One example is the spring of 1965 when he spent here a month of intense songwriting, having just purchased his own house near Grossman's in Byrdcliffe. It was a few weeks before his famous and then-controversial electric set at the Newport Folk Festival. That June, the great guitarist Mike Bloomfield, then with the Paul Butterfield Blues Band, came up to Woodstock to work with Dylan on tunes for Highway 61 Revisited. In November of 1965, Dylan married Sara Lowndes, a marriage that would last until 1978. In early 1966 their son Jesse was born.. (-from Bob Dylan in Woodstock, by Edward Sanders, Woodstock Journal, March 3-17, 2000).
The Center for Photography at Woodstock, a contemporary visual arts venue, has always been home to music and exhibitions. Previously CPW has showcased the collaborations of both arts in the exhibitions Woodstock Remembered: The Twentieth Anniversary (1989) and Woodstock Music and Art (1999). The famed Café Espresso of the 1960s, located on the main floor of our building, saw the birth of a great folk music revival. Bob Dylan lived for a time in 1964 on the second floor of what is now CPW's classroom, library, and offices. Here he wrote the songs It Ain't Me Babe, Subterranean Homesick Blues, and Mr. Tambourine Man. While in Woodstock Dylan worked with musicians Peter, Paul and Mary, Joan Baez, John Sebastian, The Band, and Happy Traum. As CPW's tenant, in 1988, the Espresso was replaced by the Tinker Street Café, who presented a diverse range of national and local talent until 1998. Dylan had moved to the Byrdcliffe art colony of Woodstock in 1965, and later owned a home on Ohayo Mountain Road. He still owns property in Woodstock to this day.
— Colleen Kenyon, January 2001
Special thanks to the artists in the show, Deborah Bell, Julie Gallant at Fotofolio, Andrea Stern, Ed Sanders, Mary Lou Paturel, Doug James, Brian Sobie, Kitty McCullough, CPW's staff – Kate Menconeri, Ariel Shanberg, Larry Lewis, Kathleen Kenyon, and Judi Esmond; and to my parents who first brought me to Woodstock in 1952.
[one_half first]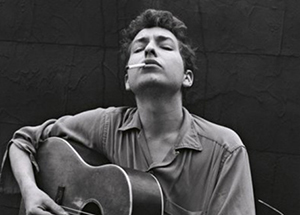 John Cohen[/one_half]
[one_half]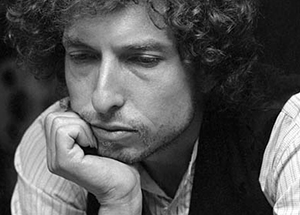 Lynn Goldsmith

[/one_half]
[one_half first]
Daniel Kramer

[/one_half]
[one_half]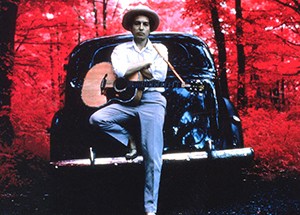 Elliott Landy

[/one_half]
---
https://www.cpw.org/media/Legacy_Dylann009_banner.jpg
215
700
intern
https://www.cpw.org/media/logo_CPW_2016.png
intern
2001-01-13 13:59:14
2014-07-09 11:25:48
LEGACY / Dylan in Woodstock