The Center for Photography at Woodstock celebrates the year 2016!
The year 2016 brought significant changes to CPW. The staff, the board, and many volunteers worked hard all year, and CPW has the accomplishments to show for it. We are especially proud of gallery receptions with record-breaking attendance; the Race, Love, and Labor exhibition with visitor numbers that surpassed 3,600; and the completion of soon-to-be-released video documentation on all 2015 and 2016 artists-in-residence. It is with enthusiasm that we look ahead to 2017 – CPW's 40th anniversary.
We thank those, who made our successes possible.
WOODSTOCK AIR PROGRAM
The Woodstock AIR program, CPW's artist-in-residence program for artists and writers of color, invited eight artists for one-month residencies each. The participating AIRs were Tenzing Dakpa, Juan Giraldo, Ina Jang, Ke Peng, Sheida Soleimani, Jared Thorne, Claire A. Warden, and Nydia Blas. Direct support of artists is both rare and critical to the rich legacy of art making in our region. Since the program was started in 1999, more than 100 artists have been part of Woodstock AIR. Many have gone on to receive significant recognition in the field. Most recently, LaToya Ruby Frazier received the MacArthur Genius Award after already winning the Guggenheim fellowship, and Deanna Lawson was selected for the 2017 Whitney Biennial.

Woodstock AIR Documentaries: Each residency was documented in a video about the artist's practices. The resulting videos measure around four minutes in length each. For the majority of our artists-in-residence our program represents the first residency they have participated in. The documentaries show all too clearly just how much the artists have to contribute.

CPW's traveling exhibition Race, Love, and Labor, featuring art by twenty Woodstock AIRs, was on view at the University at Albany in the spring. It was then shown at CPW, where over 3,600 gallery visitors came to see it. From there it traveled to the Photographic Resource Center in Boston, where it is on view through January. The exhibition included Endia Beal, LaToya Ruby Frazier, Gerard H. Gaskin,Yijun Pixy Liao, Xaviera Simmons, Joanna Tam, Preston Wadley and more. Race, Love, and Labor was organized by renowned curator Sarah Lewis.
EXHIBITIONS
The 2016 exhibition schedule kicked off with a triple exhibition — Welcome: Page by Page, featuring artist books; Richard Edelman: Stolen Portraits, featuring the greater Woodstock creative community in fictional portraits; and Common Sense(s), showcasing photozines. In all, these three exhibitions included almost seventy artists from nearby Saugerties all the way to distant Russia. Welcome and Stolen Portraits were curated by CPW's new Executive Director Hannah Frieser. Common Sense(s) was guest curated by Carlos Loret de Mola and Juan Madrid. With an attendance of over 350 people, the February reception for these exhibitions broke the record of any recent event.
The exhibition Photography Now 2016 was juried by James Estrin from the New York Times and features eleven artists, including Jess Dugan, Odette England, and Carlos Saavedra (the purchase prize winner). This annual exhibition introduced the new format for our gallery brochure and was an opportunity to collaborate with one of the leading photo editors in the field.
In the summer CPW hosted an exhibition of fourteen silver gelatin prints by Vivian Maier as part of a special collaborative project. Working with two other Woodstock art organizations, the event drew around 250 people for a film screening, Q&A, and gallery reception and many more to the gallery in subsequent days.
We are closing the exhibition year with the eponymous exhibition Robert and Shana ParkeHarrison. The exhibition drew around 300 people to the gallery reception and Q&A. The ParkeHarrisons were featured in a radio interview on WGXC's Art of Hudson Vallery program and a lengthy article in the Woodstock Times.
GENERAL PROGRAMMING
The Woodstock Photography Workshops and Lectures included a stellar line-up of artists, including David Maisel and Allan Rapp, Greg Halpern, Scott McCarney, and more. The schedule also featured an after-school program and two young artist courses.

The 2016 CPW Awards & Benefit Auction took place at Affirmation Arts in NYC. Distinguished photographer, educator and curator Nathan Lyons was honored with the Vision Award (accepted by Joan Lyons), and Bill Mindlin received the Affinity Award. Over forty pieces of art were successfully sold in the auction to raise money for CPW. Artists in the auction included Alfred Stieglitz, Berenice Abbott, Dawoud Bey, Jeffrey Milstein, Amy Arbus, Mary Ellen Mark and more.
In a push to support regional artists, the patron level of CPW's membership program was redesigned with an emphasis on hand-crafted, small-edition art work. The Patron Program includes art by Carla Shapiro (platinum palladium prints), Tom DeLooza (tintypes), Dede Hatch (photo-based jewelry), Kevin Miyazaki (permanent pigment print), and Jill Burkholder (encaustic). All prints are presented beautifully framed.
For the first time in several years, CPW offered portfolio reviews in Woodstock. Two portfolio review events were held and filled to capacity. Next year the reviews will take place over a three-day weekend (May 19-21, 2017) and will include extended programming.
LOOKING AHEAD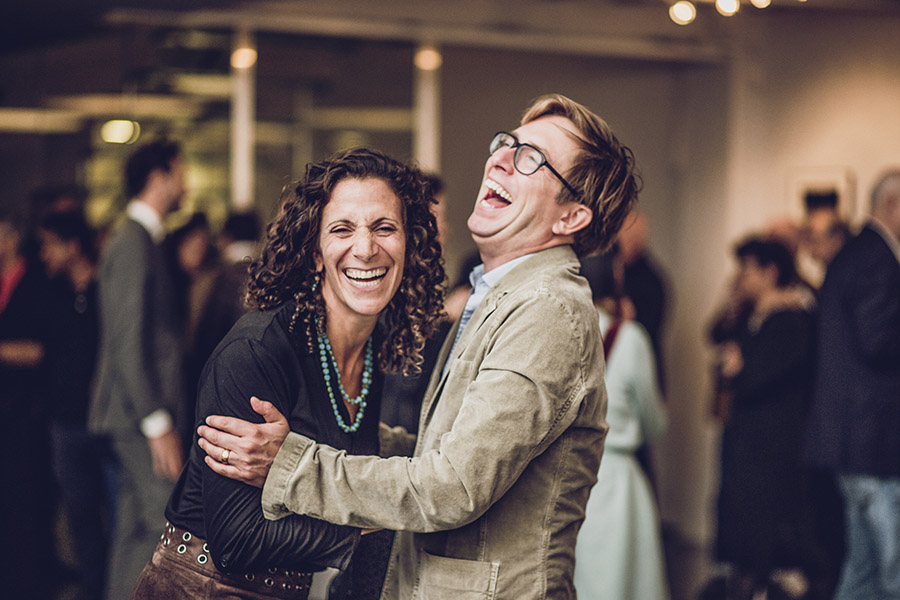 Anniversary Celebration: For our 40th anniversary, we will be celebrating CPW's rich history of excellent exhibitions and contributions to the region with special events and projects that reach out to the national art community. A summer festival will bring music back into the building and includes a salon-style, silent auction art sale. The Woodstock Portfolio Review weekend will take place in May. We will also launch an initiative to visit forty artist studios to document and celebrate artists in the region. We will close the year with the biggest CPW Awards & Benefit Auction yet. Save the date: October 12, 2017.
There is much to be thankful for and much to celebrate. These successes were made possible through the support of the Andy Warhol Foundation for the Visual Arts,  
the National Endowment for the Arts, the New York State Council on the Arts, the Thompson Foundation, the Milton & Sally Avery Foundation, 
the Gunk Foundation, and many others.
Image: gallery opening for the Robert and Shana ParkeHarrison exhibition. (Photo: Miriam Romais)
https://www.cpw.org/media/opening_parkeharrison.jpg
215
700
Hannah
https://www.cpw.org/media/logo_CPW_2016.png
Hannah
2016-12-28 05:46:16
2017-06-08 17:31:05
PR: 2016 in Review