We did it. You did it!
CPW purchased an artist house, and it is all because of you! Over 100 people came through for us and helped us raise the needed money.
Our new artist house will allow us to expand the existing artist-in-residence program for artists and writers of color, establish a visiting artist program and invite former AIRs back to CPW. Access to this house means that artists will always have a home here at CPW and shows our depth of commitment to current and future generations of image makers. CPW firmly believes that accessibility, representation and diversity are critical to contemporary discourse on photography. Pluralism and acceptance are needed in our society now more than ever. This is one of the biggest steps for CPW since launching the AIR program in 1999, and we could not have done it without our many friends!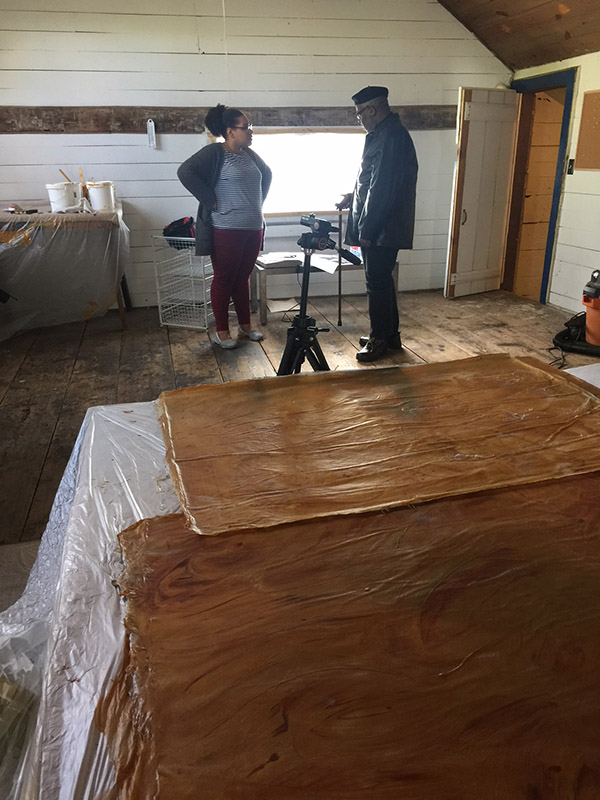 This house is absolutely perfect for artists: Two private bedrooms and an attic loft with large studio windows, high ceilings into the rafters, an abundance of work tables, an office and room for a lighting studio. The house is in walking distance to CPW, so artists will have easy 24/7 access to the Center and its facilities (darkroom, recently remodeled digital lab, classroom, library and more).
This is a gorgeous and quirky Woodstock house with a long artist history. Built in 1824, it was once the local general store, a blacksmith's, home to one of the founders of WAAM, Frank Swift Chase, and home and studio to the renowned Mid-Hudson landscape painter Henry Mattson. Most recently, it belonged to an art collector, who beautifully restored it.
Securing a permanent home for our AIRs means we no longer have to fear availability or battle high rental rates during high season. Instead of spending time negotiating rental agreements, we can spend our resources and staff time on building better artist programs.
So far 111 artists have participated in the AIR program, which was launched in 1999. The artist house will allow us to reach hundreds more. Many AIRs have gone on to great success. Most recently, LaToya Ruby Frazier received the MacArthur Genius Award after already winning the Guggenheim fellowship, Deanna Lawson was selected for the 2017 Whitney Biennial, 2016 AIR Juan Giraldo was chosen by PDN Magazine as one of this year's top 30 photographers to watch. Other artists of note include Xaviera Simmons, Kevin J. Miyazaki, Tommy Kha, William Cordova, Annu Palakunnathu Matthew, Noritaka Minami, and many more.
The purchase of CPW's artist house has been made possible through the extraordinary generosity from the Phillip and Edith Leonian Foundation, the Thompson Family Foundation, Howard and Ellen Greenberg, Dennis Gatto and his children Greg & Katha, and the generous support from over 100 individual donors.
Additional funds are still needed for the expanded visiting artist programs and to set up the house for our artists-in-residence. Please consider supporting CPW with a donation. Your gift will enable us to provide direct support to artists. Thank you!
Support needed: The house is now in full use by our Artists-in-Residence. A few items are still needed, especially a full-size bed, bicycles, outdoor furniture, a magnetic display wall, etc. Please consider an in-kind or cash donation.
https://www.cpw.org/media/Artist_house_diptych.jpg
235
730
Hannah
https://www.cpw.org/media/logo_CPW_2016.png
Hannah
2017-04-09 14:04:07
2017-06-08 17:30:32
CPW's New Artist House