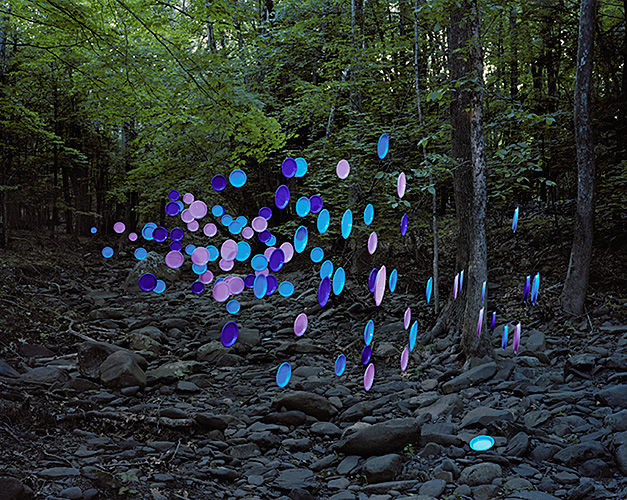 2014 PHOTOGRAPHY NOW PURCHASE PRIZE:
THOMAS JACKSON
The Center for Photography at Woodstock is pleased to award the 2014 PHOTOGRAPHY NOW Purchase Prize to Thomas Jackson for his photograph, Plates no. 3, 2013,  from his series Emergent Behaviors.
This acquisition marks the first public collection to purchase Mr. Jackson's work.
About the making of Plates no. 3. Jackson shares; It was shot in late Spring of 2013 on a dry creek bed adjoining Rochester Creek in Accord, NY. (On the property of some friends of mine.) It took about 10 hours to construct and photograph the installation. It was lit with strobes, and shot on 4×5 film. Materials used included plastic party plates in various colors, galvanized steel wire and about mile of monofilament.
Within the Emergent Behavior series, Plates no. 3 was a breakout piece. It represents a culmination of a couple of year's worth of technical experimentation in my quest to create images that are inscrutable, yet process-oriented at the same time. From viewing distance, the plates seem to expand and swoop magically like shoaling fish. But up close, the image begins to reveal the secrets of its creation. And when the viewer backs up again, the illusion reestablishes itself. This is how I want the experience of viewing my images to unfold.
Based in San Francisco, California, Thomas Jackson was born in Philadelphia, Pennsylvania and grew up in Providence, Rhode Island. After earning a B.A. in History from the College of Wooster, he spent much of his career in New York as an editor and book reviewer for magazines. It was his particular interest in photography books that led him to pick up a camera, first shooting Garry Winogrand-inspired street scenes, then landscapes, and finally the installation work he does today. His work has been shown at The Center for Book Arts in New York, the Governors Island Art Fair, Industria Superstudios in New York and the Center for Fine Art Photography in Fort Collins, CO. Jackson was named one of the Critical Mass Top 50 in 2012, and won the "installation/still-life" category of PDN's The Curator Award in 2013. To view more of his work visit his website.
PHOTOGRAPHY NOW 2014 juried by Julie Grahame is on view through June 15, 2014.
About the PHOTOGRAPHY NOW Purchase Prize
Established in 2001 and in keeping with CPW's mission,  the PHOTOGRAPHY NOW Purchase Prize is awarded each year to an artist whose work was selected for inclusion by a guest juror for CPW's annual PHOTOGRAPHY NOW exhibition. One artwork is selected by CPW's Director and purchased for inclusion in CPW's Print Collection. The recognition often marks the first public collection to acquire the artist's work. Previous PHOTOGRAPHY NOW Purchase Prize recipients include Ilona Szwarc, Lucas Foglia, Motohiro Tekada, Chad Hunt, Caitlin Atkinson,  Margarida Correia, Bill Armstrong, and Catherine Day.
About CPW's Print Collection
The Center for Photography at Woodstock's collection includes works by Ruth Bernhard, Elinor Carucci, John Dugdale, LaToya Ruby Frazier, Robert Heinecken, Andrea Modica, David Maisel, Stephen Shore, and Xaviera Simmons, among others. The collection, which includes over 1,500 photographs and photo-based works, is held on extended loan at the Dorsky Museum at SUNY New Paltz. To learn more, click here.
[hr]
https://www.cpw.org/media/jackson_full.jpg
500
627
ariel
https://www.cpw.org/media/logo_CPW_2016.png
ariel
2014-06-12 16:55:18
2014-06-12 19:07:17
2014 Photography Now Purchase Prize