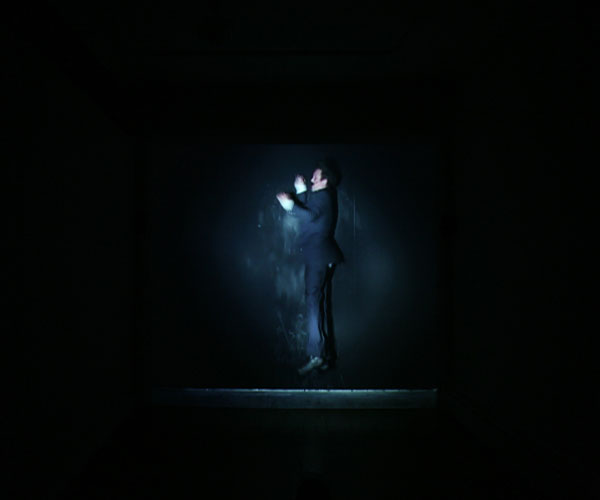 Wall Piece, 2000, single channel video installation with projector, strobe light, and strobe controller with steel floor mount, two speakers, dimensions variable.
Gary Hill
Wall Piece (2000) is a complex multifaceted installation which features the artist hurtling himself against a wall, uttering a single word from a prepared monologue. With each impact a strobe flashes, both complicating and articulating the moment Hill simultaneously hits the wall and utters a word.
Below is a full transcript of the text spoken in Wall Piece;
A word is worth .001 pictures. To be transfixed is no longer an option. I am in a way blind. I live time through a succession of pictures I've known since when. But it's precisely this when that haunts – it eats out the looking cavities and smiles inward like a Cheshire cat. What I might name as "the immediate surroundings" has all but vanished. I have no place. No feet. I've lost the vague idea of limbs. Legs feel more like logs arranged for a fire. I remember a dream of holding the other's heart in my hand; for a moment I live the pulse of another being. Then it was over and I gave it away to a hungry animal. Lush sensations have ceased. I have no mouth, no scream, no voice within. I only listen to an imaginary sound I might make. I am supersonic and alien. I have the feeling of being a fuselage. Am I walking? Sitting in a chair? Killing? Eating? Could it not be any of these things – any and all simultaneously? Where am I? I can't remember at will. It can only be described as something holy for fear of something completely other. Parts come back not quite like what was before but the connection is certain. A few switches flipped – that's it. The wherewithal generator is next to close by – it's happening right before my hands. I'm synthesized. Thought that won't let go brings to mind the terrifying possibility – it's only words that separate things. I feel abandoned by the real, leaving what's left. I'm going, watching myself go. Everything's changing speed – backing into itself. The effect mesmerizes. Movement eludes me. I'm paralyzed. Waiting awaits what's left. It's doing exactly what it says. No question. No questions. Circumstance is at a standstill. Things have exited. If I go everything else will follow, I know it. It knows it. There is nothing to leave. Nothing. Difference exists only through sound; a wall of sound. Can I go through it? Can I go through with it? Where is it now, where does it reside? What does it feed on? Why does it flicker? Nothing approximates its speed. It's something from the outside. Way outside. I didn't think this. This is not me. I'm not accountable. It wasn't thought out. It has no relation to thought. This is that hole that everything must pass through. I'm going now before it comes. Will I know when it comes? Will it approach with signals? Will there be a moment of recognition? Is that when I am it? Am I simply tapping myself on the shoulder? What is the point? It's always there; on again; on again. It waits without pathos. Waiting is human. This point wants to show me something inhuman. It wants to bring me to my knees. It wants me to pray, it wants me to see through seeing, it wants me to act like knowledge. It wants acknowledgment. It wants me completely at the edge. It burrows itself in, blows up and begins again plural——Points. Cells.
Note: This text is excerpted from a text written by the artist in 1996 and first used in Reflex Chamber, 1996.
—
Born in 1951 in Santa Monica, CA, Gary Hill has worked with a broad range of media – including sculpture, sound, video, installation and performance – since the early 1970's. His longtime work with intermedia continues to explore an array of issues ranging from the physicality of language, synesthesia and perceptual conundrums to ontological space and viewer interactivity. Exhibitions of his work have been presented at museums and institutions worldwide, including solo exhibitions at the Fondation Cartier pour l'art contemporain, Paris; San Francisco Museum of Modern Art; Centre Georges Pompidou, Paris; Guggenheim Museum SoHo, New York; Museum für Gegenwartskunst, Basel; Museu d'Art Contemporani, Barcelona; and Kunstmuseum Wolfsburg, among others. Commissioned projects include works for the Science Museum in London and the Seattle Central Public Library in Seattle, Washington, and an installation and performance work for the Coliseum and Temple of Venus and Rome in Italy. Hill has received fellowships from the National Endowment for the Arts and the Rockefeller and Guggenheim Foundations, and has been the recipient of numerous awards and honors, most notably the Leone d'Oro Prize for Sculpture at the Venice Biennale (1995), a John D. and Catherine T. MacArthur Foundation Fellowship Award (1998), the Kurt-Schwitters-Preis (2000), and an Honorary Degree of Doctor Honoris Causa of The Academy of Fine Arts Poznan, Poland (2005).
—
—