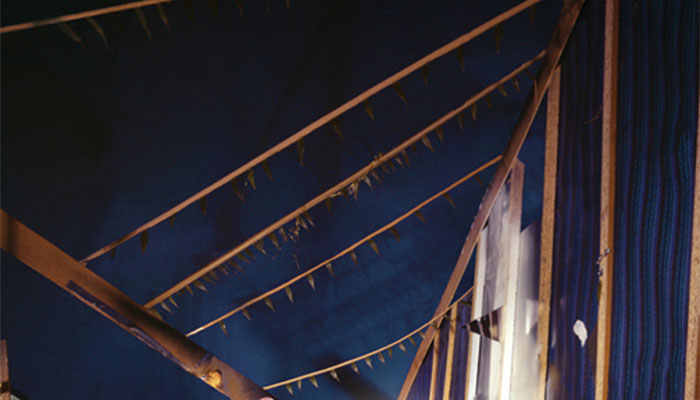 YAMINI MAYAR
Statement
My photographs of imagined spaces are built on tabletops from found and raw materials. They are documented with a large-format camera an dafterward, are disassembled and discarded.
Built structures – from religious to the mundane – and found imagery are starting points for my installations that explore space as a repository for multiple and hypenated narratives. My practice is process oriented, combining elements of sculpture, assemblage and photography. The materials I work with are common – plaster, branches, wood, Styrofoam, and found imagery culled from online archives. Once I choose a starting image, I research various aspects of the scene – images and texts – and work to re-imagine the scene. The final image emerges over time and through the construction and reworking of the structure and contents in a given scene. I am interested in the space where photography becomes metaphor or illusion – where a fictional document is in dialogue with the construction of meaning. Ultimately, the final photograph is an entry point into an assembled world, in transition and momentarily held together for the lens, as well as document of a destroyed object.
Bio
Yamini Nayar is a visual artist living and working in Brooklyn, and originally from Detroit, MI. She received her BFA from the Rhode Island School of Design and an MFA from the School of Visual Arts in New York, and is a past recipient of the Aaron Siskind Fellowship. Her work has shown nationally and internationally, and has been critically appraised in various publications including, The New Yorker, The New York Times, Art India, Art AsiaPacific, the Guardian, and Philips de Pury's NOW: Art of the 21st Century. She is also listed by Vogue India as one of "India's Top Ten Artists to Watch".
Nayar gave the Lightborne Lecture at the Cincinnati Art Museum, as well as held an artist residency at the Art Academy of Cincinnati in 2010. Her recent exhibitions and published projects include the Sharjah Biennial, Thomas Erben Gallery (NYC), NADA (Miami, FL), Art Basel, Galerie Anne Baurault (Paris, France), Indian Art Summit, and Saatchi Gallery (UK). Her photographs are in private and public collections, including the Saatchi Collection, Queens Museum, Cincinnati Art Museum, and the US Arts in Embassies.
Website
yamininayar.com