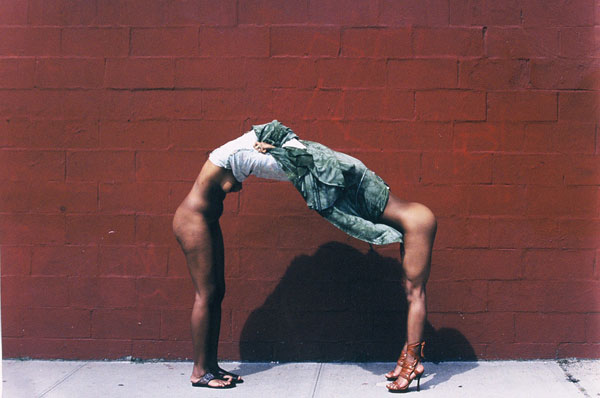 Statement
What has become indispensable to my works is the push to construct my studio practice into one that is spontaneous, experimental and collaborative.  I work to dissolve the boundaries between myself as art maker in relation to the passerby, the potential participant, the viewer and the various landscapes I engage with.
Idyllic, rural, urban and suburban landscapes play essential roles in my photographs which are developing into two bodies of work.  The first body uses the vernacular of the African American combined with the habits of the female construct as springboards to work from.  These images are portraits and self portraits that explore the subjective position of a non- fixed and multiple identity.  The works are designed to use the toolbox of the urban black vernacular in diverse landscapes moving the figures away from their traditional, intended environments into landscapes that may oppose or complicate them.  My photographs are constructed to delve into the terms related to the constructs of Black, African, Afro American, identity, landscape, aesthetics and participation.  I am working to understand how these words and ideas translate visually, how I can interpret them, what devices keep them loaded and how to engage them in unexpected, engaging ways.
Bio
Xaviera Simmons was born in New York. She graduated from Bard College in 2004 with a B.A. in Photography. In 2005 she completed a 2 year actor training program with Maggie Flannigan as well as a year long studio residency studying with Ron Clark at the Whitney Independant study program. She is the 2005-2006 workspace artist as the Jamaica Center for Arts and Learning as well as the 2005 VKP Artist Educator at the New Museum of Contemporary Art.