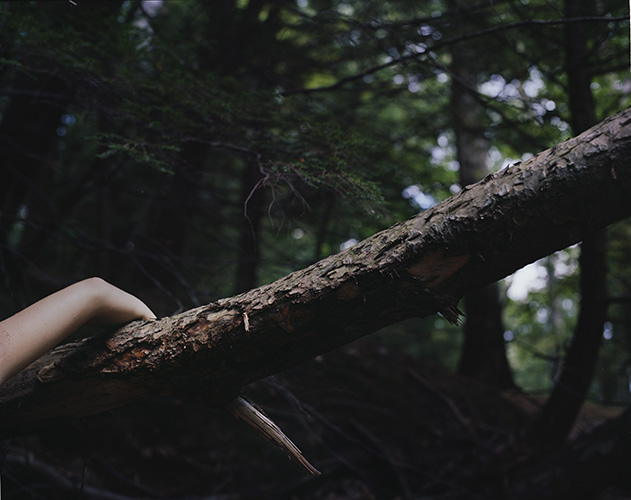 WENXIN ZHANG
Statement
Beast by the Waterfall Guesthouse is a non-linear photographic story which discusses the loss and rediscovery of estrangement and desire.
When I was a kid, I fantasized the world as a sleeping beast by a waterfall, who was gigantic, bizarre, and quiet. I was able to imagine it as my secret friend, regardless of its wishes. When kids were still kids, all necessities of life were offered and received in cupped hands, no need to create a stake in the world. The silence of the beast was an umbrella, shielding off most truths of the world. Everywhere was but a strange land waiting to be explored and discovered.
Unconsciously, once I was able to fend myself, I started to explain and analyze the world, to adjust my position within. The world changed, from a given and relatively static universe, to an ever-moving, progressing ribbon that needed to be pursued. For me, this caused the loss of one dimension.
To find my lost dimension back, I escaped from my routine life and started my trip of getting lost. I went traveling in the mountains, forest and people's houses, where I encountered strangers, animals and waterfalls. In the photographs, the visual difference between animal and human body is blurred, as well as the senses of space and time. The images are sensual and solitude, just like the beast in my childhood fantasy.

Bio
Born and raised in China, Wenxin Zhang now lives and works in San Francisco, CA. She holds an MFA in Photography at California College of the Arts and a BM in Tourism Management from Jinan University in Guangzhou, Guangdong, China. Her work has been exhibited widely in the United States and China. Zhang was selected as a finalist in 2014 Three Shadows Photography Award, and received the Atlantic Philanthropies Grant from the Magnum Foundation. In addition to her 2014 CPW artist residency, Zhang has been awarded the Rayko Photo Center residency, the Wassaic Artist Residency and Fellowship, and was a camper at the first Little Brown Mushroom Camp for Socially Awkward Storytellers in St. Paul, MN. Wenxin participated in a residency at CPW in 2014.
Website
zhangwenxin.com
Video Profile
—