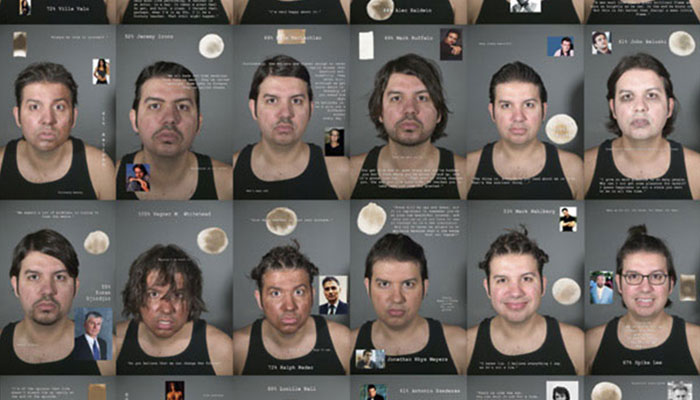 Statement
Persoentage
While searching for information online about my great-grandparents, I came across the website
www.myheritage.com. This site enables a member to find out which celebrity they most physically resemble. By submitting a frontal headshot a user can view their match instantly, through their face recognition software.
I photographed my face with varying types of lighting, hairdos, make up, expressions, et cetera, while maintaining my surroundings as neutral as possible. I then uploaded smaller versions of these images into the face recognition software to find out which celebrities resemble the new, manipulated versions of me.
The celebrity percentage results were then digitally juxtaposed onto the initial image. I also incorporated slogans from the most popular cosmetics companies and alleged quotes by the star matched to me. The multiple connotations of the term "make-up", such as genetic configuration, invention of something, and chemical/aesthetic cover-up, have become the foundation for this work.
It is my hope that this project critiques, in a humorous way, contemporary perceived notions of race/ethnicity (what it is, how/if it can be defined and modified, who decides them), an increasing reliance on visual and virtual technology for the acquisition of knowledge (the ubiquitous web "researches"), and the ongoing and escalating cult of celebrity in media culture.Instead of placing myself in the judgment seat (and pointing a finger at the ills of our society) I placed myself at the center of a paradoxical position, displaying both the desire and the repulsion of wanting to be a part.
Bio
Brazilian artist Vagner Medonca Whitehead, works with photography, video, performance, installation, hypermedia and digital imaging. His work employs allegorical devices that reframe personal experiences within a transcultural context in order to reframe and subvert notions of fixed identities. He has exhibited his work throughout the U.S., abroad, and online, in solo and group exhibitions, as well as in video and film festivals. In 2002 Whitehead was an artist in resident at Ragdale Foundation. His series Persoentage, which he produced at CPW, was exhibited for the first time at the Detroit Now 12×12 series at the Museum of New Art (MONA) in Pontiac, MI.
Whitehead earned a BFA in photography from The Savannah College of Art and Design in 1995 and an MFA degree from the University of Florida in 2000. He is an Assistant Professor of Art at Oakland University, where he heads the New Media department. He is currently working on a feature-length experimental documentary about family history and immigration.
Website
vagnerwhitehead.com