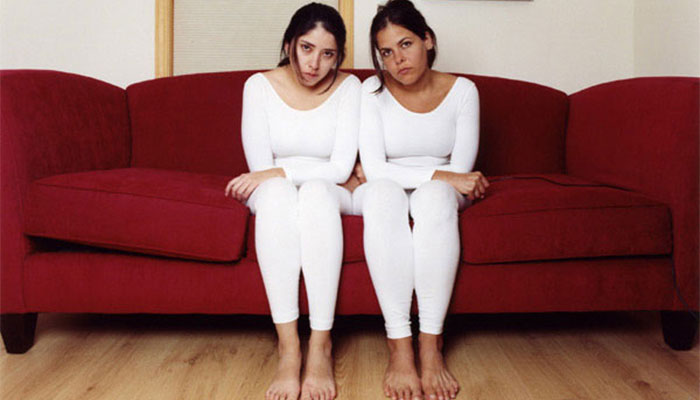 Statement
As "collaborative/women/minority" artists, we actively explore the sameness and difference within the construct of identity, and the role and meaning of signifiers. We continually work with self-portraiture addressing issues of gender, body, and representation within various sociological contexts, engaged in the process of photography as performance. We are particularly interested in the doubling of the self and the performance inherent in the definition of roles, character, selves, and categorizations. There are titles and classifications that make us "same / different": sex, age, ethnicity, religion, background, social class, subculture, education, profession, taste, style. Beyond our individuality, we investigate the role and identity of the artist, and that of photography, within the sociocultural context.
(untitled #) is our first collaborative project. (untitled #) is composed of several interrelated series: Hysteria Collection, Pose Archive, Anthology of Trends, Personal Catalogue, Cast of Characters, and Referential Index. Each segment of this project is a layer that further uncovers the meaning of (untitled #). The project is rooted in the language of the archive and the dialectic of performance; we enact and record a layered and deconstructive visual analysis of the photographic representation of women and question its relationship to history and contemporary culture.
The title of this project refers to the untitled/ parenthesis titling phenomenon that asks the viewer to fill in the blanks to get to the intent of the artist or the meaning of the work. This project is in part our attempt to fill in those blanks. In (untitled #), we look closely at contemporary trends of female representation by reenacting formulas we have found in the ways women have been photographed, particularly by other women. We reproduced representational strategies not to affirm these modes, but rather to expose the rhetoric underlying them. We invite the viewer to assess, not merely consume, the motifs recurring in contemporary art.
Bio
Tarrah and Wilka met in a darkroom in 2004, and being that they share similar interests, they began helping each other with their individual artistic endeavors.
(untitled #) is Tarrah and Wilka's first collaborative project. It began as a response to a critique of their independent work given by an influential artist/critic/curator based in NYC. During separate studio visits they each received the same response:
"As with most women who turn the camera on themselves, the work is overburdened with emotion."
This critique sent Tarrah and Wilka on a search for their place as artists and individuals within the art world and within photographic history. What was originally a visual investigation became (untitled #).
In (untitled # ) Tarrah and Wilka present the hidden layers behind images to be consumed: the processes, the performances, the negotiations, the relationships that make up the final image and the ultimate meaning. (untitled # ) allows them to analyze themselves as "minority / collaborative / women artists" in the same way they analyze trends in photography. Tarrah and Wilka place themselves and their own images amidst the photography they are critically investigating.
Website