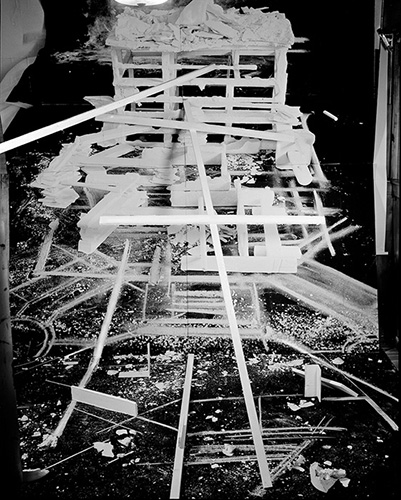 RODRIGO VALENZUELA
Statement
I construct narratives, scenes, and stories which point to the tensions found between the individual and communities. I utilize autobiographical threads to inform larger universal fields of experience. Gestures of alienation and displacement are both the aesthetic and subject of much of my work. Often using landscapes and tableaus with day laborers or myself, I explore the way an image is inhabited, and the way that spaces, objects and people are translated into images. My work serves as an expressive and intimate point of contact between the broader realms of subjectivity and political contingency. Through my videos and photographs, I make images that feel at the same time familiar yet distant. I engage the viewer in questions concerning the ways in which the formation and experience of each work is situated—how they exist in and out of place.
In this series of work I'm wondering about the physical nature of what we call ruins and asking whether there are there ruins beyond decay? I am also interested in ruins that have been preserved because of their cultural value and historical significance, ruins that symbolize rich, prior knowledge a culture has accumulated. In America, ruins are often the result of failed infrastructure and a lack of maintenance; they symbolize economic collapse rather than a magnificent past. The photographs in Hedonic Reversal, I – XVII, are not just ruins in themselves; they are as much about studio practice. If you examine the images you will see the mark-making that created the ruins, the process of photographing and re-photographing which makes decay present within the image itself. You can see the passage of time within these photographs as well as the accumulation of flaws until they become a cohesive whole.

Bio
Rodrigo Valenzuela is based in Seattle, Washington where he received his MFA in Photomedia from the University of Washington. He holds a BA in Philosophy from the Evergreen State College in Olympia, WA and a BFA in Photography from the University of Chile in Santiago, Chile. In 2014 Rodrigo, in addition to being a CPW artist in residence, was a visiting artist in residence at Clark College in Vancouver, WA; a Core Fellow at the Houston Museum of Fine Arts; and received the Fellowship Award from the Vermont Studio Center. Previously, he has been an artist-in-residence at the Skowhegan School of Painting and Sculpture in Madison, ME amongst others, and has had a number of solo and group exhibitions in both the US and Chile. In 2012, Rodrigo was awarded the En Foco New Works Fellowship, the UCIRA grant, and was an Artist Trust Innovators Award Nominee. Rodrigo participated in a residency at CPW in 2014.

Website
rodrigovalenzuela.com
Video Profile
—