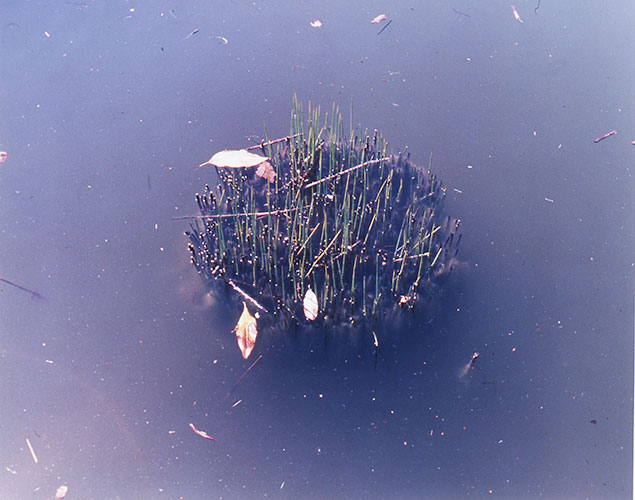 Statement
The idea of photography as the effective evidence of something that once existed is not significant to me. In order to truly achieve the unity between the objective and subjective, realistic rendering by a machine must be fortified with interpretation from the artist's mind. As in Chinese painting, sketching the idea (xieyi), getting the idea (deyi) and comprehending the idea (huiyi) are each essential parts of art making.
My photographs are not records of what has existed, rather – after rigorous selection and manipulation – something that resonates more closely to an experience. They are "photo-extracts" of cities, of lands, of waters, of various objects we call matter. Light is the initial source of photographs; matter, the second. Not unalike light, water is both corpuscular and wave-like. Many of my photographs seek the murky, metaphorical, and permeating conditions which occur at the junction of light and water. Other photographs employ partly imagined likenesses to convey emotions.
Yet the most poignant properties of life: the energies, the qi, and magnetic variations of life,
cannot be physically translated. The meanings of these energies are ultimately manifested in parallels. Light can be reflected, refracted, focused by a lens, polarized, and interfered. Likewise, the ancient Chinese submerged precious stones and minerals in water for indefinite periods of time. Upon retrieval, the hard mass would appear softened. Moreover, the water would leave peculiar markings which resemble organs or blood vessels; indelible stains left by an invisible hand.
Bio
Moonching Wu received her BFA in Photography from The Cooper Union School of Art in 1998. She has been included in multiple group exhibitions, including Bird's Eye View at the Grand Army Plaza at Prospect Park ( Brooklyn , NY ), Cities and Desire at the Rotunda Gallery ( Brooklyn , NY ), and Artist's Books at the Brooklyn Museum of Art ( Brooklyn , NY ). Wu had a solo exhibition, Fluid, in 2003 at the Arsenal Gallery in Central Park (NYC). She has also participated in a residency at the Atlantic Center for the Arts, and has received the Woman's Studio Workshop Special Initiative residency. Wu was also the recipient of a Geraldine R. Dodge Foundation Grant in 2001. She has been featured in essays and articles including " Familiar Territory , New Visions" in the Photography Quarterly, "Freshwater/Saltwater" by the Brooklyn Museum of Art, and reviewed by the NY Arts Magazine. Wu's work is in the collections of the Brooklyn Museum of Art and the Museum of Modern Art 's Artist Book Database. She currently lives in Brooklyn , NY . Wu was an artist in resident at CPW in August 2001.