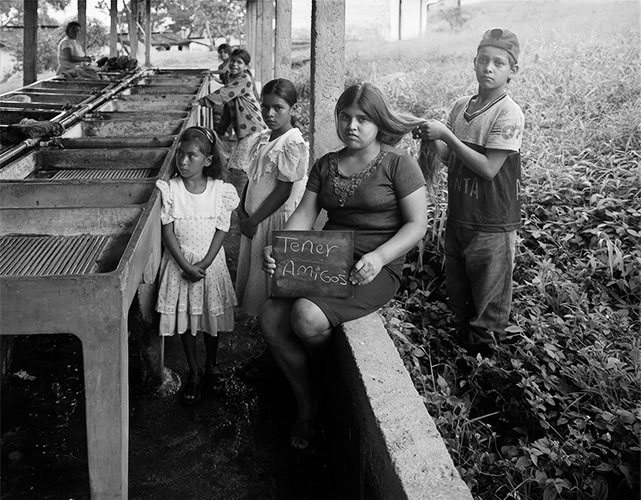 Statement
A Map of Latin American Dreams
This work arose out of the need to explore the field of human dreams, to return to the daily ritual of desires, contrasting our real situation with an ideal one. I want to engage that moment when we imagine our lives transformed by a desire fulfilled, with a new situation, even a new identity.
Dreams are real. They exist. My aim is to externalize what is internal by the act of photographing it. People participate by writing down a wish. This is a bridge that leads them to reveal themselves and to retain some power over how they are represented.
At a time when people's desires are mediated by mass media, and recycled for sale, I believe it is valuable to reflect our desires individually. My intention is to confront ourselves with a new vision of hope and to send abroad a message based on individuals that speak and think in their own words, therefore resisting the sense of fatalism that is often imposed on us.
While the banner of "globalization" is waved over the world, with it's homogenizing force, my intention is to be culturally and geographically specific, to include the tensions that place us on one side or another of a frontier which allows some people to participate in what is known as the "American Dream".
I work in places that share, along with a common language, a geographic and economic situation as third world Latin American countries where people are related in similar ways to their everyday needs. These cultures meet, mix or co-exist. They are struggling to survive culturally, economically, physically and spiritually.
Through this work I have realized that dreams and desires are not commodities, they are not predictable, and that there are few spaces where ones' desires are asked for, and paid attention to. The opportunity to stop and think about them is valuable, and the more they are represented; the more faithful we may remain to ourselves.
Latin America is a land of contradictions and broken dreams. A place where countries are being rebuilt, again and again almost every 10 years. Where external interference on national affairs along with internal corruption has written our history over time, and where freedom of speech and civil rights are not taken for granted or exercised in their full extent, for the memory of many people that were tortured and killed for having different ideas, is still fresh in our minds.
It is by being able to imagine it first, and then express it, that we can exercise our right to self determination, to bring out that power from the individuals to lead our nations, as a way to transcend our condition and overcome our history and actual situation.
It is also by looking in depth in our own identity and by creating this extensive portrayal of who and where we are, and who and where we want to be, that we can challenge ourselves with dreams of resistance and self-determination.
Our destiny may only be changed if we allow ourselves to imagine a destiny different from that which we were given.
Bio
Born in Chile and raised in Argentina, photographer Martín Weber currently resides in Brooklyn, NY. He studied at the University of Buenos Aires and the International Center for Photography in NYC. A 1998 Guggenheim fellowship recipient, Weber has also been awarded two Hasselblad Foundation grants and a prestigious National Endowment for Arts grant. He has exhibited his work in the US at venues including Lightwork's Robert Menshel Gallery in Syracuse, N Y; the International Center for Photography in NYC; The Museum of Fine Arts in Houston, TX; the Project in NYC and LA; and abroad at the Photographer's Gallery in London, the Museo Nacional de Bellas Artes in Buenos Aires, the La Habana Art Biennial in Cuba, the Mois de La Photo Maison de L'Amerique in Paris, and Communa de Milano in Milan. Lightwork published A Map of Latin American Dreams in Contact Sheet issue #125.
Website
webermartin.com