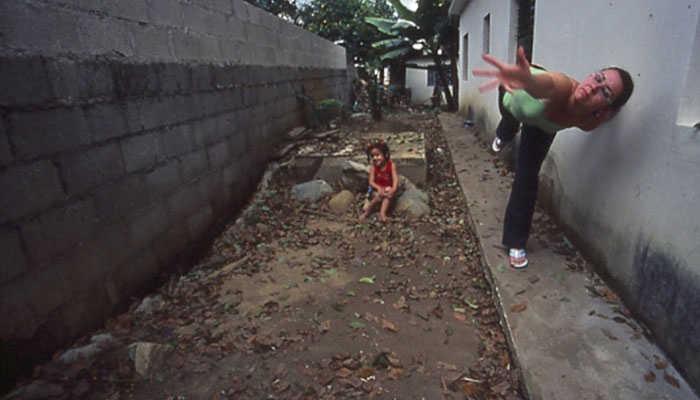 Statement
My Latina Self / My Other Self
I am bi-racial, and my photographs speak to aspects of that dual identity. Half of these images were shot in the Caribbean, where the community of Los Dajaos helped me to foster a heightened understanding of my Latina-self. The other images were taken at my family's home in Connecticut in the areas of Farmington, Hartford, and Bristol, the town where I was born.
While I was in the Caribbean, I wanted to understand my connection to Latina culture. I decided to be in front of my camera, a less familiar vantage point, so that I could be truly immersed in my new environment. As both photographer and subject, I learned to exist on both sides of my camera and made photographs of the authentic self and the constructed self. Some images are blurred to signify creation, clarity of being, and my emergence both spatially and culturally. In other photographs my subjects are sharply focused, an effort to solidify the concept of physical immersion in this culture space. These moments are manipulated by camera techniques to create the illusion of time, either as slowed or accelerated.
When I got back to Connecticut I used the same process and camera techniques to make my pictures. I expected the Connecticut images to present a stark contrast from those in the Dominican Republic. Yet, aside from the topographic differences, there was little distinction between the two portfolios. The strange similarity of these two bodies of work reframed my view of what I consider home, how I think about my community, and brought me to a new understanding of my reality.
Bio
Marlo Marrero received her BFA from the University of Connecticut and her MFA from University of Hartford. She currently lives in Connecticut, where she is a working artist and teacher of photography at Miss Porter's School in Farmington. Marlo has shown her work extensively throughout Connecticut at galleries including Real Art Ways, Miriam Butterworth Gallery, EBK, and Benton Museum, as well as at venues across the US including the Guggenheim Gallery at Chapman University in Orange, CA; Museum of the Southwest in Midland, TX; Silver Eye Gallery in Pittsburgh, PA; and the Photographic Resource Center in Boston, MA. In addition to her residency at CPW in summer 2005, Marlo was awarded a Visual Artist Grant from the Connecticut Commission on the Arts in 2001 and a fellowship from Art Matters Foundation, NY in 1995.
Website
marlomarrero.com