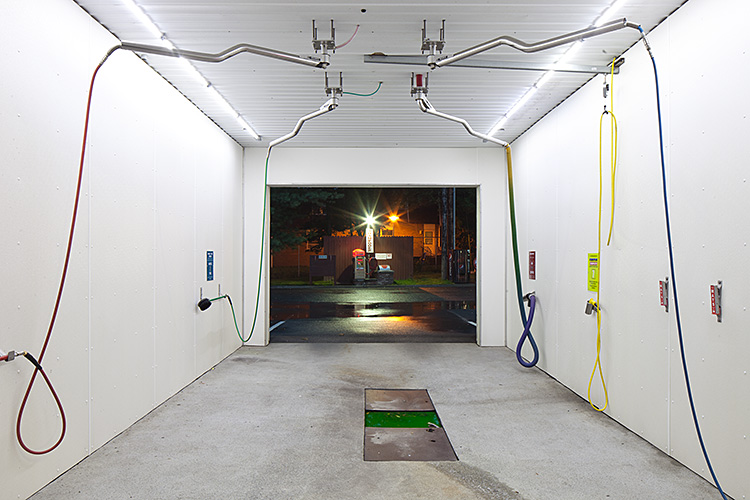 Mark Lyon
Artist Statement
Bay Views is an ongoing series that examines the relationship between self-service car wash bays and the adjoining landscapes. In their intended function, these semiprivate bays take the place of the family driveway to restore our cars' fleeting luster. The spaces appear secluded as they are captured at night with exposures timed around the fluctuating cycles of street lights and traffic patterns. Variations in seasonal weather conditions, as well as the shifting balance of interior and exterior light transform these ubiquitous spaces into something unfamiliar.
Artist Bio
Born in Rochester, NY in 1979, Mark Lyon developed a strong interest in art in High School. His undergraduate studies began at the School of Visual Arts where he was the recipient of a Rhodes and Faculty Scholarships. He completed his undergraduate studies at SUNY New Paltz where he earned his BFA in 2003.
Shortly after, Lyons began to teach art and photography at Beacon High School where he was able to take advantage of the community's developing art scene. This has led to collaborations between Lyon and Dia:Beacon, the Beekman Banner Project as well as presentations by prominent photojournalists featured in exhibitions at Fovea Exhibitions, a not-for-profit space dedicated to fostering dialogue on documentary and photojournalistic practices.
Lyon received his MFA from SUNY New Paltz in 2008 and has exhibited his work at Black Box Gallery, Houston Center for Photography, Photo Center NW, and Photoplace Gallery, among others. He currently lives and works in the Hudson Valley, NY.
Lyon previously received the Photographers' Fellowship Fund in 2008.
Website
marklyonphotography.com
—
Juror's Statement
Judging a contest with a large number of strong submissions is always a challenge. Potential winners pile up quickly, occasionally cancelling one another out, but more often so diverse in their approach that they can't be compared. If you're lucky, something will come along that immediately stands out and becomes the high mark everything that follows is compared to.
This year, that work belonged to Mark Lyon. His photographs of landscapes seen through the wide-open entrances of empty self-service car-wash bays are oddly seductive. Shot at night with long exposures, they make the most out of a very simple set-up: each stark, tunnel-like space opens up to a glimpse of something mysterious and beautiful. It's only a brief stretch of suburban street, with a gaggle of vending machines or mall landscaping or a piece of heavy equipment visible in the glow of streetlights. The weather changes from snow to rain to a luminous haze that feels like summer heat. But by locating these mundane views in the distance, and framing them in a wide, rectangular door, Lyon subtly transforms them. His landscapes are as vivid as films on a screen, but in startling 3D. Each one has an extraordinary and peculiar presence, like a stage anticipating  actors. The drama here is in suspension, but no less compelling.
–Vince Aletti, 2015

Juror's Bio
Vince Aletti reviews photography exhibitions for The New Yorker's "Goings on About Town" section and writes a regular column about photo books for Photograph. He contributes occasional features and reviews to Aperture, Artforum, W, and Document. He was the art editor of the Village Voice from 1994 to 2005, and the paper's photo critic for 20 years. He is the winner of the International Center of Photography's 2005 Infinity Award in writing.
Aletti wrote half of the 101 brief descriptive essays that form the backbone of Andrew Roth's "The Book of 101 Books: Seminal Photographic Books of the Twentieth Century" (2001) and has written introductions to books by Michael Thompson, Ingar Krauss, Mark Cohen. Kohei Yoshiyuki, Ryan McGinley, Jed Fielding, and Bruce Bellas (Bruce of Los Angeles).
He was an adjunct curator at the International Center of Photography in 2009, where he co-curated "Weird Beauty: Fashion Photography Now" with Carol Squiers and was the curator of "This Is Not a Fashion Photograph." He and Squiers worked together on "Richard Avedon Fashion," the museum's summer 2009 exhibition, as well as on its Abrams catalog. "Male," a book of photographs and other artwork from Aletti's collection, was published by Andrew Roth's PPP Editions at the end of 2008; a follow-up, "Untitled/Anonymous," was published in September. "The Disco Files 1973-1978," a collection of Aletti's weekly columns on disco, was published in spring 2009 by DJhistory in the UK.