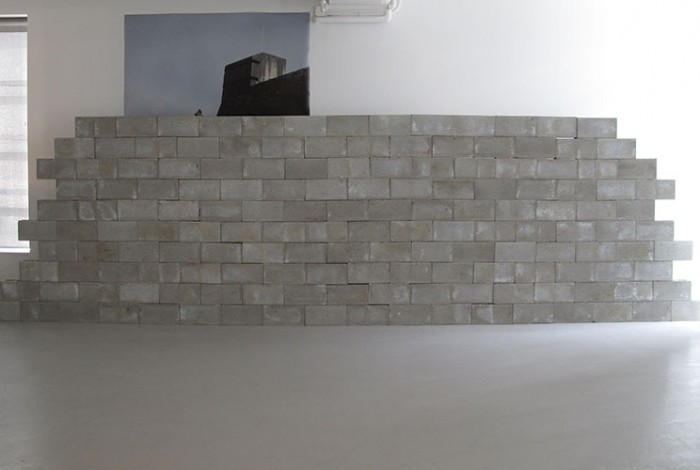 LOURDES CORREA-CARLO
Statement
This body of work includes photographs of vernacular architecture that intervene with construction materials. My process begins with walks throughout the cities I have been living and the need to understand the social construction of those places. I photograph using a frontal approach to reduce the elements in the images towards a more formal geometry and analytical configuration. Photographing in this way invites a semantic reading of the photographs. What are the psychological responses to these places and architecutre? What do they tell me in relation to this social fabric? What are the politics of the everyday? I look for what strikes me in these images, for what is hidden and embarassing about the social conditions in these places, and how these images relate to personal and social alienation through the histories, politics, and classes of these areas.
After photographing buildlings I reconstruct some of these images with a sculptural approach, making what I call a subversive gesture towards the photographs. I invert, collapse, reconfigure, and deconstruct them as they are being reconstructed. In this way the imags are treated as real objects. The final pieces are characterized by their weight, gravity, and three-dimensional physicality which enables the viewer's body itself to interact with the work. My intention with the viewer is to make them aware of the space they inhabit and their relationship with the different works and materials that are being displayed.They may be allowed or denied access to the spaces, guided or made to feel dislocated. With these gestures I invite them to see space as an active context where we question our constructed realities, our philosophies and the calcification of social structures.
Bio
Based in Houston, Texas, artist Lourdes Correa-Carlo holds an MFA in Sculpture from Yale University and a BFA in Sculpture from the Escuela de Artes Plásticas de Puerto Rico in San Juan, PR. She also attended the Universidad de Puerto Rico, San Juan, for studies in Art History. Correa-Carlo is an artist in residence at the Core Program in Houston, TX, and a past resident of the Vermont Studio Center. She has exhibited her work internationally, including at venues such as Marc Jancou Contemporary (NYC), NEXT Art Fair (Chicago, IL), Galería Comercial, and M&M Proyectos (both in San Juan, PR), among others. Her work has been written about in Artnet Magazine, PrimeraHora, and ArtNexus. She is the recipient of an Amy Tatro Scholarship from Yale University and a travel grant from the Escuela de Artes Plásticas.
Website
lourdescorrea.com