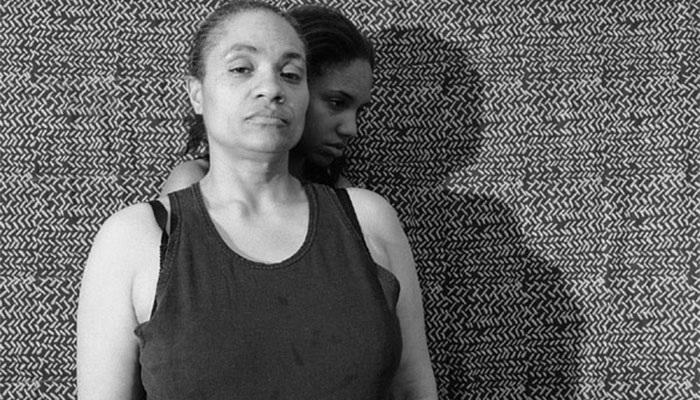 Statement
THE NOTION OF FAMILY: FAMILY WORK 2002-2008
My position and role as daughter, photographer, and filmmaker transcends the objective practice in classic documentary, which has continuously undermined the Black family experience by avoiding our emotional and psychological realm.
The collaboration between my family and myself blurs the line between self-portraiture and social document. Utilizing photography and video to navigate dynamics of the roles we play complicates the usual classifications of functional and dysfunctional families.
My work has a deep concern for the mother/ daughter relationship. Relentlessly documenting encounters with my mother and grandmother enables me to break unspoken intergenerational cycles. Their silent familial gaze in the photographs juxtaposed with our voices reveals the tension between how we relate.
The role of the male figure; father, brother, lover and son resides in the visual tensions of a dying old man; Gramps, an innocent adolescent; JC and a soldier; my brother Sergeant Brandon Frazier. They indicate the absence of men in the household.
Grandma Ruby played the role of mother to me and JC, and caretaker to her father, Gramps. Being home consisted of routine checks on Gramps who screamed for help to be picked up off the floor or carried to the bathroom. If we were not tending to Gramps we sat in separate rooms. Family secrets, hidden history and constant silence defined our coexistence.
Mom is co-author, artist and subject. Our relationship only exists through a process of making images together. I see beauty in all her imperfections and abuse. Her drug addiction is secondary to our psychological connection. When we are capturing one another we meditate on our difference and sameness.
Holiday visits home rupture the silent familial gaze in our experimental documentary series "A Mother to Hold." Through the first person point of view, the camera becomes a magnet attracting and repelling; the viewer has the access to experience and acknowledge our relationship without judgment.
Bio
LaToya Ruby Frazier born in Pittsburgh PA in 1982 received her BFA in Photography and Graphic Design in 2004 at Edinboro University of Pennsylvania. She received her MFA in Art Photography in the School of Visual Performing Arts in 2007 at Syracuse University.
With influences of documentary style photography and direct cinema Frazier utilizes photography and video to produce sociopolitical work within the emotional realm of the Black family experience blurring the lines between private and public space.
Frazier's body of work entitled The Notion of Family: Family Work 2002-2007 is a collaborative development between her mother, grandmother and herself. Through black and white photographs and a documentary video series entitled, A Mother to Hold, Frazier's honest and relentless approach intensely explores the complex relationship she has between both of her mothers.
A Mother to Hold has been screened at the 2006 Black Maria Film Festival in Jersey City, NJ, the Brooklyn Underground Film Festival, the Black International Film Festival and the Women of Color Film Festival in New York City where she received the Producers Choice Award.
Frazier received the 2007 Geraldine Dodge Fellowship Award as the 2006 College Art Association Professional development recipient. She is a member of En Foco. Her works have been exhibited In Syracuse, NY at Light Work, Community Folk Art Center and Everson Art Museum; at Schweinfurth Memorial Art Center in Auburn NY, the Longwood Art Gallery in New York City and can be viewed on Aperture's 2006 portfolio picks.
Frazier has worked as a photo editor for Newsweek and is currently the Associate Curator for the Civic Square Art Gallery in the Visual Arts Department of the Mason Gross School of the Arts at Rutgers University.
Website
latoyarubyfrazier.com