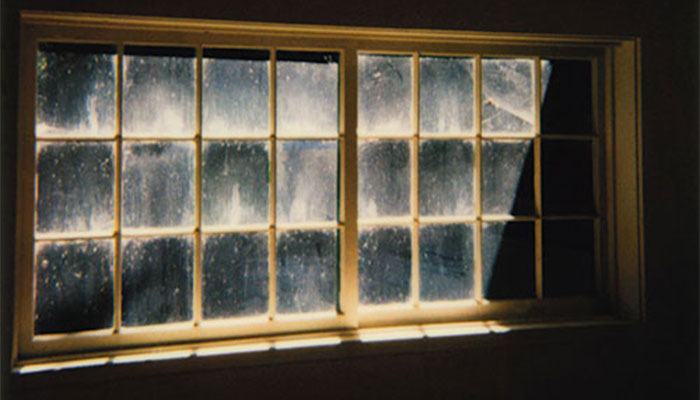 Statement
While I was in residence with CPW in 2004 I stayed at Byrdcliffe, an art colony established during the Arts and Crafts movement in Woodstock, NY. During my time there I photographed interiors and became engaged with the Byrdcliffe architecture, as well as Byrdcliffe's history of hosting artists-in-residence such as Eva Hesse, Isamu Noguchi, and Martin Puryear.
My primary interest is in light, space, perception, and the sublime. I look to contemporary movements such as Land Art and Light and Space Art as well as landscape painters including the Hudson River School , Turner and the abstractionist Mark Rothko. My projects in photography, video, and sound, as well as site-specific installations, often provide a disorienting experience for the viewer. In my installations I am concerned with destabilization and re-orientation. To achieve this I often create architectural and environmental interventions – by using light and reflective surfaces; by inverting subject and object or figure and ground; and/or by reversing up and down, exterior and interior.
In photography and video I pursue these concerns by capturing fleeting moments of natural as well as artificial light and color. The results include several different series of photographs of architectural and light elements, which began from my building and exploration of installation environments. I use abstraction, rather than strict representation, aiming for a de-stabilizing of images and by extension, the certainties of the viewers of those images.
Bio
Kira Lynn Harris received her MFA from California Institute of the Arts, and moved to New York to take part in the Whitney Independent Study Program. Ms. Harris has participated in residencies at the Delaware Center for Contemporary Art, Art Omi, and the Lower Manhattan Cultural Council residency program at the World Trade Center . She has exhibited her work at P.S.1. Center for Contemporary Art in NYC, the Studio Museum in Harlem, the International Center for Photography in NYC, and the Luanda Triennial in Angola. This past summer the Bruno Marina Gallery in NYC presented Ms. Harris' first solo gallery exhibition, Eva Slept Here, featuring images from her residency at CPW. Her work has been reviewed in Time Out NY , Los Angeles Times, Art in America , and The New York Times.