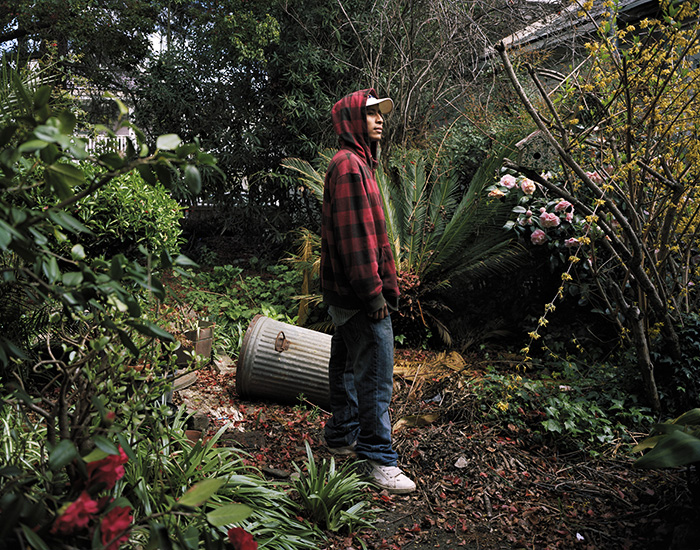 KATHYA MARIA LANDEROS
Statement
Within my family narrative there are many tales of hardworking kinfolk who emigrated from Mexico to the United States for work. My great-grandfather worked in the mines in Arizona. My grandfather was a Bracero, part of a bilateral government sanctioned agricultural work program. And my grandmother and parents worked as farmhands when they first came to the United States. My family's legacy of migration has allowed me to better understand the inextricable ties between the two countries and its people, and has also led me to my interest in exploring U.S. to Mexico immigration from the perspective of longstanding Mexican-American communities.
Verdant Land, a chapter of this ongoing exploration on Latino culture, references the history of agricultural work in the American West and the relationship Mexican-Americans have had within this past. Completed as a handmade book, it incorporates vernacular photographs from my family album, which document their time here in the United States, with recent photographs I made. These are photographs that reveal a landscape that is not wild; rather they show the hand that people have played in cultivating this land and how, ultimately, it has connected them to it.

Bio
Born in Northern California and raised between homes in the United States and Mexico, Kathya Maria Landeros is a photographer and educator whose work explores Mexican-American identity and the immigrant experience. She has photographed throughout the American West in established Latino communities and in Mexico, as a Fulbright Fellow, in the geographic area with the highest rates of historic migration to the States. She currently serves as a Fulbright Ambassador. Prior to earning a graduate degree in photography from Massachusetts College of Art and Design, she received an undergraduate degree in English literature and Hispanic studies from Vassar College. Kathya participated in a residency at CPW in 2013.

Website
kathyalanderos.com
—