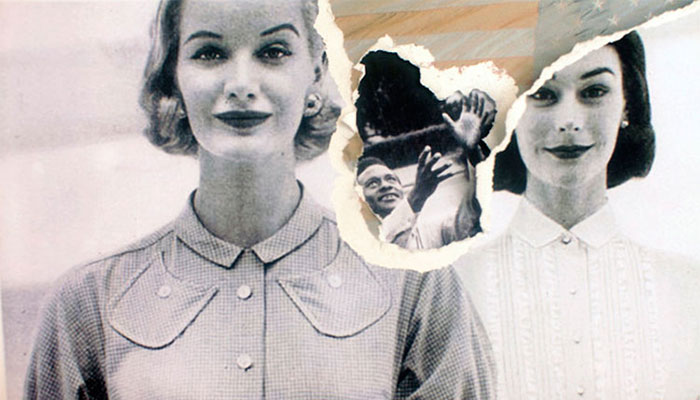 KAMEELAH RESHEED

There is limited photographic evidence that my family ever existed.
Photographs were lost when we were unlawfully removed from our home in 1998. Some photographs were water-damaged or accidentally trashed before we packed seven lives and accompanying articles into a burgundy station wagon and made our home in a 450-square foot illegal attachment where my grandfather died, alone, nine years prior of stomach cancer. Given my experiences with displacement and loss, my work is rooted in an experimental documentary practice where I use original images as well as archival and found pieces to craft autobiographic pieces that stitch narratives from fragments. At times, traditional photographs can give the illusion of totality and cohesion. I was arrested in a particular temporal space. I am not whole or complete, nor is my history. Through the use of fragments and found images, I create work containing multiple pasts in the present. These pieces emphasize both the fractured state of memory as well as the layered nature of autobiographical narratives. As a photographer who also works as an archaeologist and an archivist, I am always mining and excavating pasts.
An attempt to conjure my family back into existence, in Memories: No Instructions for Assembly, I weave together orphaned photographs found at garage sales, photos stolen from the Facebook pages of estranged family members, 1970s magazine pages, water-damaged images salvaged during my family's 10-year bout with homelessness, and original photography to re-imagine a lost family history. Working in the tradition of the archaeologist and the archivist, I sample as well as reorganize existing materials into a series of diptychs to produce a non-linear narrative that dances between vivid and vague memories. Where no memory can be accessed, 35mm shots with scratched, underexposed, and degraded surfaces have been substituted.
In the closing line of Harryette Mullen's "S*PeRM**K*T", she writes, "speed/readers skim the white space of this galaxy," an observation of the manner in which the reading and viewing of certain "texts"—visual included—has become a hasty affair; one in which the audience quickly reads and generalizes, rather than slowly extracting the nuances. My work revives a patient engagement with art by welcoming the viewer into an unfamiliar space where they must navigate between the concrete and ephemeral. Through this navigation, the audience also becomes an archeologist of my family's pasts. As Memories: No Instructions for Assembly is a re-imagining of my family's narrative, it also functions as an installation where I recreate the living room space of my childhood home adorned with the framed diptychs and replica artifacts. The evolving product is the installation itself, the photographs of the exhibition, the diptychs, and my process notes in the form of a hand-bound archaeological dig book.
—
Originally from East Palo Alto, California, Kameelah Rasheed is a photographer, archivist, arts and culture journalist, editor, curator, and instructor based in Brooklyn, NY. Her work has been exhibited at venues such as Brooklyn Artist Gym, The New York Public Library (both in NYC), Artist Proof Studio (Johannesburg, South Arica), and The Fridge (Washington, D.C.). Her solo exhibition The Imagined Archive was presented at Real Art Ways (Hartford, CT) in 2013. A 2006 Fulbright grant recipient, Rasheed's work has appeared in U.S. and African publications including the SF MoMA Blog, ITCH Magazine, F-Stop, and Neo-Griot, among many others. She has been awarded artist residencies by the Center for Book Arts (NYC) and Real Art Ways (Hartford, CT). Kameelah is a writer and editor for Spector Literary Magazine and Liberator Magazine> She is also the founder of The Souls of Black Folks, a transmedia storytelling project dedicated to building an archive of religion and spirituality of Black people and people of African descent in North America, and the co-founder and curator of the Mambu Badu Photography Collective.