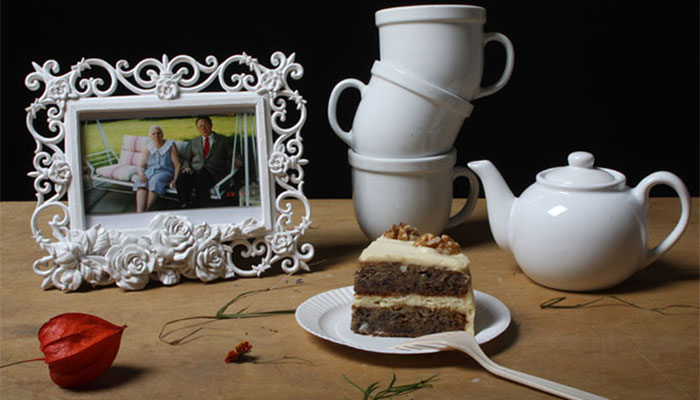 Statement
Taking inspiration from Dutch Vanitas paintings, these photographs incorporate personal artifacts within the traditional construct of still life. Pairing objects that belonged to my grandmother with my own possessions speaks to memory and the legacy that one leaves behind.
Both the decomposition of the natural (rotting fruit and wilting flowers) as well as the break down of the man made objects reference the physical body, mortality and the spiritual trace or imprint that is left behind or residual.
Bio
Justine Reyes lives and works in New York. In 2004 she received her MFA from the San Francisco Art Institute and her BFA from Syracuse University in 2000. Reyes' work revolves around issues of identity, history and time; and our relationship to these themes in a post 9/11world. Using photography and installation, she examines family, the idea of leaving and returning home, and the longing to hold on to things that are ephemeral and transitory in nature.
Reyes has shown her work both nationally and internationally. She participated in Proyecto Circo at the 8th Havana Bienal in Havana, Cuba and recently took part in Contemporary Istanbul in Istanbul, Turkey. In 2007 Reyes participated in The Feminine Mystique, an exhibition at the Jersey City Museum, which included new work from her series Away From Home. In 2008 Reyes was an artist in residence at St. Mary's College of Maryland and was recently awarded a residency at the Center for Photography at Woodstock.
Website
justinereyes.com