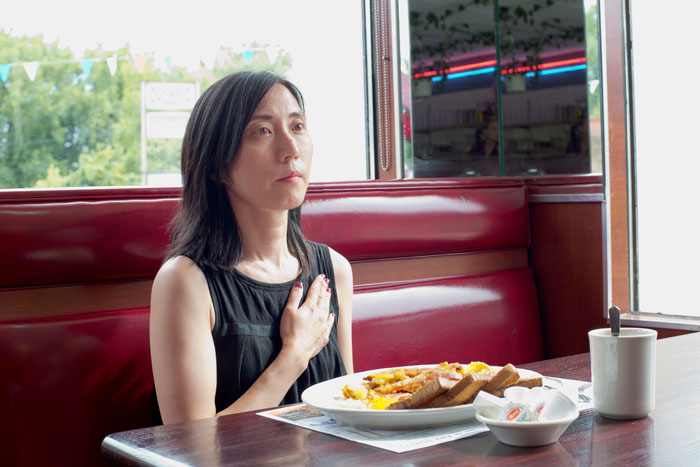 JOANNA TAM
Statement
The gesture of putting "the right hand over the heart" is specified in Title 4, Section 4 (Pledge of Allegiance to the Flag; Manner of Delivery) and Title 36, Section 301 (National Anthem) of the Code of Laws of the United States.
Manner of Delivery is an attempt to explore the notion of patriotism by examining the social ritual of putting "the right hand over the heart" as a manifestation/declaration of loyalty to a country, in this case, the United States of America. I am interested in how nationalism and patriotism is being institutionalized and choreographed. In this photo series, I am imagining this simple yet coded gesture would one day become a practice that I would do (or I would be asked to do) in my everyday life.
Playing of the national anthem at sport events is a common practice in America. Everyone would be asked to stand during the rendition of Star-Spangled Banner before a game. This act of performed nationalism and patriotism has become one of the duties of a professional athlete. What does the American national anthem mean to players who are born outside the U.S.?
In Athletes Study (An Imported Edition), I am mimicking the facial expressions and the gestures of professional athletes by studying the images circulated on the Internet.

Bio
Joanna Tam is a Boston-based visual artist originally from Hong Kong. Her interdisciplinary practice examines the issues of standardization, displacement and the construction of ethnic and national identities.
Joanna's work has been exhibited nationally and internationally including venues in York, UK; Istanbul, Turkey; Cusco, Peru; New York; Brooklyn; Boston among others. Her work has been awarded the Best Art Film at the Aesthetica Short Film Festival in York, UK (2012), the People's Choice Award (Sub-Category) and the Third Prize at the Prix de la Photographie, Paris (2009). Joanna received an MFA degree in Studio Art from School of the Museum of Fine Arts, Boston / Tufts University.

Website
joannatam.net
—