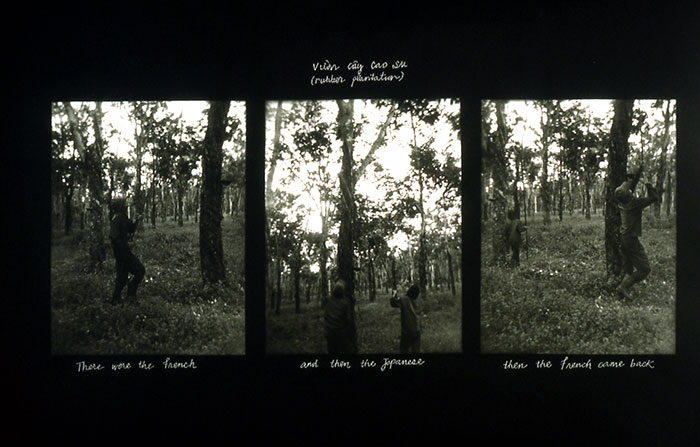 Statement
Viet Nam : Some Kind of History
Since childhood I have struggled to comprehend images from the American/Viet Nam War. This struggle has always been characterized by an intimate anger and repulsion–at the image for permanently and visibly recording such atrocities, and at myself for somehow being connected to the people that were being killed and the people who were doing the killing. As I grew older, I contemplated how my parent's ideologies had been shaped by the War and how I negotiated my own identity as a Vietnamese American carrying the historical weight of the War.
I returned to Viet Nam for the first time this past summer in twenty-six years.  It was a metaphorical return to a home in which I had never set foot but that I had inherited, indelibly marked by my parent's memories, the photographs I had seen in newspapers and magazines, and the names I was called growing up and continue to be called.  The American rendering of Viet Nam through historical War photographs, dominant narratives, and contemporary images of a post-war country obscures the deeply nuanced changes the War enacted on the geographies of Vietnamese society, family, and self. In my photographs I represent the conflicted space that I occupy, using them to describe inherited political, global, and personal histories that are inextricably bound together. My work questions these histories by examining my own family history that has been violently transfigured by colonialism, war, and economic oppression. I recorded interviews with relatives and incorporated them into the images to help re-shape and broaden our conception of Vietnamese history, identity, and sense of place. By delicately hand-sewing these transcribed oral histories onto photographic images, I hope to weave together the stories that have helped create the identity of my family across national boundaries. Through the use of these textured narratives, I seek to challenge America 's collective understanding of the War and Vietnamese history. This project is tentatively titled Viet Nam: Some Kind of History.
Bio
Truong received her BA in English literature from the University of Arizona in 1998. In 2002, her work was included in numerous group exhibitions, including En Foco: New Works Photographers at Godwyn Ternback Museum at Queens College (Flushing, NY), Asian Lens at Chambers Fine Art Gallery (NYC), and the upcoming 2003 exhibition Only Skin Deep: Changing Visions of the American Self, organized by the International Center for Photography (NYC). In 2001, she received the Durham Arts Council Emerging Artist Grant. Truong has had an artist residency at Visual Studies Workshop ( Rochester , NY ). She was an artist in resident at CPW in September 2002.
Website
hongantruong.com