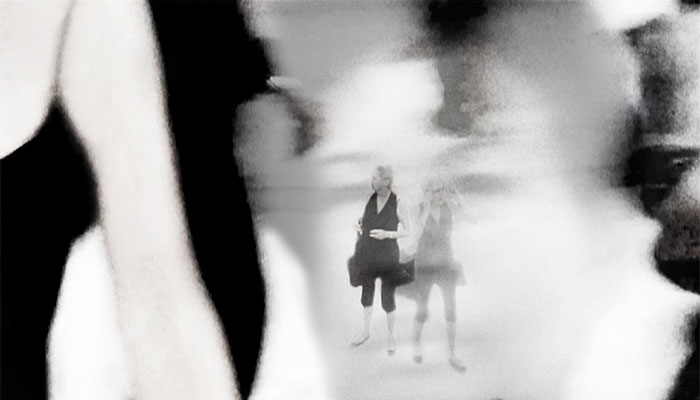 GRACE KIM
Statement
My work is born out of a need to explore intangible experiences and the inner restlessness one feels when encountering an idea or subject that is familiar yet unknown. I want to understand and give form to the subliminal, and to engage my own and the viewer's imagination as though we are meeting somewhere in the unconscious.
–
Dream Meditation was inspired by a personal belief that when we dream, we transcend physical reality – not unlike death and similar to meditation, whose beauty lies in stripping the mind and soul to its bare essence. Themes of death and spirtuality have preoccupied me since the passing of my brother and father several years ago. I began experimenting with self-portraiture as a means to investigate the notion of self in this context. The experience of dreams, meditation, death – each in its own way, connects human beings to a metaphysical state of consciouness. I imagine them co-existing, interwoven with the subtleties that characterize each in its most basic, minimal form. While the work references death, there is also a desire to idealize and immortalize the self through this process. It is a contradiction that seems to reflect the constant search for balance and beauty in all of life.
–
Threshold of Nothingness is an ongoing series of meditations on time, existence, and memory. The still and moving image-audio works and installations are haikus reflecting perpetual conditions with no beginning or end. Layers of perception explored through perspective, sound, space, time and viewer – echo the layers through which we filter our everyday realities. This personal yet collective process inspires my interest in how memory is constructed through projected illusions of perception; how the present is like water, slipping through our fingers; how quantum studies bring us closer now than ever before, to the acknowledgement of parallel realities; and the belief that time's linearity is nothing more than a human construct. In Buddhist philosophy the journey of life is seen as an endless circle of time, cause and effect, decay and renewal. My work regards the journey as a metaphor for the human condition, reflecting its dualities, and treading between physical and conscious reality.
Threshold of Nothingness. An all encompassing void meets the vacuous mass of matter. The tangible becomes elusive and the invisible becomes visible. How do we discern the world that we perceive from the world in which we are perceived. What is the view from the outside looking in to the inside looking out? Time is a moving image of eternity, and today is tomorrow kissing yesterday. A threshold of nothingness is everything and nothing, everywhere and nowhere, wide-awake and dreaming.
Bio
Grace Kim received her MFA from the School of Visual Arts and a certificate from the International Center of Photography in New York. Her work has been exhibited at Melanie Flood Projects, Envoy Gallery, and the International Center of Photography (all in NYC), the Seoul Photo Fair (Seoul, South Korea), and The Last Gallery (Tokyo, Japan), among others. Her series Love Hotel was recognized in 2009 by the PX3 Prix de la Photographie Paris Photo Awards and has appeared in Burn Magazine. She lives and works in Brooklyn, NY.
Website
grace-kim.com