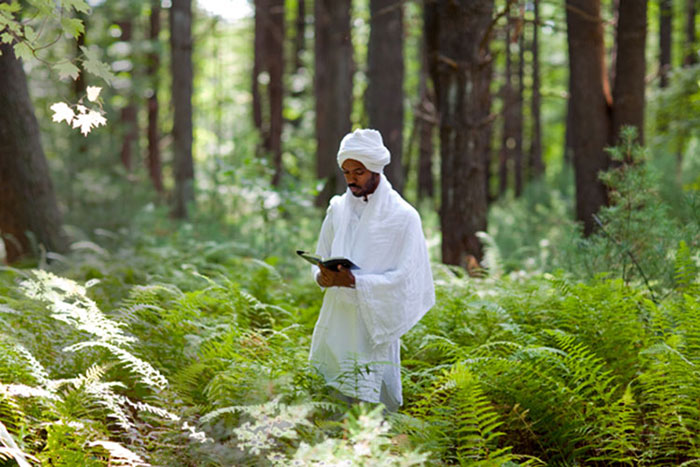 Statement
My work is about how identity is formed in the in-between spaces of cross cultural encounter. I gravitate towards communities which are underrepresented and who often do not have a place in main stream media. I treat my camera as a tool that captures one moment of a larger dialogue that occurs between me and my subjects. Using a photojournalistic approach, my art thrives on my interaction with people.
In my recent work, I am also changing my work to be less documentary driven and more introspective. How can I turn the camera back on myself? Having grown up in Ethiopia, Kenya, and the U.S., how do my memories and understanding of time and space shape who I am? I choose to reconstruct specific memories from my past in an ironic representation that is simultaneously playful and serious. By reinterpreting the past I seek to collapse the space between my experience as a child growing up in Ethiopia and my presence in America today.
I am also working on a series of triptychs that re-defines what a photo actually is. I confuse the boundaries between photographer and subject by first asking my subjects to dress up in Ethiopian clothing and secondly, to photograph me dressed in traditional Ethiopian clothing. The third and central photo of each triptych I photograph is the space between myself and my subject. Through this process I ask the following questions: "What is the difference between the subject and the photographer? What is the border that distinguishes us one from another? What is the space that divides us and how do our perceptions shift when we view each other through the camera's lens?"
Bio
Originally from Ethiopia, Eyakem Gulilat obtained his BAS in Interdisciplinary Studies of Photojournalism and Art from Abilene Christian University and his MFA in Media Arts from the University of Oklahoma. In 2004, he was selected to participate in the Eddie Adams Workshop and was awarded the 45th annual Randolph William Hearst Award in the Portrait, Personality and Feature competition that same year. In 2005 he participated in the McNair's Scholar's Program and presented his research at the 13th annual McNair's Scholar's conference at Penn State University. Gulilat's work has been exhibited across the U.S., at venues including Vermont Photo Space Gallery (Essex, VT), Colorado Photographic Arts Center (Denver, CO), and Lightwell Gallery (Norman, OK), among others. His work is in several private and public collections.
Website
www.eyakem.com