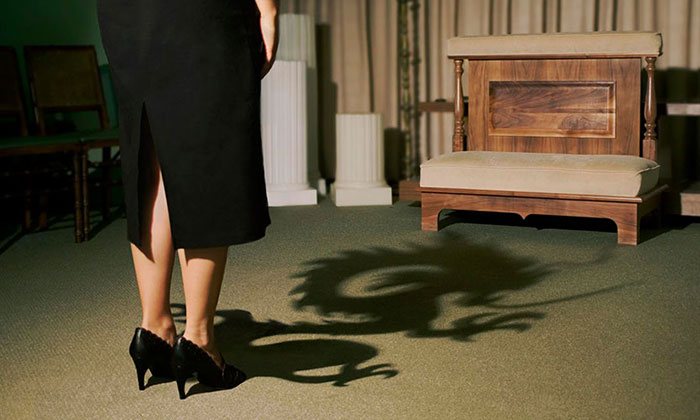 Statement
Koden: n. Condolence money traditionally given to bereaving families in Japanese culture. A Buddhist practice of compassion.
The Koden series is a new and in-progress body of work.  After seven deaths of friends or family in the last year, I have begun to contemplate bereavement and legacy in a new way. The experiences I shared with those who have passed away are still a part of my own identity. In a way, they live on in everyone touched by them. The Koden project is my way of giving something from myself to all of us who have lost someone close to us.
Through the use of shadows and funeral home settings, I create self-portraits that represent haunting aspects of those who have passed on. Several of those who have died recently were members of my family, Japanese American community, and added to my Japanese American upbringing. As with many of us, culture and tradition falls away as the older generations leave us. Some of the shadows are taken directly from family photos and some are metaphors for an experience.  In addition, two young people who have passed away this year have inspired my patriotism through one's service in Iraq and one's activism for social justice. All of their dignity and strength is present in the shadows.
Bio
Emily Hanako Momohara grew up near Seattle, Washington and earned her BFA in Photography and her BA in Art History from the University of Washington. She went on to receive her MFA in Expanded Media from the University of Kansas, where she studied under Roger Shimomura. She is currently an Assistant Professor of Art at the Art Academy of Cincinnati where she heads the photography major. She has exhibited nationally and was visiting artist at the Center for Photography at Woodstock, this summer.
Emily grew up in a multi-cultural family, where she was influence by social, political and racial issues. Her father is Japanese American and her mother of English descent. Emily's father worked for the Federal Government investigating discrimination cases and her mother is a social worker. She has two sisters: one older, adopted from Laos, and one younger who is now living in Uganda. Coming of age in a racially diverse and socially aware family gives Emily nourishment for her work. In drastic contrast, Emily now lives and works in Cincinnati, Ohio where there is a small percentage of Asian Americans. Her artwork represents the challenge of merging the many layers of her life.
Website
ehmomohara.com