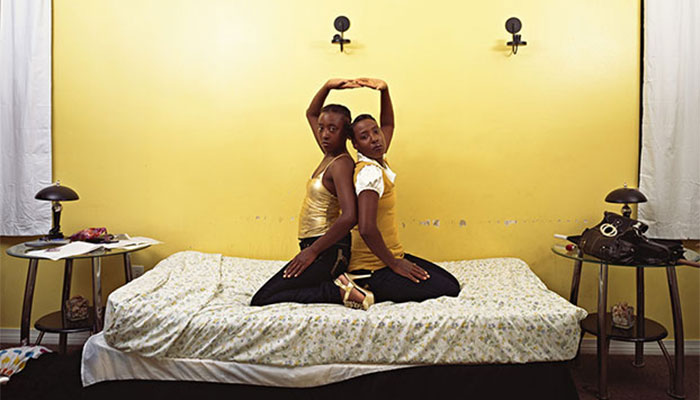 DEANA LAWSON
Statement
My work negotiates a knowledge of selfhood through a profoundly corporeal dimension; the photographs speaking to the ways that sexuality, violence, family, and social status may be written, sometimes literally, upon the body.
What you see in her work is photographer as cultural anthropologist but also as cultural vivisectionist and forensic curator. Her practice subtly contests the suppression of Black visual epistemologies – as much through absence as presence, withheld information as much cultural saturation bombing. Drawing the spectators eye to how people command space within the frame, how they proclaim ownership of selfhood before the camera is a recurring motif. Her work seems always about the desire to represent social intimacies that defy stereotype and pathology while subtly acknowledging the vitality of lives abandoned by the dominant social order. – Greg Tate, 2011
Bio
Deana Lawson holds BFA and MFA in Photography from Pennsylvania State University at University Park and RISD respectively. A recipient of numerous residencies including a 2007 Visual Studies Workshop residency, a 2008 Light Work residency, and a 2009 Lower Manhattan Cultural Council residency, Lawson's work has been featured in such exhibitions as New Photography 2011 at the Museum of Modern Art (2011), Prolonged Fragments at the Elizabeth Foundation (2011), Greater New York at PS1 (2010), the Studio Museum in Harlem (2005 & 2010), 50 Photographers Photograph the Future at Higher Pictures (2010), all in NYC; the Silver Eye Center for Photography in Pittsburgh, Milk Contemporary in Copenhagen, Denmark, and the Kit Museum in Dusseldorf, Germany; as well as in Converging Margins curated by Leah Oates at CPW (2008). Her work has been recognized and supported through many fellowships including the 2006 NYFA Artist Fellowship in Photography, a 2009 Aaron Siskind Fellowship, and the 2010 John Gutmann Photography Fellowship. Her images have been featured in such publications as Contact Sheet (issues 12 & 154) published by Light Work, Time Out New York, the Collector's Guide to New Art Photography Vol. 2 published by the Humble Art Foundation, the 2010 Greater New York exhibition catalog published by PS1 as well as in issue #98 of CPW's publication PQ.
Website
deanalawson.com
[hr]